Are you creative? Are you inspired by collaborating with other creative minds? Do you value design and innovation? If so, then a career in the arts may be for you.
Pursuing a career in the arts requires creativity and persistence. The path isn't usually clear-cut, but you will be able to shape your own career.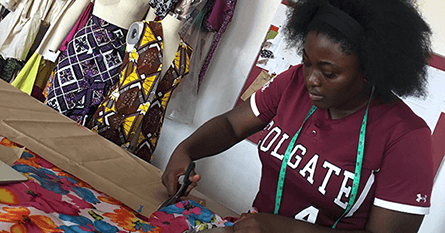 Prepare for Jobs and Internships
Information, tips, and strategies to help prepare you as an undergraduate.
In addition to the standard sections of Education, Honors/Awards, Activities, and Professional Experience, you may choose to include sections for published recognition of your work ("Bibliography"), exhibitions in which you have participated ("Exhibitions"), and publications, productions, or shows in which you have been involved (for the performing arts and for writers/authors). For artists seeking careers in academia, a Curriculum Vitae is preferred and may be up to four pages in length.
Individuals in the fine and performing arts may benefit from a résumé styled to feature unique information such as performance roles, art shows, or specialized training. For more creative fields, consider showcasing your creative skillset by adding design elements to your resume. Make an appointment with a career advisor to develop a strategy to best present your creative experience.
ARTS 100, Introduction to Studio Art
ARTS 201, Digital Studio: Animation, Image, and Sound Manipulation
ARTS 202, Digital Studio: Making, Modeling, and Gaming
ARTS 211, Drawing I
ARTS 221, Video Art I
ARTS 231, Painting I
ARTS 241, Photography I
ARTS 251, Printmaking I
ARTS 263, Sculpture: Surface and Form
ARTS 264, Sculpture: Material and Process
ARTS 271, Architectural Design I
ARTS 287, History & Theory of Cinema
ARTS 302, Digital Studio II
ARTS 312Drawing II
ARTS 322, Video Art II
ARTS 332, Painting II
ARTS 342, Photography II
Printmaking II
ARTS 364, Sculpture II
ARTS 405, Issues in Recent Art
FMST 210: Global Cinema
FMST/FREN 233, Intro to French Cinema
FMST 320, European Cinemas
FMST 333, Documentary Film
FMST 340, Music, Film, & Media
FMST 350, Hollywood and the World
FMST 400, Special topics in FMST
GERM 222, German Expressionist Cinema
ITAL 223, Italian Cinema
Numerous Art History courses
Desired Skills and Characteristics:
Event management and planning (securing venues, scheduling, security, catering, etc.)
Marketing and promotion
Ensuring legal compliance
Strong written skills (writing management reports and contracts) 
Fundraising and budgetary skills
Understanding and appreciation of the arts
Cultural competence 
A helpful resource to learn arts administration vocabulary: Arts and Planning Toolkit
 
Important Publication:
Desired Skills and Characteristics:
writing, editing, and new media technology skills
creativity
attention to detail
knowledge of media theory and history
problem-solving skills
a "can do" attitude
team player
enthusiasm
ability to work under pressure with strict deadlines
technical and software skills (e.g. Photoshop, Illustrator, After Effects, Windows Movie Maker, Final Cut Pro).
Tips for Breaking into the Film Industry:
Get a Production Assistant (PA) Internship
Learn the industry
Helpful resources to learn film vocabulary: The New York Film Academy Glossary of Film Terms and Media Frontier Digital Terminology
Network
Develop a creative portfolio: Begin a portfolio or create a media page that demonstrates your visual expression and imagination. For example, include images that convey a story, such as paintings, drawings, or photographic images (similar to storyboard); creative writing pieces, film scripts, theater scripts, film/video animation or documentary (no more than 10-15 minutes total running time). Sample website creators: WordPress, Clippings.me, Pressfolios, Portfoliolounge
Consider developing a professional social media page to market the work you have created. Social media is a great way to connect with people in the field, while learning about different projects they are working on.
The Film and Media Studies Department (FMST) offers courses in media theory, production, and sociopolitical and cultural experiences. Please visit the FMST webpage for more information.
Colgate's Digital Learning and Media Center (DLMC) hires student workers as media interns and media monitors. To learn more, visit the DLMC homepage.
Desired Skills and Characteristics:
Willing to be working in an all hands on deck situation 
Willing to take on seasonal roles (event-based companies) - crunch periods that everyone needs to contribute 
Works well under pressure, fast-paced, can meet deadlines
Cultural awareness 
Excellent communication skills (different stakeholders, written for contract work) 
Decision making 
A helpful resource to learn arts administration vocabulary: MoMA Learning
Alumni Advice
Advice from alumni who work in this industry.
Ming Peiffer '10
Current Title and Organization:​ Co-Artistic Director/ Resident Playwright, Spookfish Theatre Company
Major at Colgate: Theater Arts and Mandarin Chinese
Advanced Degrees: MFA in Playwriting, Columbia University
What do you currently do?
I am the Co-Artistic Director, Resident Playwright, and Founder of the critically-acclaimed Spookfish Theatre Company. I am also a current NYTW 2050 Fellow, and a member of the Obie-award winning playwriting group Ensemble Studio Theater's Youngblood.
Major responsibilities include:
Author and produce grants, proposals, press packets, and copy for website.
Co-design all media including posters, programs, and advertisements.
Develop events (productions and fundraisers) from conception to completion.
Author performance texts.
Edit performance texts.
Organize mailing list and database.
Work with primary group of artists to develop original artwork for company.
What was your first position out of Colgate and what did you do in that role?
I started my own company, Spookfish Theatre Company, in 2010. I served in my current position as the Co-Artistic Director and Resident Playwright. Responsibilities were the same as above.
I also worked as a Teaching Artist at The China Institute of America, where I developed and ran a Theatre/Chinese Language learning program for Children Ages 4-8, in addition to a program geared towards Highschool students.
How can students prepare themselves while at Colgate to work in your field?
Read as many performance texts as possible. Participate in University Theater productions. Try to create your own work and organize theatrical events outside of the opportunities provided by the university and student theater community (ex: I directed a play set in one of the Townhouses.) If possible, go abroad with a non-Colgate abroad program focused on theatre arts. For example, Tisch NYU has programs affiliated with The Royal Academy of Dramatic Arts in London and The Shanghai Theatre Academy in Shanghai, China. Both excellent programs. During Summer, enroll in any additional classes and/or intensive summer programs available for Theatre Arts. Some programs have a more all-encompassing approach to theater, while others specialize in specific elements of the craft (ex. acting intensives, playwriting workshops). I attended the Stella Adler Summer Acting Program, but there are many to choose from based on your needs. Make sure to fully research any program you are planning on applying to, or feel free to reach out to me with questions.
What extracurricular activities, associated with your profession or not, were you involved with while at Colgate?
University Theater, The Swinging 'Gates, Kappa Kappa Gamma
Carter Cooper '13, principal/operations, Riggs Cooper Art Partners; Brian Hinrichs '07, executive director, Bangor Symphony Orchestra; Jamil Jude '09, artistic director, True Colors Theater
Colgate Handshake Opportunities
Check Colgate Handshake, Colgate's internship and job database, for opportunities that may interest you in this field.
Connect to Careers
Latest stories about internships, workshops, professional networks, and more.