Are you creative? Are you inspired by collaborating with other creative minds? Do you value design and innovation? If so, then a career in the arts may be for you.
Pursuing a career in the arts requires creativity and persistence. The path isn't usually clear-cut, but you will be able to shape your own career.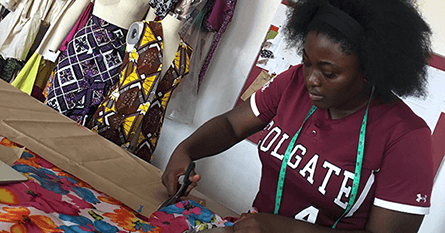 Explore Careers
The liberal arts provide the most solid foundation upon which to build a career in architecture. Nearly every Colgate course of study — art, history, environmental science, art history, mathematics, language, sociology, anthropology, computer science, to name just a few — informs the field of architecture. Architects' work addresses the past (historic preservation) and the future (sustainability), while confronting present-day design needs in the civic and private spheres. After Colgate, the next step, education-wise, is an M.Arch: a three-year program for those who hold undergraduate degrees in disciplines other than architecture. Lastly, be sure to go abroad — Florence! Venice! Rome!
Websites:
Arts administrators run the business side of non-profit arts organizations. They wear many hats: event planner, marketer, public relations specialist, fundraiser, educator, and are committed to sustaining art in all forms; they run art councils, theaters, museums, dance companies, and more.
The filmmaking industry is a highly competitive, innovative, and technical business that involves the production of featured films, documentaries, commercials, made-for-television movies, unscripted TV and music programming and video. Preparing for a career in film can be ambiguous because film jobs and internships are varied and can be divided into five distinct phases of production: development, pre-production, production, post-production, and distribution.
Film Production Stages
Development
The stage where potential projects are selected or written. This stage includes reading and developing scripts, brainstorming ideas, securing financial arrangements, and assembling a creative team.
Entry-level positions: Staff Writer, Personal Assistant
Pre-Production
The stage where most of the creative decisions are determined. This stage includes hiring the cast and production crew, rewriting the script or treatment, selecting a location, and constricting a set design.
Entry-level positions: Script Reader, Copywriter
Media
Develop plans and research the media strategy; meet with media reps from various sites, traffic all complete creative to media sites.
Entry-level positions: Assistant Media Planners/Buyers
Production or Principle Photography
The stage where the production is filmed in a studio or on location and can include publicity materials.
Entry-level positions: Production Assistant, Camera Assistant
Post-Production
The stage where the production is edited to create a final product. This stage can include adding music, visual effects, and editing sound/film.
Entry-level positions: Video Logger, Second Assistant Editor
Distribution
The stage where promotional materials are generated to market the project. This stage includes selling posters, merchandise, and commercial time.
Entry-level positions: Public Relations Assistant, Marketing Representative
Helpful Resources to learn more:
Teaching Art
Art teachers provide art education in public or private schools, institutions of higher learning, community centers, or even human service organizations. Although teaching in a public K-12 school will require a teaching certificate, this may not be the case in private K-12 settings, college continuing education programs, museum education departments, community arts centers, or even service organizations focused on youth or community outreach. Teaching at a college or similar institution usually requires an MFA, but sometimes artist educators are hired based on their exhibition record or artistic merits.
Museum or Gallery Technician
A museum or gallery technician may perform various duties depending on the scope of the position and the needs of the organization, but generally the role involves preparing, installing, deinstalling, restoring, and/or maintaining objects of art of various media. Other similar titles may be art handler, registrar, conservator, preparator, or archivist. These positions usually require a combination of experience handling artwork and a bachelor's degree in fine arts or museum studies coursework. Depending on the requirements of the position, an advanced degree may also be necessary.
Curator
A curator generally oversees and manages a collection, conducts research, makes recommendations for acquisitions, selects for exhibition artists and artwork, and often initiates publication of supportive materials. Exact roles depend on the size and focus of the organization. At smaller organizations, curators may oversee an entire collection, whereas at larger organizations curators may specialize in a specific discipline or period. Generally, a Master's or PhD is preferred for these roles, but smaller institutions may only require a bachelor's degree.
Commissioned Art
Some artists make a living by creating work on commission, often being hired to create a specific piece for individuals, businesses, and government or public entities. Public art is a common form of commissioned work, where artists create site-specific work on permanent or temporary display. Public art opportunities usually require a formal proposal.
Art Therapy
The American Art Therapy Association (AATA) defines art therapy as a mental health profession that uses the creative process of art-making to improve and enhance the physical, mental, and emotional well-being of individuals of all ages. Often, practicing art therapy requires graduate level education and passing certification tests required by state or other local government entities.
Theatre
Performers who are met with success in the field of theater have spent years perfecting the nuances of their craft through hard-work and practice. Students of theatre should be ready to accept harsh critical feedback in the wake of auditions, to collaborate with others, and to tap into energy and be extroverted when on the job. Success in acting, producing, or directing could spell great fiscal gain as well as fame and the joy of living your passion every day.
Dance
To succeed as a professional dancer one must be willing to work immensely hard to perfect their craft. Without talent and dedication to the art, it is not all that plausible to succeed. The thrill of triumph after dedicating one's life to a practice, such as dance, makes it time well-spent for many aspiring young dancers. 
Music
Music is a unique profession in that it can successfully work to touch the lives of those that listen. Whether one is trying to be a rock star or the member of an orchestra, a considerable amount of time will be spent in solitude practicing. To succeed in music is to be the best you can possibly be at your chosen instrument. 
Prepare for Jobs and Internships
Information, tips, and strategies to help prepare you as an undergraduate.
In addition to the standard sections of Education, Honors/Awards, Activities, and Professional Experience, you may choose to include sections for published recognition of your work ("Bibliography"), exhibitions in which you have participated ("Exhibitions"), and publications, productions, or shows in which you have been involved (for the performing arts and for writers/authors). For artists seeking careers in academia, a Curriculum Vitae is preferred and may be up to four pages in length.
Individuals in the fine and performing arts may benefit from a résumé styled to feature unique information such as performance roles, art shows, or specialized training. Make an appointment with a career advisor to develop a strategy to best present your creative experience.
AIGA
CAA
Graphic Artists Guild
National Council of Arts Administrators
National Art Education Association
Type Directors Club
ARTS 100, Introduction to Studio Art
ARTS 201, Digital Studio: Animation, Image, and Sound Manipulation
ARTS 202, Digital Studio: Making, Modeling, and Gaming
ARTS 211, Drawing I
ARTS 221, Video Art I
ARTS 231, Painting I
ARTS 241, Photography I
ARTS 251, Printmaking I
ARTS 263, Sculpture: Surface and Form
ARTS 264, Sculpture: Material and Process
ARTS 271, Architectural Design I
ARTS 287, History & Theory of Cinema
ARTS 302, Digital Studio II
ARTS 312Drawing II
ARTS 322, Video Art II
ARTS 332, Painting II
ARTS 342, Photography II
Printmaking II
ARTS 364, Sculpture II
ARTS 405, Issues in Recent Art
FMST 210: Global Cinema
FMST/FREN 233, Intro to French Cinema
FMST 320, European Cinemas
FMST 333, Documentary Film
FMST 340, Music, Film, & Media
FMST 350, Hollywood and the World
FMST 400, Special topics in FMST
GERM 222, German Expressionist Cinema
ITAL 223, Italian Cinema
Numerous Art History courses
Desired skills & Characteristics:
writing, editing, and new media technology skills
creativity
attention to detail
knowledge of media theory and history
problem solving skills
a "can do" attitude
team player
enthusiasm
ability to work under pressure with strict deadlines
technical and software skills (e.g. Photoshop, Illustrator, After Effects, Windows Movie Maker, Final Cut Pro).
Tips for Breaking into the Film Industry:
Get a Production Assistant (PA) Internship
Learn the industry
A helpful resource to learn film lingo: The New York Film Academy Glossary of Film Terms
Network
Develop a Creative Portfolio: Begin a portfolio or create a media page that demonstrates your visual expression and imagination. For example, include images that convey a story, such as paintings, drawings, or photographic images (similar to storyboard); creative writing pieces, film scripts, theater scripts, film/video animation or documentary (no more than 10-15 minutes total running time). Sample website creators: WordPress, Clippings.me, Pressfolio, Flavors.me, Portfoliolounge.com
Training Programs:
The film and Media Studies Department (FMST) offers courses in media theory, production, and sociopolitical and cultural experiences. Please visit the FMST webpage for more information.
Colgate's Digital Learning and Media Center (DLMC) hires student workers as Media Interns and Media Monitors. To learn more, please visit the DLMC homepage.
Alumni Advice
Advice from alumni who work in this industry.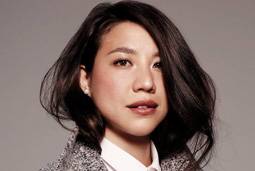 Ming Peiffer '10
Current Title and Organization:​ Co-Artistic Director/ Resident Playwright, Spookfish Theatre Company
Major at Colgate: Theater Arts and Mandarin Chinese
Advanced Degrees: MFA in Playwriting, Columbia University
What do you currently do?
I am the Co-Artistic Director, Resident Playwright, and Founder of the critically-acclaimed Spookfish Theatre Company. I am also a current NYTW 2050 Fellow, and a member of the Obie-award winning playwriting group Ensemble Studio Theater's Youngblood.
Major responsibilities include:
Author and produce grants, proposals, press packets, and copy for website.
Co-design all media including posters, programs, and advertisements.
Develop events (productions and fundraisers) from conception to completion.
Author performance texts.
Edit performance texts.
Organize mailing list and database.
Work with primary group of artists to develop original artwork for company.
What was your first position out of Colgate and what did you do in that role?
I started my own company, Spookfish Theatre Company, in 2010. I served in my current position as the Co-Artistic Director and Resident Playwright. Responsibilities were the same as above.
I also worked as a Teaching Artist at The China Institute of America, where I developed and ran a Theatre/Chinese Language learning program for Children Ages 4-8, in addition to a program geared towards Highschool students.
How can students prepare themselves while at Colgate to work in your field?
Read as many performance texts as possible. Participate in University Theater productions. Try to create your own work and organize theatrical events outside of the opportunities provided by the university and student theater community (ex: I directed a play set in one of the Townhouses.) If possible, go abroad with a non-Colgate abroad program focused on theatre arts. For example, Tisch NYU has programs affiliated with The Royal Academy of Dramatic Arts in London and The Shanghai Theatre Academy in Shanghai, China. Both excellent programs. During Summer, enroll in any additional classes and/or intensive summer programs available for Theatre Arts. Some programs have a more all-encompassing approach to theater, while others specialize in specific elements of the craft (ex. acting intensives, playwriting workshops). I attended the Stella Adler Summer Acting Program, but there are many to choose from based on your needs. Make sure to fully research any program you are planning on applying to, or feel free to reach out to me with questions.
What extracurricular activities, associated with your profession or not, were you involved with while at Colgate?
University Theater, The Swinging 'Gates, Kappa Kappa Gamma
Carter Cooper '13, principal/operations, Riggs Cooper Art Partners; Brian Hinrichs '07, executive director, Bangor Symphony Orchestra; Jamil Jude '09, artistic director, True Colors Theater
Colgate Handshake Opportunities
Check Colgate Handshake, Colgate's internship and job database, for opportunities that may interest you in this field.
Connect to Careers
Latest stories about internships, workshops, professional networks, and more.