Do you enjoy dealing with quantitative problems or possess strong analytical skills? If so, consider exploring careers in the finance and banking industry.
There are many different types of positions to be found in this industry including corporate accounting and financial management, insurance, and investment banking.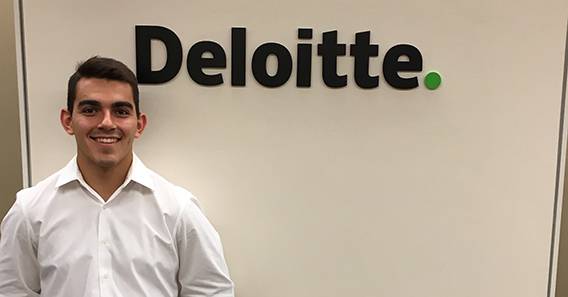 Corporate Finance
Corporate finance, including accounting and financial management, involves developing, directing and reporting on a business' financial strategy. For more job options in corporate finance see:
Insurance
"Did you know that some of the hottest jobs in finance aren't on Wall Street at all? These are jobs in insurance. Insurance is a trillion dollar business that employs more than 3 million people in the United States alone. Jobs in insurance involve helping individuals and businesses manage risk to protect themselves from catastrophic losses and to anticipate potential problems. Insurance is a stable yet dynamic industry that provides a wealth of advancement and career opportunities." – Careers-in-Finance.com.
For more job options in insurance see:
Investment Banking
"Investment bankers act as financial intermediaries for corporations. They arrange and negotiate large financial transactions. They are employed by investment banking firms to act as advisers to client companies and to initiate money-making ventures for their own firms." – Spotlight on Careers.
Investment Banking Functions:
Investment bankers provide advice on corporate finance, mergers and acquisitions, and to senior executives of client corporations. People who are able to synthesize large amounts of data without losing sight of the "big picture" work well in this role.
Sales-people market securities and investment ideas to portfolio managers and buy-side analysts. Sales may be a good fit for you if you have strong interpersonal skills and are persistent and persuasive.
Traders execute transactions in the market on behalf of institutional investors. This role requires risk-taking and the ability to quickly analyze and make decisions.
Equity research involves industry and research primarily aimed at institutional investors. Quantitatively driven critical thinkers with strong writing skills thrive in this role.
Operations and business services involves running the day-to-day business of the firm and supporting other divisions. Operations requires individuals who are detail-oriented problem solvers and have strong communication and technical skills. Source: Anatomy of an Investment Bank
For more job options in investment banking see:
Prepare for Jobs and Internships
Information, tips, and strategies to help prepare you as an undergraduate.
Case Interviews — Case interviews are a way for employers to test your industry knowledge. This resource will help answer many of your questions and help you ace the interview. (You will need to create an account with your Colgate e-mail address to access the content.)
Skills: Because of the diverse areas and job functions within the industry, each area carries some particular skills necessary to succeed. In general terms, all positions look for strong analytical, interpersonal, and technical skills.
Actuary Exams: To become an actuary, you'll need to complete and pass a series of exams.
Probability Exam (Exam P or Exam 1): Develops knowledge of probability
Financial Mathematics Exam (Exam FM or Exam 2): Interest theory and derivative securities
Models for Financial Economics Exam (Exam MFE or Exam 3F): Models, valuations, and risk management
Be An Actuary — Great resource for the future actuary. Provides test information, industry information, and job search tools.
Case Interviews — Case interviews are a way for employers to test your industry knowledge. This resource will help answer many of your questions and help you ace the interview. (You will need to create an account with your Colgate email address to access the content.)
Knowledge of industry news can give you a sense of the culture and make you a better interview candidate.
Some Finance Blogs
Read The Wall Street Journal and The Economist to stay up to date on industry news.
Case Interviews — Case interviews are a way for employers to test your industry knowledge. This resource will help answer many of your questions and help you ace the interview. (You will need to create an account with your Colgate e-mail address to access the content.)
Students spend two days in New York City learning about various aspects of the finance industry, on-site, at a few financial service firms and banks. Additionally, students socialize and network with Colgate alumni in the industry over dinner. Keep an eye out for information regarding the immersion trip during the fall semester.
Colgate Investment Studies Program (ISP): The mission of the Alan Greene '51 Investment Studies Program is to educate all students, regardless of year or major, on the fundamentals of personal finance, investment decision making, and financial markets. Utilizing the experiences and perspectives of outside speakers, students discuss and explore how current investment and market issues affect their personal and professional lives. Participants gain insight into their personal money habits and learn to set short- and long-term goals, empowering them to achieve a financially sustainable future.
Learn to Earn: Learn to Earn is a series of in-person workshops and online personal finance programming. The interactive workshops explore students' money mindset, the beliefs that drive financial decisions, and introduces students to fundamentals of budgeting and goal setting. The online component is hosted through a mobile app, LifeCents, that game-ifies the process of discovering the user's money-mind sense, creating a budget, and setting and achieving savings goals. By establishing healthy spending and saving habits while at Colgate, students will have an advantage when entering the workforce.
CORE 143S: Introduction to Statistics
ECON 105: Principles of Accounting
ECON 352: Money and Banking
ECON 354: Monetary Economics
ECON 375: Applied Econometrics
ECON 387: Financial Economics
Alumni Advice
Advice from alumni who work in this industry.
Amy Steigerwald '05
Current Title and Organization: Private Wealth Advisor, Morgan Stanley
Major at Colgate: Political Science and German
Advanced Degrees: MBA, Georgetown University, The McDonough School of Business
What do you currently do?
I serve as an advisor within the Private Wealth Management group at Morgan Stanley, providing a full suite of wealth management services to approximately 25 individuals, families, foundations, and endowments. The clients that my team works with are successful entrepreneurs, executives, and venture capitalists based mainly in Boston, New York, California, Europe, and Israel. As a team, we act as a single point of contact and leverage Morgan Stanley's expertise and global resources for all of our clients' diverse and complex investment management needs. We adhere to a disciplined, client-focused investment process to develop and maintain our clients' investment objectives, risk tolerance, liquidity needs, and unique circumstances.
What was your first position out of Colgate and what did you do in that role?
I began my career in financial services as an Investment Analyst at BNY Mellon. In this role, I directly supported a senior portfolio manager which included responsibilities in investment management and asset allocation support, performance reporting, and client relationship management.
How can students prepare themselves while at Colgate to work in your field?
Outside of the internship process, I encourage students to learn more about working in financial services, specifically within private wealth management, while still on campus. Students should reach out to alumni in the industry and conduct informational interviews and participate in the Day in the Life program to get a better understanding of the day-to-day, the skills set required, and personality types that are attracted to this role, etc. Students can also enhance and build on their education at Colgate by reading the Wall Street Journal on a daily basis, taking an accounting or computer science class and utilizing the resources available within the Career Services office to learn more about the industry.
What extracurricular activities, associated with your profession or not, were you involved with while at Colgate?
Studied abroad in Freiburg, Germany through Colgate's German department
Worked at Career Services including an intern position as the Assistant to the Director
Volunteered at the Madison After-School Art Program
Member and new member educator at Kappa Kappa Gamma
Recruiting for investment banking starts early in September or October with the majority of insurance and corporate finance recruitment taking place in the spring semester. Career & Internship Connections (CIC) New York is an excellent event to attend to meet employers who are actively recruiting students.
General Job Search Sites
Corporate Finance
U.S. News and World Report Money Careers lists opportunities in finance.
Finance and accounting positions on One Wire.
Insurance
Investment Banking
Investment banking jobs are very competitive and the high demand means that most banks do not need to advertise entry-level job openings online. Most large banks recruit on-campus at top colleges and universities, but even this is highly competitive. Networking, preparation, and persistence can help you gain entry into the industry.
For more info see: careers-in-finance.com/ib_breakin.htm
Firsthand.co is a platform that offers resources for your specific career path, including job search tips, opportunities, and information on employers within your industry of choice. Simply log in with LinkedIn or create an account using your Colgate email address.
Colgate Handshake Opportunities
Check Colgate Handshake, Colgate's internship and job database, for opportunities that may interest you in this field.
Connect to Careers
Latest stories about internships, workshops, professional networks, and more.