Consider exploring the expanding world of public and allied health.
Are you interested in health care systems, population health, or community health education?  Do you want to work with people to better their health but don't want to be a physician? Whether you value science, interpersonal relationships, education, or social justice there are areas within these fields that you can learn about to find the right fit.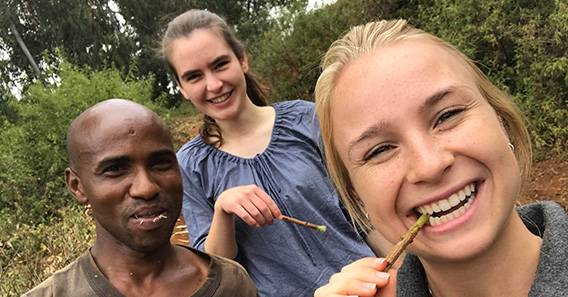 Explore Careers
This is just a sampling of the many careers available in the public health and wellness fields.
Public Health
Public health professionals protect the health of a variety of populations, from neighborhoods to an entire nation. They prevent problems from happening or re-occurring by implementing educational programs, policies, and services; by regulating health systems and some health professions; as well as conducting research.
Common areas of Public Health (more can be found at aspph.org).
Community Health: Focuses on work with defined communities to identify and resolve public health problems and to promote well-being.
Education: Interdisciplinary study focusing on how health education can affect behavior and lifestyle decisions that have an impact on public health.
Epidemiology: Application of the scientific method to the study of disease in populations for the purpose of prevention and control.
Biostatistics: Study of theories and techniques for collecting, analyzing, and interpreting quantitative data relevant to public health issues.
Maternal and Child Health: Focuses on the improvement of public health delivery systems for women, children, and their families through advocacy, education, and research.
Global Health: Study of health across national boundaries and of socioeconomic, cultural, and other factors causing disease that transcend national borders, ethnicity, and other divisions.
Registered Nurse (RN)
RN's assess health problems and the needs of patients, develop and implement nursing care plans, and maintain medical records. They also advise patients on health maintenance and disease prevention. Licensing or registration is required.
Pharmacist
Pharmacists compound and dispense medications following prescriptions issued by physicians, dentists, or other authorized medical practitioners.
Nutritionist
Dietitian nutritionists use nutrition and food science to help people improve their health. Nutrition and dietetic technicians work with dietitian nutritionists to provide care and consultation to patients while also providing general nutrition education. Both roles are nationally credentialed and are an integral part of healthcare and foodservice management teams.
Occupational Therapist
Occupational therapists are health practitioners who focus on holistic methods to promote the ability of patients — both physically and mentally — to fulfill daily routines and roles. They build patients' fine motor skills and encourage rehabilitation through the performance of activities required in daily life.
Physical Therapist
Physical therapists improve movement and manage pain of injured or ill patients. Practitioners in this role typically work in preventive care, rehabilitation, and treatment. 
Allied Health Profession
There are a variety of health-related careers beyond nurse, doctor, veterinarian, etc. Spotlight on Careers says: "Allied health professionals, regarded as experts in their field, contribute to patient health directly or indirectly." Examples of these professions include Athletic Trainers, Radiological and MRI Technologists, as well as practitioners of alternative medicine.
Psychology
Psychology is a diverse field with a variety of opportunities. Many psychologists work as health care providers to assess behavioral and mental function and well-being of patients. Psychologists can also teach, conduct basic applied research, and serve as consultants to communities and organizations.
A comprehensive resource offering profiles, educational requirements, and industry information for over one hundred health-related careers. A great place to start exploring careers.
A listing of health and medical careers.  Links include information on job growth, skills necessary, activities done in the course of the position, salary and more.
Prepare for Jobs and Internships
Information, tips, and strategies to help prepare you as an undergraduate.
Global Public and Environmental Health Minor
The Health Sciences Advising Office, Career Services, and faculty members in the departments of Biology, Anthropology, and Geography will support you through making decisions related to your major and class choices.
Depending on the field you are interested in you may need to attend a graduate program. Many opportunities for entry-level positions exist in these areas. To advance your career you might need to obtain a degree like an MPH (Master of Public Health), RN (Registered Nurse), DPT (Doctorate of Physical Therapy), to name a few. 
Please make an appointment with your academic advisor or your Career Services Advisor to talk about your options for post-secondary education.
Alumni Advice
Advice from alumni who work in this industry. 
Featuring Ayanna Williams '08, health researcher, Insight Policy Research; Steven Gabriel '15, fellow, Buffalo's Center for Leadership and Organizational Effectiveness; and Katie Williams '15, product development and introduction fellow, FHI 360.
Visit our resources and links page for links to post-baccalaureate programs, volunteer opportunities, summer internships and programs, and an extensive list of opportunities under "Additional Links Provided by Career Services.".
Firsthand is a platform that offers resources for your specific career path, including job search tips, opportunities, and information on employers within your industry of choice. Simply log in with LinkedIn or create an account using your Colgate email address.
Health and wellness opportunities are not one-size-fits-all. Based on your interests and career goals there are robust offerings but it takes time and effort to identify and apply to them. Many of these programs have early deadlines (December–February) so be sure to meet with an advisor to discuss your plans and start early.
Idealist Search tool, job/internship/volunteer board created to connect people to service-based opportunities and organizations
Pre-Health Summer Internships Compiled by Tulane University, this list includes summer camp programs.
American Public Health Association Undergraduate students are eligible for unpaid APHA internships that offer practical work experience. All majors are welcome.
Many hospitals offer volunteer programs for college students. This is a common way to gain career exposure and see if the hospital environment is a good fit for you. Contact each hospital you are interested in directly as deadlines vary.
Colgate Handshake Opportunities
Check Colgate Handshake, Colgate's internship and job database, for opportunities that may interest you in this field.
Connect to Careers
Latest stories about internships, workshops, professional networks, and more.