Do you enjoy using scientific and mathematical principles to solve practical problems? Consider a career in engineering.
The Accreditation Board for Engineering and Technology (ABET) defines engineering as "The profession in which knowledge of the mathematical and natural sciences gained by study, experience, and practice is applied with judgment to develop ways to utilize, economically, the materials and forces of nature for the benefit of mankind."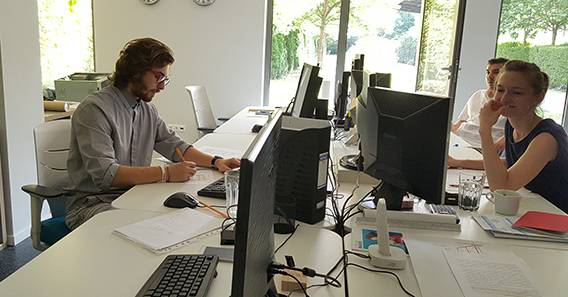 Explore Careers
Engineering is an interdisciplinary profession broadly defined as the practice of applying mathematical and scientific knowledge to solve a problem or satisfy a clearly defined need. Engineers work for entities across a variety of sectors including academic and research institutions, commercial businesses, and governmental organizations. (Source: Vault)
Here are a few areas of specialization for engineers from What Can I Do with this Major? - Engineering:
Aerospace: Includes the development of technologies for use in aviation, defense, and space exploration.
Biomedical: Combines engineering and biomedical sciences to study and develop tools, techniques, and products to improve human health.
Chemical and Biomolecular: A combination of chemistry, physics, biology, and engineering is used to solve problems involving the use or production of chemicals and biological systems to create new materials, increase efficiency, and lower cost.
Civil: A broad discipline that helps provide for communities through the establishment and improvement of services including construction, transportation, city planning, water, and energy.
Computer: Includes the design and development of computer hardware, software, and hardware-software integration.
Electrical: Applies engineering principles to the creation and production of electronic systems and electrical devices.
Environmental: Aids in the prevention and development of solutions to environmental problems.
Industrial: Focuses on the improvement of processes or systems by utilizing people, products, machines, materials, energy, etc., more effectively.
Mechanical: A broad discipline that incorporates research, design, development, manufacturing, and testing of mechanical devices.
Nuclear: Centers on research and development to derive benefits from nuclear processes.
Firsthand.co is a platform that offers resources for your specific career path, including job search tips, opportunities, and information on employers within your industry of choice. Simply log in with LinkedIn or create an account using your Colgate email address.
Prepare for Jobs and Internships
Information, tips, and strategies to help prepare you as an undergraduate.
Related work experience obtained through co-op, internships, part-time, or summer jobs is extremely beneficial.
Join relevant professional associations, attend meetings, participate in design competitions, and stay updated on research and publications.
Here are some skills or qualities to develop and highlight on a resume:
Communication skills: both verbal and written, including technical report writing and presentation skills.
Teamwork: collaborate with other engineers and those outside of the profession.
Creativity: Engineers need to think in logical, scientific, and mathematical terms and exhibit the abilities to study data, sort important facts, and solve problems.
Other helpful traits include attention to detail, computer expertise, intellectual curiosity, a technical aptitude, perseverance, and a basic understanding of the economic and environmental context in which engineering is practiced.
Be familiar with licensing requirements when considering your career path. In the United States, all 50 states, and the District of Columbia, require a license for engineers who offer their services directly to the public. Engineers who are licensed are called Professional Engineers (PE). This licensure generally requires a degree from an ABET-accredited engineering program, 4 years of relevant work experience, and successful completion of a state examination.
Alumni Advice
Advice from alumni who work in this industry.
Laura Coyle '09
Current Title and Organization: Optical Engineer, Ball Aerospace
Major at Colgate: Physics
Advanced Degrees: Ph.D. in Optical Sciences, University of Arizona
What do you currently do?
I design, analyze, build, and test optical systems for a variety of air- and space-borne platforms at Ball Aerospace. These systems include telescopes and spectrometers for NASA science missions, as well as remote sensing instruments for commercial and defense applications. I'm particularly excited about a test bed I'm building to develop new technologies for coronagraphs on space telescopes, which will allow us to directly image Earth-like planets around other stars.
What was your first position out of Colgate and what did you do in that role?
I transitioned directly into a doctoral program in Optical Sciences at the University of Arizona.  My research there focused on novel methods for aligning and testing large optics, specifically primary mirrors for the next generation of monolithic ground based telescopes.
How can students prepare themselves while at Colgate to work in your field?
Pursue as many research opportunities or internships as possible. Practical experience is extremely valuable and the fastest way to gain engineering intuition. Work closely with the professors — Colgate's science departments are small but perform incredible research, giving undergrads a unique opportunity to take a leadership role in experiments, write papers, and attend conferences.
What extracurricular activities, associated with your profession or not, were you involved with while at Colgate?
I was co-President of the Colgate Physics Club and was a member of the Club Ultimate Frisbee and Equestrian teams.
Engineer Jobs — Search engineering jobs by engineering discipline or location
Engineer.net — Search engine for engineering positions
Engineering Central — Engineering job search engine
Dice Tech Jobs — Search resource for tech-related opportunities.
PhDs.org — Resource with a mission to provide the most accurate and recent data for every doctoral program in America.
New Scientist Jobs — Online resource for STEM jobs.
Firsthand.co — A platform that offers resources for your specific career path, including job search tips, opportunities, and information on employers within your industry of choice. Simply log in with LinkedIn or create an account using your Colgate email address.
Colgate Handshake Opportunities
Check Colgate Handshake, Colgate's internship and job database, for opportunities that may interest you in this field.
Connect to Careers
Latest stories about internships, workshops, professional networks, and more.