Does the idea of acting as an advocate excite you? Do you want to impact your local, state, or federal government in a meaningful way? If you enjoy fighting for public causes or solving problems then you may want to consider a career in public service.
These careers range from those in the local government, community arena, metropolitan region, state arena, national, and international settings. Potential employers include local, state, and federal governments; nonprofit and nongovernmental organizations at the local, regional, national, and international level; private firms engaged in working with governments; and private corporations with an active public service culture. Source: University of Pittsburgh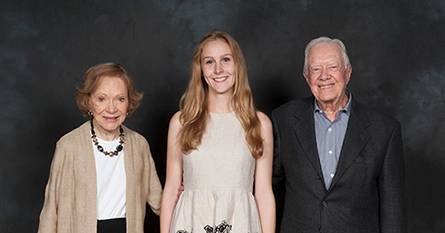 Government
Federal and state governments are split into three branches: legislative, executive, and judiciary. Local administration is usually comprised of city, town, and county government entities. The different government sectors showcase professional roles in education, science, social and human services, defense, politics, administration, legal, human resources, and health-related fields, among others.
Non-Governmental Organizations (NGOs)
An NGO is any nonprofit voluntary citizens' group organized on a local, national, or international level. Task-oriented and driven by people with a common interest, NGOs perform a variety of services and humanitarian functions, bring citizens' concerns to governments, monitor policies, and encourage political participation at the community level. NGOs provide analysis and expertise, serve as early warning mechanisms, and help monitor and implement international agreements. Some are organized around specific issues, such as human rights, the environment, or health. Their relationship with offices and agencies of the United Nations differs depending on their goals, venues, and mandates.
Advocacy
Advocacy is the organized pursuit of influencing public policy and resource allocation. Advocacy is organized actions to highlight critical issues that have been ignored, influence public attitudes, and enact and implement laws and public policies. Human rights form an overreaching framework for these visions. Advocacy organizations draw their strength from members, constituents, and members of affected groups. 
Lobbying
Lobbying is an attempt to influence the opinion of legislators, legislative staff, and government administrators involved in drafting legislative proposals. Many different types of organized groups lobby, including the private sector, corporations, fellow government officials, and advocacy groups.
Human and Social Services
Human and Social Services agencies focus on improving conditions for children and families, education, mental health, and other forms of healthcare. Positions are available in government, nonprofit, and private agencies. The three major employment roles include providing direct service, performing administrative work, and working in the community.
Firsthand is a platform that offers resources for your specific career path, including job search tips, opportunities, and information on employers within your industry of choice. Simply log in with LinkedIn or create an account using your Colgate email address.
Prepare for Jobs and Internships
Information, tips, and strategies to help prepare you as an undergraduate.
Many public service organizations offer internships. Obtaining related experience prior to graduation is very important because internships often have the potential to turn into full-time positions. At the entry-level, research, communications, and program work are common stepping stones into the public service field. The government offers a wide array of opportunities for recent graduates, including long-term paid internships and entry-level positions. The Pathways for Students and Recent Graduates to Federal Careers program, in particular, serves as a gateway for new professionals to bridge into the federal sector throughout all government disciplines.
Languages (especially official languages of the United Nations)
Public Speaking
Technology (computer programming, code, etc.)
Flexibility
Leadership
Knowledge of industry news can give you a sense of the culture and make you a better candidate.
Firsthand is a platform that offers resources for your specific career path, including job search tips, opportunities, and information on employers within your industry of choice. Simply log in with LinkedIn or create an account using your Colgate email address.
These organizations can be great places to make connections, learn more about the field, and search openings. Many have discounted student memberships.
Class Council
Also consider joining clubs associated with the specific geographic region, cause, or social, political, ethnic, racial, or religious group you intend to serve
A Masters or Ph.D. in Public Policy is the typical advanced degree someone in this area might pursue. While some professionals argue that obtaining an advanced degree in the field is crucial for advancement, others contend that one might be better served by pursuing a J.D. or an MBA, or simply several years of work experience.
Alumni Advice
Advice from alumni who work in this industry.
Joshua Lamel '97
Current Title and Organization: CEO, InSight Public Affairs
Colgate Major: History
What led you to pursue your current role?
A desire to take the skills I have learned from my time as a Congressional aide, lawyer, public policy, lobbying, and public relations and put them to use fighting for good causes. 
What activities on campus were most helpful to your transition into your industry and/or life after graduation? 
Being a writer and editor for the Maroon-News definitely helped. It honed my writing and editing skills. My writing was also improved by being a Sociology and History double major. I did so much reading, processing of information, and writing that it has helped me to this day. Writing my thesis and studying social movement theory also helped. My work is focused on creating campaigns for change. Understanding the depths of social movement theory is at the core of my profession. It's my "ace in the hole" that most people in my field have never thought about. Taking intermediate micro and macroeconomics classes, as well as taking a statistics class was also helpful. Those three subjects are useful no matter what you do in life. It's been 25 years, and I am still using what I learned in those classes.
What values do you look for in a company when searching for a role?
I founded my current company, so this is less about me and more about others. If you have a passion and you think you can turn that passion into a career, do it! But always remember success does not come overnight, can be fleeting, and to work hard and pay your dues.
What was the most challenging aspect of the graduate school application process?
It was so different when I applied. It's hard to say anything I did would have value today. As someone who went straight through to law school, I think there are a couple of things students should think about. First, make sure to study and work hard to get the best LSAT score you can get. It sounds cliche, but I was amazed at how much harder I worked to prepare for that test than my peers, and it paid off for me.
How would you advise students to approach the possibility of graduate school during their time at Colgate and after graduation? 
Really think about if you want to go straight through to law school or take some time off. I was not savvy enough as a person coming out of college and starting law school at 22. It was just something to do and seemed logical. I probably would have been better off taking two or three years off. Other people are different — there is no right or wrong answer to this question. You have to know yourself and what makes the most sense for you.
Featuring Andrew DeFrank '18, community engagement specialist, Washington, D.C. District Department of Transportation; Rachel Hegarty '19, field organizer, Biden for President; Paul Lobo '89, founder, Policy Integration Partners LLC.
Nonprofits tend to hire on an as-needed basis and will usually post positions in mid-to-late spring. Otherwise, many of the other areas that fall under the public policy umbrella will hire in a more planned and systematized manner. Interested parties should check for posted positions beginning in winter and early spring. Many government-based positions require you to apply well in advance of your projected start date. For a summer start, jobs requiring any type of security clearance hire in September and October, federal executing departments hire November through March, and Congressional Internships hire January through April.
Colgate Handshake Opportunities
Check Colgate Handshake, Colgate's internship and job database, for opportunities that may interest you in this field.
Connect to Careers
Latest stories about internships, workshops, professional networks, and more.