Chemistry is a physical science concerned with what matter consists of, what its properties are, and how it behaves. The scientists and technicians who do chemical research focus on the different kinds of atoms, how they interact and bond with one another, and how they interact with energy.
Chemists are employed in a variety of industries including pharmaceuticals, energy, government, academia, nonprofits, and start-ups. Chemists can also specialize in subfields such as biochemistry, chemical engineering, geochemistry, physical chemistry, and polymer chemistry.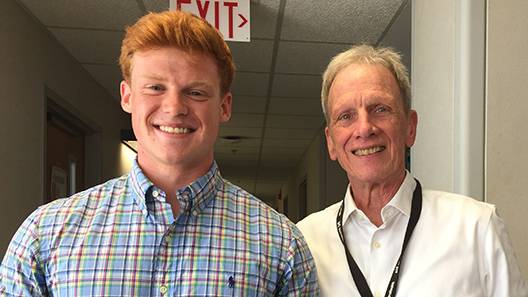 Analytical Chemistry involves obtaining, processing, and communicating information about the composition and structure of matter. Ultimately, analytical chemistry involves determining what matter is and how much of it exists. 
Biological/Biochemistry investigates chemical processes related to living organisms. It is a laboratory-based science combining biology and chemistry. 
Chemical Engineering involves the production and manufacturing of products through chemical processes. This includes designing equipment, systems, and processes for refining raw materials and for mixing, compounding, and processing chemicals.
Inorganic Chemistry is concerned with the properties and behavior of inorganic compounds, which include metals, minerals, and organometallic compounds. 
Organic Chemistry involves the study of the structure, properties, composition, reactions, and preparation of carbon-containing compounds. Originally limited to the study of compounds produced by living organisms, organic chemistry has been broadened to include human-made substances (e.g., plastics).
Physical Chemistry is a good area for chemists who have a strong curiosity about how things work at the atomic level and enjoy working with lab instrumentation and machines. This area focuses on understanding the physical properties of atoms and molecules, the way chemical reactions work, and what these properties reveal. Their discoveries are based on understanding chemical properties and describing their behavior using theories of physics and mathematical computations.
Employment Sectors for Chemists
Academia
Academic careers are about educating the next generation of students, advancing knowledge through original scientific research, and supporting the needs of students and teachers in facilities such as labs and libraries. About 30% of chemists at all degree levels work in academic settings. 
Government
Within government agencies, chemists conduct research, work in regulatory affairs, and focus on public policy. Research can be late-stage, addressing current operational needs and solving problems stated by the agency in their strategic plan, or more basic research into areas of anticipated need.
Industry
Industrial chemists work to develop and manufacture products and processes that will increase their company's sales and profits. A majority of chemists work in the industry. 
Nonprofit
For nonprofits, the goal is to use funding resources to have a positive impact on the world. Examples of nonprofits that employ chemists include:
Professional associations (ACS, American Association of Chemistry Teachers)
Advocacy groups (Chemists without Borders)

Private foundations (Chemical Heritage Foundation, Sloan Foundation, the Bill and Melinda Gates Foundation)

Cultural organizations (museums, zoos, and aquariums)

 
Source: The American Chemical Society
Prepare for Jobs and Internships
Information, tips, and strategies to help prepare you as an undergraduate.
Maintain a high grade point average and secure strong recommendations for graduate school admission.
Develop robust computer, mathematics, and science knowledge. Consider electives in computer science, engineering, business, public speaking, and writing.
Seek coursework and opportunities to enhance laboratory skills.
Obtain part-time, volunteer, co-op, internship or research opportunities with a professor to gain relevant experience.
Develop industry contacts at companies, government laboratories, and research organizations.
Schedule informational interviews to learn about the profession and specific career paths.
Read scientific journals to stay current on relevant issues in the field and join related professional organizations.
A master's degree is sufficient for most applied research positions, industrial work, and some community college teaching positions. A Ph.D. degree is required for university teaching and advanced positions in management and research and development. Postdoctoral experience may be required for research positions at companies, universities, and government. In the United States, doctoral students typically receive full tuition waivers and annual salaries to attend graduate school because there is a strong need for teaching assistants in general chemistry classes. There is also excellent federal and industrial monetary support available for research.
Alumni Advice
Advice from alumni who work in this industry.
Zafir Zaman '10
Current Title and Organization: Sr. Engineer, The Dow Chemical Company
Major at Colgate: Chemistry
Advanced Degrees: Ph.D. in Chemical and Biological Engineering, Northwestern University
What do you currently do?
I work in Business R&D in Polyurethanes since 2016.
What was your first position out of Colgate and what did you do in that role?
Graduate Research Assistant, Northwestern University: I was an experimentalist in a granular flow and mixing lab, working on my Ph.D.
How can students prepare themselves while at Colgate to work in your field?
To be successful in a research-based graduate program, it was important to take advantage of the research opportunities at Colgate to get acclimated to the rigors and mindset of research. Classes teach you how to consume and synthesize knowledge in contrast to research where one is essentially producing a new body of work or knowledge.
I participated in research with Prof. Rick Geier in the Department of Chemistry from my sophomore year to senior year, both during the school year and during the summers. The summers were nice because I got a great mentoring experience since classes do not take up time for both you and your research mentor. On the other hand, during the semester, it was good to learn how to juggle research and classes simultaneously since graduate school requires that. That experience taught me the rigors of experimental research by experiencing the level of care and thought required to execute proper experimental techniques. I also experienced failure, which is a necessary part of research. I was persistent and learned how to diagnose and troubleshoot my reactions until I achieved success. The ability to handle failures and learn from them is of the utmost importance for being successful in a Ph.D. graduate program. I was also a lab assistant for the organic chemistry instructional labs for Prof. Jue and Prof. Hough. This experience was my first experience teaching, which I had to do more of in my Ph.D. program.
In addition, since Colgate does not have an engineering program, it was essential to take math classes (at least up to differential equations) to supplement my chemistry degree during my time at Colgate so that I was considered a competitive candidate for a chemical engineering Ph.D. program. I also took extra physics classes which helped.
What extracurricular activities, associated with your profession or not, were you involved with while at Colgate?
Aside from research, I worked with Colgate IT to service computers and with The Game's Afoot. My friend founded the club, which brought the gaming scene to Colgate. I particularly like board games. I have been known to be ruthless at Settlers of Catan.
Colgate Handshake Opportunities
Check Colgate Handshake, Colgate's internship and job database, for opportunities that may interest you in this field.
Connect to Careers
Latest stories about internships, workshops, professional networks, and more.