Geologists work to understand the history of our planet. The better they can understand Earth's history the better they can foresee how events and processes of the past might influence the future.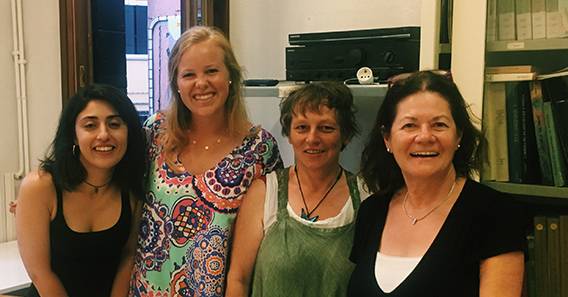 Prepare for Jobs and Internships
Information, tips, and strategies to help prepare you as an undergraduate.
Industry Sectors
Energy: Geologists working in the area of energy use various methods to determine where energy sources are accumulated. They may pursue work tasks including exploration, well site operations, and mud logging.
Environmental Geology: Geologists in this category may focus on studying, protecting, and reclaiming the environment.
Geologic Mapping: Geologists interested in geologic mapping collect, process, analyze, translate, and disseminate earth-science information through geologic maps.
Hazards: Geologists in this area focus on the detection of hazards such as earthquakes, volcanoes, landslides, floods, and tsunamis, as well as the effects of these hazards on the landscape.
Minerals: Geologists who study mineralogy or mining geology are interested in locating the accumulations of minerals or metals within the earth's crust. They may pursue work tasks including exploration, well site operations, mine design, reclamation, and groundwater management.
Planetary Sciences: Geologists involved in planetary sciences may participate in processing and analyzing data from various missions to bodies in our solar system, assisting in finding potential landing sites for exploration vehicles, mapping neighboring planets and their moons, and conducting research to better understand the origins, evolutions, and geologic processes operating on these bodies.
Education: There are opportunities for academic careers in geology at museums, colleges/universities, and elementary/secondary schools.
Information, tips, and strategies to help prepare you as an undergraduate.
General Information and Strategies
Within the many facets of geology, there is often an overlap of job functions. However, many geologists find advantage in becoming more specialized.
Gaining experience is very important, and there are many opportunities for students to obtain volunteer, part-time, summer, field camp, internship, and/or co-op experiences in various geological areas.
Possess a love of the outdoors, an interest in nature, and a desire to travel.
Develop physical stamina to work and conduct research in remote areas under various conditions.
Obtain experience in mapping and surveying. Develop skills with measuring equipment as well as laboratory equipment and processes.
Acquire a business background to help in managing projects and assessing economic costs and benefits.
Join groups directed toward improvement of natural resources, environment, and pollution control including professional organizations related to your interest area(s).
Develop exceptional computer skills.
Learn a foreign language for work in other countries.
Excellent verbal and written communication skills are essential. The ability to market your skills and write proposals is necessary to maintain steady work. Grants may be necessary to start and continue projects.
Graduate School and Certification Information
A bachelor's degree may be sufficient for entry-level industry positions.
A master's degree is often preferred for state survey work, the oil industry, and for advancement in the field.
Employment prospects are best for those with master's degrees, familiarity with advanced technologies such as computer modeling, and willingness to relocate.
Maintain a high GPA and secure strong faculty recommendations for admittance to graduate school.
Research licensure and certification laws by state for pursuing registered geologist credentials.
Alumni Advice
Advice from alumni who work in this industry.
Alison MacNamee '12
Current Title and Organization: Geologist, Hess Corporation
Major at Colgate: Geology
Advanced Degrees: Master's Degree in Geological and Earth Sciences, The University of Texas at Austin
What do you currently do?
I am currently in training as a geoscientist at Hess Corporation—an independent energy company focused on the exploration and production of oil and natural gas. My job is to develop a broad technical skill set as I rotate through different company assets. My responsibilities have included mapping depositional systems in offshore Brazil, analyzing well logs for rock physics models, and mapping structures in the deepwater Gulf of Mexico to explore for prospective oil accumulations.
What was your first position out of Colgate and what did you do in that role?
After Colgate, I became a graduate research and teaching assistant at The University of Texas at Austin. I pursued a Master's degree in geological sciences by conducting both field and lab-based research in geo/thermochronology, structural geology, and tectonics. I also worked teaching classroom courses and the university's undergraduate geology field camp.
How can students prepare themselves while at Colgate to work in your field?
There are many ways to prepare for a career in the energy industry while in college. I would encourage students to challenge themselves with a variety of courses in geology as well as math, chemistry, physics, and biology. Try to gain exposure to software applied in the industry, for example, by taking a course in GIS. Seek out professors for advice and opportunities to participate in research projects to learn how to acquire data and develop critical thinking skills. Participate in professional geological and geophysical organizations, and attend conferences. You will have the opportunity to meet industry professionals and potential graduate school advisors, as well as to gain presentation skills. There are also many internships in the industry available to undergraduates that you can learn more about from these professional networks or from your professors.
What extracurricular activities, associated with your profession or not, were you involved with while at Colgate?
While at Colgate I was involved with research projects conducted in the geology department both over the summer and during the school year. I worked as a teaching assistant for multiple geology labs and field camp, and as a Residential Advisor in the dorms. I also enjoyed time on the rugby pitch and on the cross-country trails where I ran and skied.
Colgate Handshake Opportunities
Check Colgate Handshake, Colgate's internship and job database, for opportunities that may interest you in this field.
Connect to Careers
Latest stories about internships, workshops, professional networks, and more.