Do you enjoy writing, public speaking, and analytic reasoning? Consider exploring careers in the legal field.
The legal profession is a large and profitable industry that is an integral part of our daily lives. Attorneys play key roles in the business world: in local, state, and federal court systems, in government agencies, and in nonprofit organizations. They provide legal advice and representation regarding hundreds of issues such as labor and employment, intellectual property, mergers and acquisitions, civil rights, national security, the environment, and bankruptcy.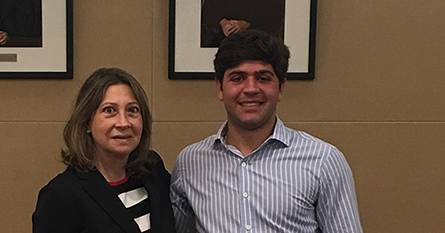 This is not a comprehensive list, but some of the most popular law school specializations that exist today:
Business Law
Business law deals with aspects of the law having to do with industry and commerce — from taxes and liability to licensing and trademarking. This extremely wide section of the law branches out into numerous areas of expertise.
Small-business law
Often focuses on the kind of legal counsel needed during the early years of a business, such as tax classifications, hiring employees, and the proper zoning and licensing needed to start a business.
Corporate law
More likely to deal with the financial and structural status of an established company, as well as the provision of legal advice on day-to-day dealings.
Criminal Law
Criminal law revolves around governmental prosecution of anyone who is purported to have committed a criminal act, as defined by either local, state, or federal penal codes.
Environmental Law
Environmental law involves the interpretation and enforcement of laws and standards that would protect the environment from public and private actions.
Intellectual Property Law
Intellectual property (IP) law has seen tremendous growth in the past decade. It is a general category of law that deals with the acquisition and enforcement of patents, trademarks, and copyrights. IP law can traditionally be broken down into three subdivisions:
Patent law
Focuses on inventions and technology.
Public Interest Law
Focuses on the well-being, the rights, health, or finances of the public at large, most commonly advocating for those living in poverty or marginalized populations.
Trademark law
Designed to defend an individual's or a company's investment in any distinguishing name, symbol, or device.
Copyright law
Deals with the protection of literary, artistic, and musical works.
Joint Degree Programs*
In addition to offering specialized areas of study, many law schools have instituted formal dual-degree programs that offer students the opportunity to pursue a Juris Doctorate (JD) degree while also working toward a Master's degree. Although the JD/MBA combination is the most popular joint-degree sought, many universities offer a JD program combined with Masters' degrees in areas like public policy, public administration, and social work. Although they take more work, dual degrees may make some students more marketable for certain positions. (*Depends on the school, joint degrees can vary)
Firsthand Industry Guides: Log in or create an account (you will need to create an account using your Colgate email address to view this content) and then find "Law" through the search box or in Industries & Professions – There are links to pages for many specific professions at the bottom of this page.
Prepare for Jobs and Internships
Information, tips, and strategies to help prepare you as an undergraduate.
Information, tips, and strategies to help prepare you as an undergraduate
Entry-level positions
Many students or recent graduates choose to pursue a gap year (or several) prior to attending law school. A common option for students looking to fill the time before law school is a paralegal or legal assistant. These roles can be found in large law firms and corporations, non-profit organizations, and public service agencies. Paralegal and legal assistant roles encompass case preparation and research and usually require a two-year commitment.  Serving as a paralegal or legal assistant is not the only route through which to be successful in law school. Other roles related to public service, advocacy, business, and education are also common experiences before attending law school.
To practice law, a Juris Doctor (JD) is required. In addition, law school graduates must also pass the bar exam within the state(s) in which they plan to practice. For more information on applying to law school, visit the Pre-Law Advising page and the Future JD Students page on the LSAC website.
Necessary skills will depend on the type of law you intend to practice. In general, the following are important attributes for someone pursuing law to possess: reading and writing skills, love of language, public speaking competency, confidence, rhetoric, logic, and attention to detail
Visit Black's Law Dictionary for the most up-to-date legal terminology.
Industry news and trends
"Above the Law" - blog with up-to-date cases/current events for the law field
Some Twitter Accounts to Follow:
@Msjdorg: excellent resource for women in law school/the legal field
@prelawguru: Peg is always sharing tips and tricks for your law school application
@ABAesq: Home of the American Bar Association
@LearnLeo: LSAT study tips
@Lawyerist: Your place for how to survive life in practicing law
@LawSchoolNews: Updates and information relating to law schools
@LawPreview: 6-day and 5-day classroom instruction and online courses to help you prepare for law school
@LSACForums: Forums are law school events across the country that let you meet with law school representatives, LSAC members, and attend workshops to help you create a competitive application
@Admissions_Dean: Provides an inside scoop on law school information, scholarships, and the admissions process
Search individual law schools that you are interested in. More and more law schools have their own twitter account and share updates!
All liberal arts majors can be applied to a law degree. More common areas of study include:
Classics
Economics
English
Environmental Science
History
Humanities
International Relations
Peace and Conflict Studies
Philosophy
Political Science
Sociology and Anthropology
Theater
Women's Studies
Writing and Rhetoric
These organizations can be great places to make connections, learn more about the field, and search openings. Many have discounted student memberships.
Alumni Advice
Advice from alumni who work in this industry.
Rebecca Fertig Cohen '03
Current Title and Organization: Chief of Staff, Legal Services Corporation
Major and Minor at Colgate: Political Science, Geography
Advanced Degrees: Syracuse University, College of Law (J.D.)
What is it that you currently do? What are your major responsibilities?
As Chief of Staff, I oversee the day-to-day LSC operations working closely with the LSC President. We meet daily to review his calendar, to discuss pressing Corporation issues, and to discuss long-term objectives. I represent the President internally and externally in meetings that he cannot otherwise participate and provide necessary follow-up on his behalf. I help strategize and coordinate speaking, donor development and other outreach opportunities for the LSC President and the LSC Board of Directors. I also help oversee Corporation-wide initiatives like revising our Strategic Plan and internal budget process. Finally, I oversee the planning and execution of all LSC Board of Director quarterly meetings held across the country and serve as the primary point-of-contact for the LSC Board. I oversee all programming and content preparation, including speakers and panelists, drafting talking points and outlining panel discussions, as well as the coordination of all logistics and advance work.
What was your first position out of Colgate and what did you do in that role?
I immediately went to law school. During law school, I interned with (then) Senator Clinton in her Syracuse Central New York Office. During my last year of law school, I became the interim Regional Director for Central New York. I managed and oversaw all matters of 16-county region for Senator Clinton, including monitored all media and events, and composed memorandum to apprise her of noteworthy issues. I conducted meetings with regional business executives, community leaders, and elected officials. I helped to create, plan, and organize events for Senator Clinton, as well as advanced and assisted the Senator when she traveled to Central New York. Finally, I supervised all constituent matters arising in the region.
How can students prepare themselves while at Colgate to work in your field?
Writing and communication are critical elements to my (and any) profession. It is important to take advantage of the great Colgate professors to hone your writing (and grammar) capabilities. Additionally, internships and real work experience are crucial. It is not only important to understand how to act professionally in the workplace, but also to create, build, and sustain relationships with employers and colleagues who may be able to help offer advice or get your foot in the door following graduation.
What extracurricular activities, associated with your profession or not, were you involved with while at Colgate?
I was a member of the 2002 Washington Study Group. My internship in Senator Clinton's DC office opened every door I have had professionally since graduation. I was also a member of the Colgate Political Science Honor Society and the Colgate Political Union. I was a member of Gamma Phi Beta and actively involved in New Member Recruitment.
Brian Ascher '03, partner, Gibson Dunn & Crutcher; Greer Harrison '18, litigation paralegal at Weil, Gotshal & Manges LLP; Rob Sobelman '08, Assistant U.S. Attorney, Southern District of NY
Colgate Handshake Opportunities
Check Colgate Handshake, Colgate's internship and job database, for opportunities that may interest you in this field.
Connect to Careers
Latest stories about internships, workshops, professional networks, and more.