Do you enjoy thinking strategically and solving problems? Do you have a "can do" attitude, enjoy working on a team, and perform well under pressure? If so, then a career in marketing may be for you.
Marketing is a management process that emphasizes the value or concept of a product, brand, or service by developing a strategy that targets consumers and/or businesses. Marketing is a primary function of many diverse industries including sales and finance, healthcare, retail, sports, and media communications. These can be divided into three main fields: communications, consulting, and research.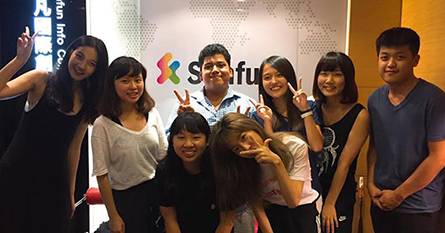 Marketing Communications
Marketing or promotional communications is a subset of marketing that includes the integration of images, copy, and other media to promote a single message about a service, product, or brand. Communication specialists, managers, or marketing coordinators are usually involved in cross-communications between other departments. They assist with the creation, conception, development, editing, research, and purchase of materials. They may also be involved in sales strategies, client relations, new business developments, and public relations depending on the needs of the client or organization.
Entry-Level Positions: Assistant Account Executive, Brand Assistant
Marketing Consulting
Marketing consulting is the management of a full-cycle marketing plan that includes identifying a business problem, making recommendations, and initiating action. Consultants are highly skilled professionals (20–30 years experience) and are typically self-employed or business owners of a marketing consulting firm. Nonetheless, there are entry-level consulting opportunities depending on the type of consulting firm.
Entry-Level Positions: Business Associate, Analyst, Staff Consultant
Market Research
Market research is the design, collection, analysis, and reporting of data and findings specific to a business problem. Market researchers conduct qualitative and quantitative research focused on the consumer, company, or competitors. Their research will support new product developments, communications, and overall consumer satisfaction. Market research occurs at the inception of a marketing plan to inform pricing, product ideas, promotion locations, and distribution.
Entry-Level Positions: Market Research Analyst, Market Research Coordinator
Firsthand is a platform that offers resources for your specific career path, including job search tips, opportunities, and information on employers within your industry of choice. Simply log in with LinkedIn or create an account using your Colgate email address.
Prepare for Jobs and Internships
Information, tips, and strategies to help prepare you as an undergraduate.
Be specific about the type of marketing experience you are seeking during a phone screen, in an interview, and on your resume. Don't be too concerned with specific job titles but try to highlight your professional skills and interests.
Start by gaining an internship in advertising, a public relations department, or a management consulting firm (larger firms offer management trainee programs).
Join a campus club or organization to develop marketing basics like creating promotional materials, doing data collection, or program management.
Network, Research, and Follow: marketing is built on personal and professional connections. As an intern or entry-level employee, get to know the business and the opinions of marketing experts by scheduling informational interviews and conducting research via social media.
spotlightoncareers.org/career/sales-marketing/interview-skills/
(for username and password, please contact Career Services)
CaseQuestions.com Case interviews are a way for companies to test your smarts. In order to nail the case, you need to know how to prepare and perform. CaseQuestions.com will help answer a lot of your questions and get you started (you will need to create an account using your Colgate e-mail address to view this content).
Writing and technology skills
Ability to use social media, internet, and mobile technology
Sales experience
Creative problem-solving skills
A "can do" attitude
A team player
Enthusiasm
The ability to work under pressure with strict deadlines
Be familiar with these terms from the American Marketing Association and use them in application materials and networking conversations.
Positioning: The place a product or brand occupies in a market segment.
Trade area: A geographic sector containing potential customers for a particular retailer or shopping center.
Return on sales (ROS): An indicator of profitability used to compare companies and industries of differing sizes.
Business to Business (B2B): A business that markets its products or services to other businesses.
Firsthand
Firsthand is a platform that offers resources for your specific career path, including job search tips, opportunities, and information on employers within your industry of choice. Simply log in with LinkedIn or create an account using your Colgate email address.
Trade Publications:
Twitter accounts to follow and marketing blogs to read:
A comprehensive resource to review other professional associations: KnowThis.com
ECON 105, Principles of Accounting
PSYC 170, Brain & Behavior
ECON 251, Intermediate Microeconomics
PSYC 263, Social Psychology
ECON 314, Industrial Organization
PSYC 261, Personality Psychology
PSYC 364, Human Motivation
PSYC 353, Visual Perception & Cognition
SOCI 222, Media and Modern Society
SOCI 375, Media and Politics
ANTH 374, Anthropology of Media
ANTH 359, Corporations and Power
Alumni Advice
Advice from alumni who work in this industry.
Andrew Flannery '88
Current Title and Organization: Director of Administration, University of Washington Center For Precision Diagnostics
Major at Colgate: Philosophy
Advanced Degrees: MBA in Strategic Management, Boston University Questrom School of Business
Featuring Brendan Buglione '10, business development manager at Ball Corporation; Tara Carey '13, Sports Partnership Lead, Snap, Inc.; and Josh Page '03, senior brand marketing manager at PepsiCo.
Lauren Casella '16, senior analyst, Marketing Sciences, R/GA; Daniel Berry '17, associate, crisis and corporate issues, Weber Shandwick; Miriam Charry '16, account executive, Wieden + Kennedy
Colgate Handshake Opportunities
Check Colgate Handshake, Colgate's internship and job database, for opportunities that may interest you in this field.
Connect to Careers
Latest stories about internships, workshops, professional networks, and more.