Are you investigative and inquisitive by nature? Do you enjoy writing and value attention to detail? If so, then a career in journalism may be for you.
Journalism is the practice of investigating and reporting events, issues, and trends to mass audiences through print, broadcast, and online media.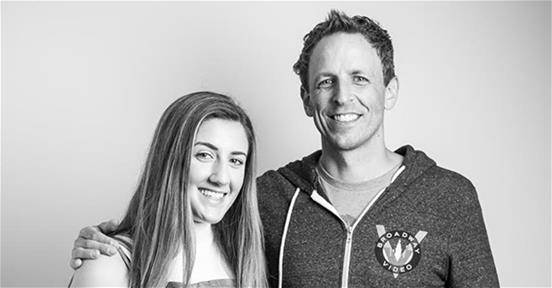 Prepare for Jobs and Internships
Information, tips, and strategies to help prepare you as an undergraduate.
Prepare yourself
Get involved with on-campus or local weekly publication to learn journalism basics (design layout, writing, interviewing and advertising). Always keep samples of your writing for use when applying to future internship and entry-level positions. A helpful resource to learn more about journalism clips is Tools to Build Your Online Portfolio. *Note: Colgate's Digital Media Services department hires student workers as Media interns and Media Monitors. To learn more, please visit the Digital Media Learning Center (DLMC) homepage.
Develop a Portfolio
The best way to demonstrate your interest in journalism is to create an online portfolio of your best work, especially if you don't have formal training in the field. A well-rounded portfolio includes: internship or non-academic writing assignments, video, or transcripts of interviews and featured stories. There are many free websites that allow you to easily create an online portfolio including WordPress, Pressfolios, and Portfoliolounge.com.
Network
Journalism and entertainment are built on personal and professional connections. Conducting informational interviews with Colgate alumni is a great way to make connections and to learn about different career trajectories. The goal is to create a healthy network of industry professionals who are supportive of your career interests.
Focus on career highlights as opposed to a "life story," and add a professional summary as opposed to an objective statement. In journalism, experience trumps education, so make related experience the focal point of your document. If you have ever impressed anyone in the media/broadcasting business, list them as references (typically included at the bottom of the resume). Potential supervisors would rather hear from someone in the business than someone who is not.
Writing and editing
Research and interviewing
Interpersonal skills
Ability to work under pressure with strict deadlines
Experience with software programs (i.e. Photoshop, Illustrator, Adobe Premiere Pro, Final Cut Pro)
Attention to detail
Be familiar with these terms and use them in application materials and networking conversations.
Journalism Lingo
Byline: The name of the reporter.
Column: An article in which a writer expresses their opinion on a topic.
Editorial: An article expressing a newspaper or magazine owner's or editor's position on an issue.
Facts sheet: Information prepared by public relations professionals to help news media cover an event. This is one way for a business to market its products or services to other businesses.
Broadcast Media Lingo
Lead-in: The beginning part of a story that introduces the story or the reporter.
Headline: A teaser that is read at the beginning of a newscast to attract audiences.
Spot: An advertisement that runs during commercial breaks.
Nielsen: A research firm primarily used in determining television ratings.
Arbitron: A research firm primarily used in determining radio ratings.
Alumni Advice
Advice from alumni who work in this industry.
Alexandra Cassel '11
Current Title and Organization: Producer, Out of the Blue Enterprises
Major at Colgate: Psychology
Advanced Degrees: M.A. Developmental Psychology, Columbia University
What do you currently do?
I am currently the Producer on "Daniel Tiger's Neighborhood", an animated series for preschoolers on PBS Kids. I oversee the production process from scripting, to voice-over casting, design, animation, music, and final episodic delivery to the network. At all stages, in addition to integrating feedback from the show's creator, writers, and research consultants, I provide my own direction from my creative point of view, grounded in Child Development research, to ensure that all decisions are on-brand.
What was your first position out of Colgate and what did you do in that role?
I have been at the same company since graduating from Colgate, but initially started in the Writing Department, as a 'Writing Coordinator'. In that role, I was responsible for collating script notes from Network Executives and research consultants, as well as copy-editing all scripts, and finally delivering them to the Production Team.
How can students prepare themselves while at Colgate to work in your field?
I had a clear idea, early on, that I wanted to work with kids in some capacity. I was fortunate to have studied coursework at Colgate that perfectly aligns with my career — I majored in Psychology and minored in Film and Media Studies. I went on to receive my Masters in Child Development from Columbia University, and am now able to combine my educational background with my passion for television to develop engaging content for a preschool audience. As is usually the case with Producer roles, my responsibilities also include the management of series' budgets and production schedules, ensuring that all departments meet necessary deadlines. A Colgate student, in any field of study, can (and should) be cultivating these skills, as organizational skills and attention to detail are valued in every industry.
What extracurricular activities, associated with your profession or not, were you involved with while at Colgate?
I enjoyed volunteering through "Liberty Kids" as a reading buddy in Hamilton's elementary school, something I certainly miss today. At my current job, we are less hands-on educating kids, but at the same time, we do have a wider reach. Additionally, I participated in Greek Life as a member and Treasurer of Kappa Kappa Gamma. While it may seem unrelated to Children's Television, networking continues to be a huge factor in the workplace, and it has been great re-connecting with Kappa's from Colgate or elsewhere, at lectures and events.
Zac Coe '14, copywriter, MTV at Viacom; Mara Stein '19, east coast page, NBCUniversal Media, LLC
The recruitment cycle for journalism jobs and internships usually begins in February and ends in May. For radio and television jobs and internships, recruitment begins in March and ends in June.
Visit Firsthand.com for information about companies and careers. The site provides the industry context needed to identify your best job opportunities. Use the Research Companies tab to browse popular industries, or search for key terms using the search bar. You will need to create an account using your Colgate e-mail address to view this content.
Off-Campus Recruiting Consortia
CIC is a great way to connect with employers for internships and jobs during winter break. CIC events take place in Boston, Los Angeles, New York, and Washington, D.C. Potential candidates are encouraged to prepare in advance of CIC deadlines by partnering with Career Services.
Past CIC Media and Communications Employers (entry-level positions and internships):
Journalism internship/job programs:
International Radio & Television Society: Offers a Summer Fellowship program on broadcasting, cable, advertising, and interactive media.
Brooklyn Workforce: Offers a two-year Production Assistant Training Program for low income, unemployed residents of NYC (six months or more).
Nielsen: Offers a rotational program "Emerging Leaders Program" for industry graduates.
NBCU: Offers several early career and leadership programs, such as the News Associates program and East Coast/West Coast Page program.
ABC News Internship: Offers internships in production, news, graphics, business, and other units.
FOX Ails Apprentice Program: A one-year program that recruits internally from Fox News Channel University but is available to external candidates, too.
Fox News Channel University: An internship program for students interested in production, news, graphic, business, and other units
Job and internship search sites:
FMST333, Documentary Film
FMST/SOCI375, Media & Politics
PCON 314, Media War: Peace and Conflict in the Digital Age
Colgate Handshake Opportunities
Check Colgate Handshake, Colgate's internship and job database, for opportunities that may interest you in this field.
Connect to Careers
Latest stories about internships, workshops, professional networks, and more.