Would you like to make a difference in the lives of others? Do you enjoy writing, reading, and interacting with students of all ages? Consider exploring a career in education.
There are many different ways to get involved in the education industry, teaching is only one pathway. Some positions include, but are not limited to higher education administrators, test prep providers, athletic directors, K–12 school administrators, guidance counselors, or library instructors.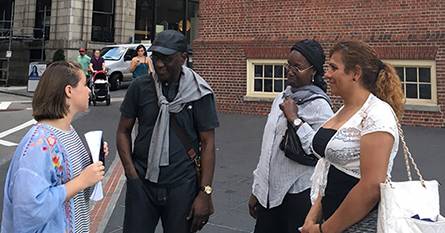 Funded by taxpayers, public schools are divided into geographical districts that are run by elected local officials on school boards. Public schools are typically divided into grades by age and learning level, including elementary, middle, and high school. Public schools offer a tuition-free source of education for communities and can provide great career opportunities for teachers. Teaching at a public school helps you be part of the community while giving back and making a difference in children's lives. Public school teachers often enjoy excellent benefits packages, including health and retirement. Conversely, public school districts often wrestle with issues including facilities, class size, budgets, and administrative support. 
Private schools are not administered by local, state, or national governments and they retain the right to select their students and are funded in whole or in part by charging their students tuition. Because private schools do not receive tax dollars, removing state requirements, private schools have greater leeway in courses and curriculum standards than public schools. There are many different types of private schools, varying in philosophies of education and services to students and communities. The teaching environment in a private school may differ from a public school, often due to greater autonomy in the classroom, motivated students, a sense of community, and adherence to a mission. While private school teachers have greater control over curriculum and discipline in the classroom, they are often paid less than their public school counterparts.
Teaching overseas is an excellent opportunity for those who want to spend an amount of time abroad. A significant majority of overseas teaching positions are focused on teaching English and usually do not require any special certification.
Tefl.net provides a helpful "Frequently Asked Questions" section for those considering teaching English abroad.
InterExchange presents a quick descriptive view of some of the types of teaching jobs available. English language skills are in high demand all around the world.
Higher education refers to a variety of public and private institutions of post-secondary education. Institutions of higher education provide an intellectually stimulating environment as they support the growth and development of their students both in and outside the classroom. In addition to a stable workplace, colleges and universities often offer such benefits as access to facilities and events, health insurance, and retirement programs. For the most part, jobs in higher education require extensive work with students on the part of faculty and staff. Generally, positions fall into one of three sectors on campus: administration, positions such as the dean of faculty, treasurer, director of development; faculty; and student affairs, departments such as financial aid, counseling, and career planning.
Most library work involves working directly with people who are users of the library and with the technology used to collect, organize, and disseminate information and resources. Each library has a unique audience and resources and every employee needs to understand both in order to connect users with appropriate resources for their needs. Librarians are natural collaborators who work closely with other groups and organizations in the library's "community" (city/town, college campus, other employees in the organization, or a network of connected libraries). Librarians often perform a number of functions, including collection development, financial management, supervisory duties, technology troubleshooting, volunteer coordination, and information management.
The ALA describes some of the different jobs on this page: ala.org/educationcareers/careers
See also: What Do Librarians Do? from the Syracuse University School of Information Studies
Prepare for Jobs and Internships
Information, tips, and strategies to help prepare you as an undergraduate.
Through Colgate's Department of Educational Studies, students can pursue the following programs:
Undergraduate major or minor in Educational Studies
Undergraduate teacher certification (New York State) at either the elementary or secondary level
Master of Arts in Teaching and secondary school certification
Graduate School
There are many different education programs and specialties that exist. Some examples include:
Curriculum and Instruction
Educational Administration and Supervision
Education Policy
Educational Psychology
Elementary, Secondary, or Higher Education specialties
Special Education
Student Counseling and Personnel Services
For more information visit: Grad School Rankings and Reviews
Teaching Degrees provides a handy guide to a career in teaching.
Certification
Certification will vary depending on your state. Visit teach.org/teaching-certification for a thorough explanation of licensing and certification requirements per state
Highlight your academic credentials. Credentials, certifications, and degrees should be listed at the top of your resume.
Include a teaching philosophy. Address your personal values and goals in regards to teaching. Explain what you want to accomplish in the classroom, how you plan to achieve that goal, and to what overall results.
Write a keyword-rich resume. Sample Education-Specific keywords include: Teaching and learning, curriculum development, curriculum planning, curriculum design, creative lesson planning, in-service leadership, peer tutoring, peer mentoring, lead teacher, teacher-parent relations, special needs students, gifted/talented students, ESL/ESOL students, student success, testing, learner assessment, technology integration, classroom management, classroom monitoring, discipline strategies, student involvement, parental involvement, instruction, teaching across the curriculum, interdisciplinary teaching approaches, K-12, mainstream, inclusion, brain-based learning.
Public Speaking
Organization
Writing
Leadership
Experience working with students/children
Subject area knowledge
Chronicle of Higher Education - The Chronicle is the most comprehensive resource for reporting news in higher education.
Higher Education Resource Hub - A powerful clearinghouse that includes information on the history of higher education, an "Encyclopedia of Higher Ed," an extensive listing of job search sites and professional organizations, as well as a directory of higher education degree programs and course syllabi.
The American Library Association is the main professional organization, encompassing all kinds of library specialties so their site is an important one to explore.
Library-related resources collected by ALA: ala.org/educationcareers
Knowledge of industry news can give you a sense of the culture and make you a better interview candidate.
Alumni Advice
Tips and advice from alumni working in this industry.
Cathy Law '81
Current Title and Organization: High School Science Teacher at New Paltz High School and Adjunct Professor at SUNY New Paltz
Major at Colgate: Geology
Advanced Degrees: MS in Science Education
What do you currently do?
I teach 9–12 grade science classes which involves preparing and teaching lessons on everything from Astronomy to Environmental Science. My job requires the skills of a lawyer, judge, therapist, entertainer, librarian, bookkeeper, and occasionally the police. It is never boring.
What was your first position out of Colgate and what did you do in that role?
I was a Reconnaissance Geologist for Anaconda Minerals in Alaska. We flew in helicopters and mapped the geology of the Alaskan wilderness. Fortunately for the pristine tundra and wildlife, we didn't find any valuable minerals.
How can students prepare themselves while at Colgate to work in your field?
To be a fabulous and passionate teacher you need to take as many upper-level science classes as you can. Fortunately, I took so many Biology and Geology classes that I was able to qualify for a double certification as an Earth Science and Biology teacher.
What extracurricular activities, associated with your profession or not, were you involved with while at Colgate?
I was a member of the Outing Club. The geology department had an unofficial frisbee club which kept us in shape.
Colgate Handshake Opportunities
Check Colgate Handshake, Colgate's internship and job database, for opportunities that may interest you in this field.
Connect to Careers
Latest stories about internships, workshops, professional networks, and more.