Do you want a career that can expand outside of the United States? Do you tend to think about international relations and how other countries interact with each other? Are you passionate about another culture and/or language? If so, you might want to consider a career path in international affairs.
International affairs careers can be found across all sectors, private, public, or government. There are also many think tanks and non-governmental organizations (NGOs) devoted to international relations.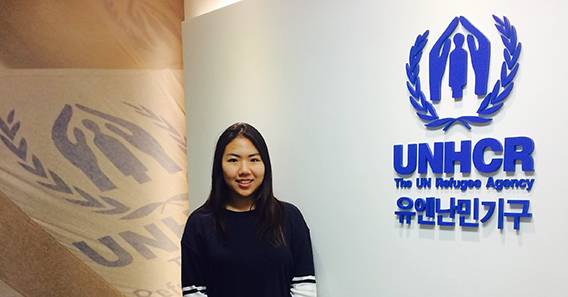 Prepare for Jobs and Internships
Information, tips, and strategies to help prepare you as an undergraduate.
Describe your international experiences as they relate to this position.
How has your study abroad experience contributed to your candidacy?
Describe an experience dealing with a cultural difference and barrier. How did you react/handle the situation?
Describe a current global issue that matters to you.
Are you willing to travel to countries without western amenities as part of your job?
Tell me about a time when you completed a research project?
Tell me about a time when you managed a project?
Knowledge of industry news can give you a sense of the culture and make you a better interview candidate. Social media can be a great tool to stay current:
Follow each organization, office, and agency on multiple social media outlets for job postings, updates, and other resources
Some possible graduate degrees:
Master of Arts in International Affairs (M.A.I.A.)
Master of Arts in International Communication (M.A.I.C.)
Master of Arts in International Development (M.A.I.D.)
Master of Science in Development Management (M.S.D.M.)
Master of Arts in International Peace and Conflict Resolution (MAIPCR)
Master of Arts in Law & Diplomacy (MALD)
Global Master of Arts Program (GMAP)
Master in International Business (MIB)
Master of Laws in International Law (LLM)
Master of International Service (M.I.S.)
Master of Science in International Affairs (MSINTA)
Ph.D. in International Relations (Ph.D.)
Graduate School Resources
Alumni Advice
Advice from alumni who work in this industry.
Stephen Matzie '02
Current Title and Organization: Director of Project Finance, U.S International Development Finance Corporation (DFC)
Major at Colgate: Economics and International Relations
Advanced Degrees: Masters in Development Economics and International Relations; Masters in Finance, Johns Hopkins University
What led you to pursue your current role?
It combines many different interests including international affairs, economics and finance, public service, and travel. I value work that is challenging but very rewarding when it improves the lives of other people.
What activities on campus were most helpful to your transition into your industry? 
Study abroad on the London Economics Program, plus my double major in economics and international relations. I volunteered through various campus organizations, including the Newman Community.
What values do you look for in a company?
Mission-oriented, good team dynamics, positive and inclusive work environment, supports professional development, challenging and increasing job responsibilities, innovative and hardworking atmosphere.
What was the most challenging aspect of the graduate school application process?
Finding the program that is the right fit with your interests and experience, which then makes the application flow more naturally; reach out to students and staff in the program to network; standardized tests.
How would you advise students to approach the possibility of graduate school during their time at Colgate and after graduation?
Understanding what you would like to pursue professionally should be a prerequisite to attending graduate school because of the time, money, and challenging coursework. There is not a right answer for attending graduate school right away or waiting. It just depends on the field of study, professional requirements, and where you are personally.
Did you take a gap year?
I did not but would have equally benefited from a few years of job experience first.
Colgate Handshake Opportunities
Check Colgate Handshake, Colgate's internship and job database, for opportunities that may interest you in this field.
Connect to Careers
Latest stories about internships, workshops, professional networks, and more.