Are you interested in the physical and psychological well-being of others? Consider a career in health and wellness.
From direct patient care to laboratory research, there are a variety of career options in health and wellness that you are encouraged to explore based on your personal interests. Some of these options include physician, occupational or physical therapist, nutritionist, healthcare administrator, healthcare educator, dentist, and mental health counselor.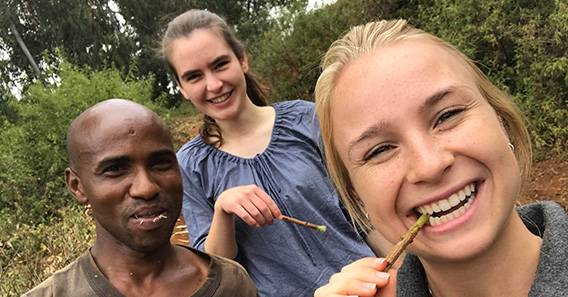 Explore Careers
This is just a sampling of the many careers available in the healthcare field.
Physician
MDs Medical doctors practice allopathic medicine, the classical form of medicine, focused on the diagnosis and treatment of human diseases.
DOs Osteopathic physicians focus on a more holistic view of medicine in which the intent is on seeing the patient as a "whole person" to reach a diagnosis rather than treating the symptoms alone.

Dentist
Dentists diagnose and treat diseases, injuries, and malformations of teeth, gums, and related oral structures. They can also treat diseases of nerve, pulp, and other dental tissues.
Chiropractor
Chiropractors adjust the spinal column and other articulations of the body to correct abnormalities of the human body believed to be caused by interference with the nervous system.
Registered Nurse (RN)
RN's assess health problems and the needs of patients, develop and implement nursing care plans, and maintain medical records. They also advise patients on health maintenance and disease prevention. Licensing or registration is required.
Optometrist
Optometrists examine, manage, and treat conditions and diseases of the human visual system. This includes determining problems or impairments, prescribing corrective lenses, and providing treatment.
Physician Assistant (PA)
PA's provide healthcare services typically performed by a physician under the supervision of a physician. They help conduct physicals, provide treatment, and counsel patients. To become a PA, it's required that you graduate from an accredited educational program for physician assistants.
Physician Scientist
Physician scientists are physicians or dentists who pursue their research interests in the laboratory. Various training pathways and career opportunities exist for physician-scientists such as teaching, treating patients, conducting basic science and performing translational or clinical research.
Pharmacist
Pharmacists compound and dispense medications following prescriptions issued by physicians, dentists, or other authorized medical practitioners.
Podiatrist
Podiatrists identify and treat diseases and deformities of the human foot.
Nutritionist
Dietitian nutritionists use nutrition and food science to help people improve their health. Nutrition and dietetic technicians work with dietitian nutritionists to provide care and consultation to patients while also providing general nutrition education. Both roles are nationally credentialed and are an integral part of healthcare and foodservice management teams.
Veterinary Medicine
Veterinarians treat diseases and dysfunctions of animals. They may engage in a particular function, such as research and development, consultation, administration, technical writing, sale or production of commercial products, rendering of technical services to commercial firms or other organizations, and inspecting livestock.
Allied Health Profession
There are a variety of health-related careers beyond nurse, doctor, veterinarian, etc. Spotlight on Careers says: "Allied health professionals, regarded as experts in their field, contribute to patient health directly or indirectly." Examples of these professions include Physical Therapists, Occupational Therapists, Nutrition, Athletic Trainers, Radiological and MRI Technologists, as well as practitioners of alternative medicine.
Public Health
Public health professionals protect the health of a variety of populations, from neighborhoods to an entire nation. They prevent problems from happening or re-occurring by implementing educational programs, policies, and services; by regulating health systems and some health professions; as well as conducting research.
Psychology
Psychology is a diverse field with a variety of opportunities. Many psychologists work as health care providers to assess behavioral and mental function and well-being of patients. Psychologists can also teach, conduct basic applied research, and serve as consultants to communities and organizations.
A comprehensive resource offering profiles, educational requirements, and industry information for over one hundred health-related careers. A great place to start exploring careers.
A listing of health and medical careers.  Links include information on job growth, skills necessary, activities done in the course of the position, salary and more.
Log in or create an account (you will need to create an account using your Colgate email address to view this content) and then find careers through the search box or in Industries and Professions. Relevant pages include: Alternative Health Care, Dental Care, Elder Care, Fitness and Sports, Training and Coaching, Healthcare Management, Healthcare Providers, Personal Care, Pharmaceuticals and Biotechnology, Veterinary Medicine and Animal Care.
Prepare for Jobs and Internships
Information, tips, and strategies to help prepare you as an undergraduate.
Alumni Advice
Advice from alumni who work in this industry.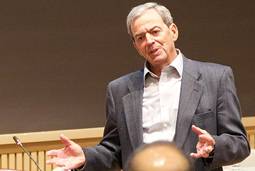 Michael Wolk '60
Current Title and Organization: Senior Health Policy Advisor, Professor of Clinical Medicine, Weill Cornell Medicine
Major at Colgate: Political Science
Advanced Degrees: MD, Honorary degree from Colgate 2005
What do you currently do?
Care for patients and negotiate contracts for 1,250 Weill Cornell Faculty with commercial insurers.
What was your first position out of Colgate and what did you do in that role?
Faculty of Weill Cornell Medical College (no other job since!)
How can students prepare themselves while at Colgate to work in your field?
Excel in educational opportunities at Colgate and work or volunteer to help underserved health communities.
What extracurricular activities, associated with your profession or not, were you involved with while at Colgate?
All-American Swim Team, Konosioni
Featuring Ayanna Williams '08, health researcher, Insight Policy Research; Steven Gabriel '15, fellow, Buffalo's Center for Leadership and Organizational Effectiveness; and Katie Williams '15, product development and introduction fellow, FHI 360.
Find Opportunities
Visit our resources and links page for links to post-baccalaureate programs, volunteer opportunities, summer internships and programs, and an extensive list of opportunities under "Additional Links Provided by Career Services.".
Visit Vault.com for information about companies and careers. The site provides the industry context needed to identify your best job opportunities. Use the Research Companies tab to browse popular industries, or search for key terms using the search bar. You will need to create an account using your Colgate e-mail address to view this content.
Health and wellness opportunities are not one-size fits all. Based on your interests and career goals there are robust offerings but it takes time and effort to identify and apply to them. Many of these programs have early deadlines (December–February) so be sure to meet with an advisor to discuss your plans and start early.
Many hospitals offer volunteer programs for college students. This is a common way to gain career exposure and see if the hospital environment is a good fit for you. Contact each hospital you are interested in directly as deadlines vary.
Colgate Handshake Opportunities
Check Colgate Handshake, Colgate's internship and job database, for opportunities that may interest you in this field.
Connect to Careers
Latest stories about internships, workshops, professional networks, and more.
Health and Wellness Advisor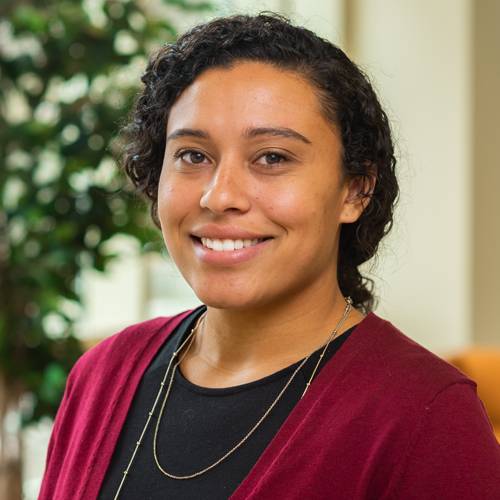 Courtney joined the advising team at Colgate in September of 2018. Before coming to Colgate, Courtney was the outreach and volunteer specialist for Planned Parenthood of the North Country New York and house director for the Beta Chapter of Delta Delta Delta at St. Lawrence University in Canton, New York.
Courtney has a master's of public health (MPH) with a concentration in Maternal and Child Health from Tulane University School of Public Health and Tropical Medicine as well as a B.A. in Anthropology from SUNY Potsdam. While at Tulane, Courtney worked for the Mary Amelia Women's Center on a breastfeeding awareness and policy change campaign for the city of New Orleans and Louisiana Public Schools.
Courtney lives with her partner, Cameron, in New Hartford where they enjoy recreational sports, trying every restaurant possible, and traveling as far as they can on any given weekend.
Questions? Call 315-228-7380 for an advising appointment.