The Gretchen Hoadley Burke '81 Endowed Chair for Regional Studies is an annual appointment that supports outstanding teaching and research on the upstate New York region.
The appointment is for both Colgate faculty and leading scholars in the upstate New York region. The Burke Chair teaches two courses during his or her appointment and provides lectures open to the campus and the community. Established in 2006 by Stephen Burke '80 and Gretchen Hoadley Burke '81, this chair is supported by an endowment fund created to support and recognize outstanding scholars whose research interests focus on upstate New York.
2022–23 Burke Chair
Tim McCay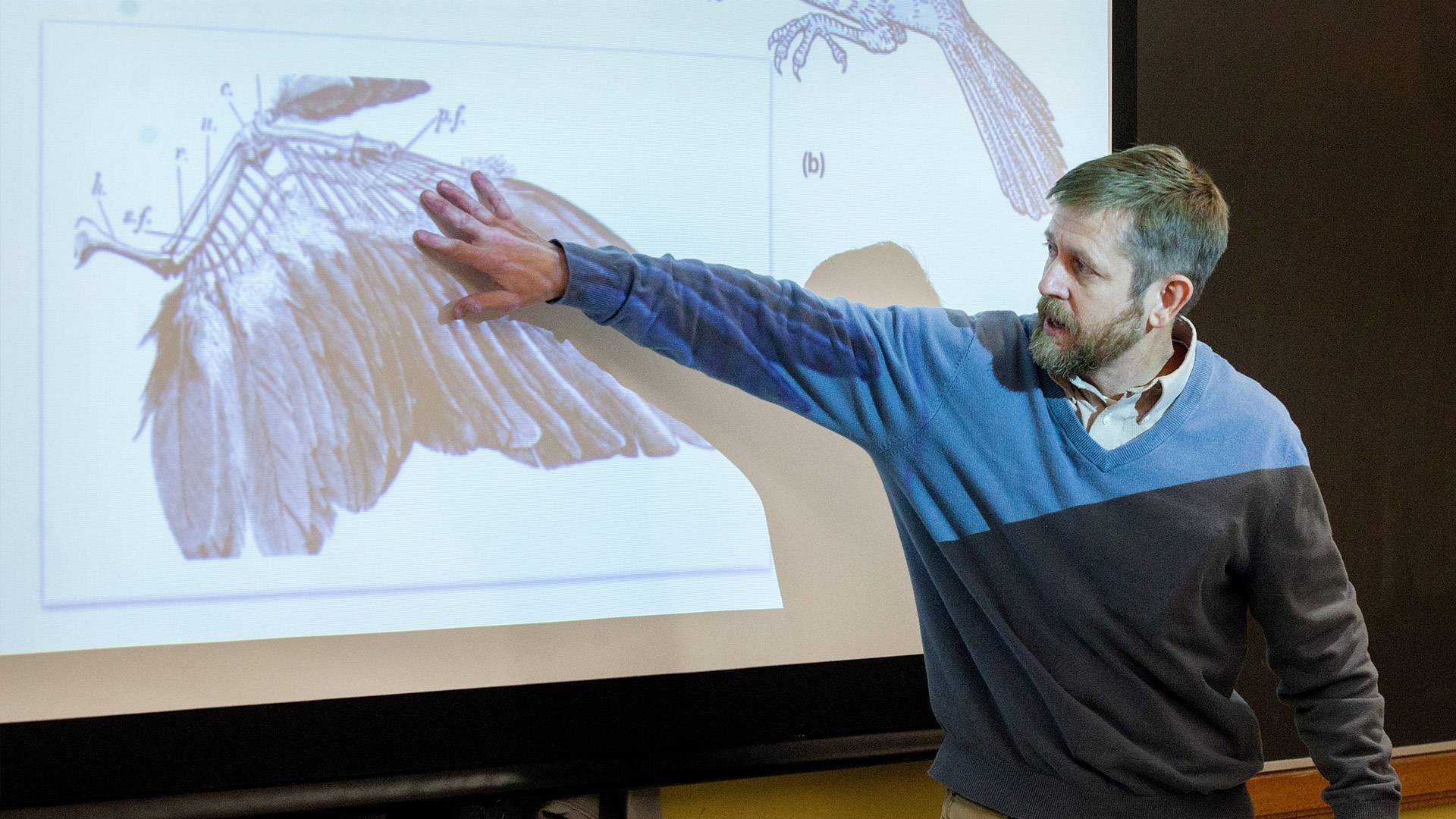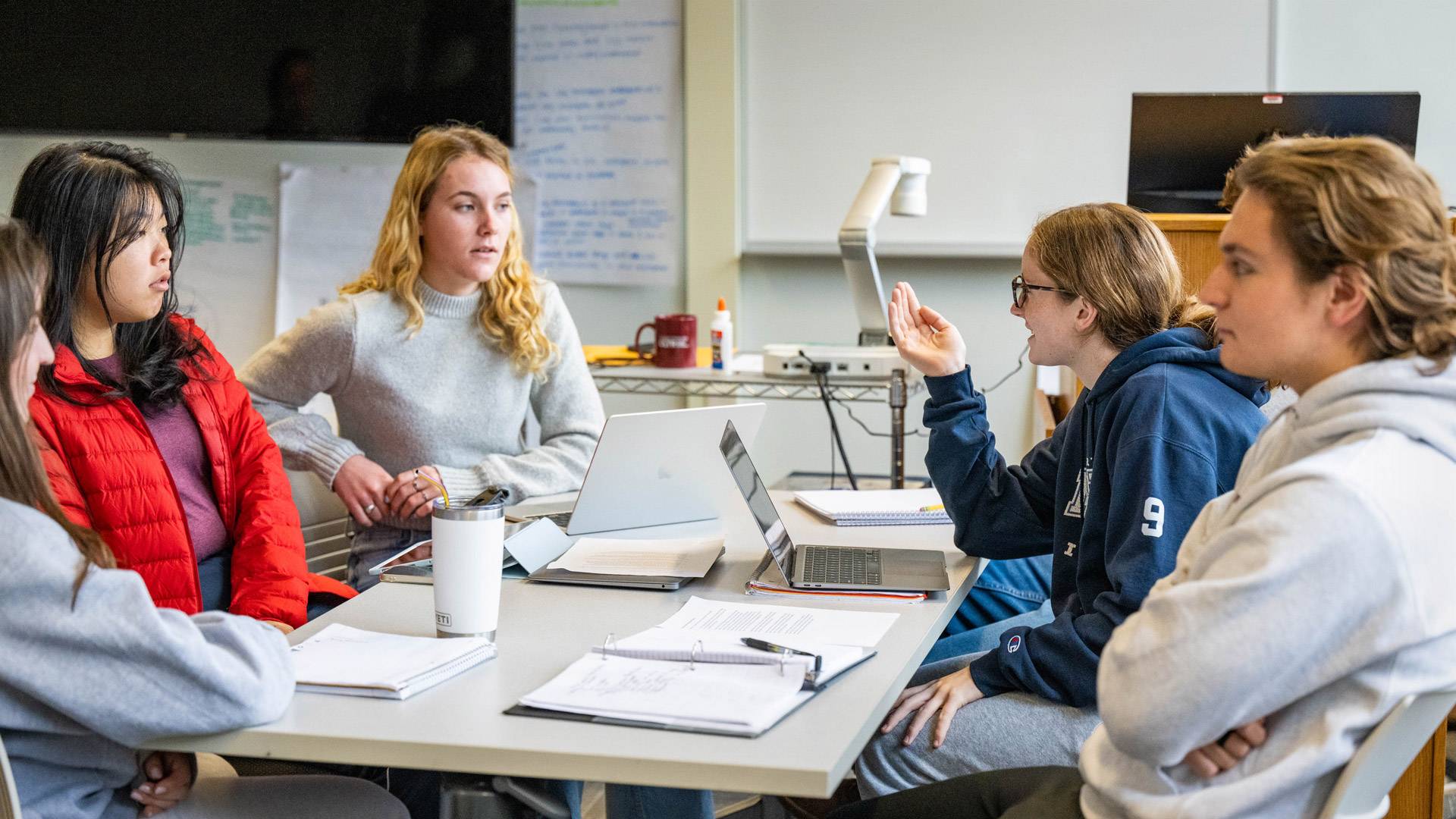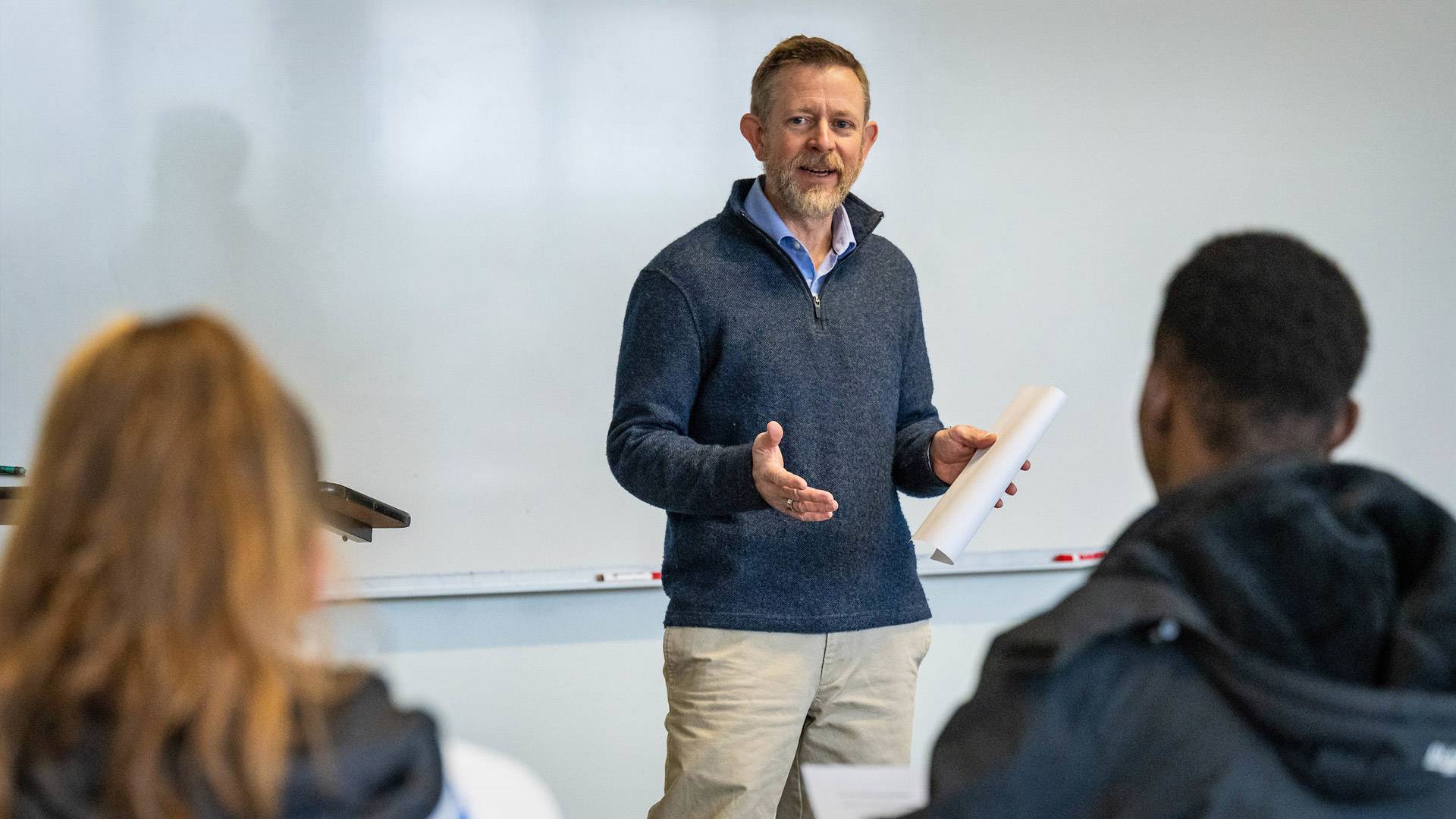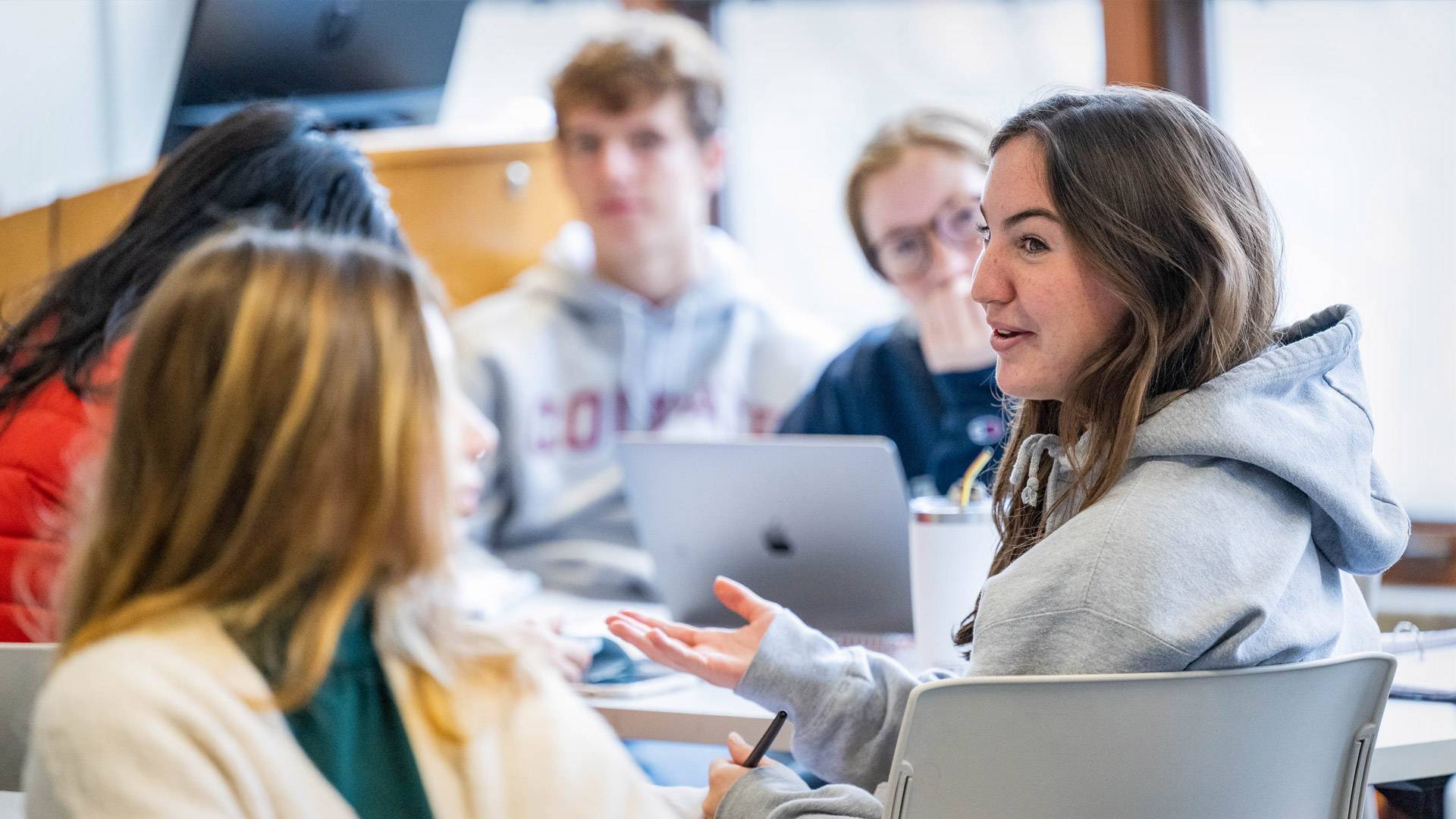 Tim McCay, an ecologist who studies invasive species in forests of the Northeast, has served as the Gretchen Hoadley Burke '81 Endowed Chair in Regional Studies for the 2022-23 academic year. McCay is also currently the Dunham Beldon Jr. Professor of Biology and Environmental Studies at Colgate, where his current research with Colgate students focuses on "jumping worms" in the Adirondack Mountains.
 
McCay's research interests center around the region and focus on invasive species and the forest-floor ecosystem, which includes soil, plant debris and organisms. He has studied European buckthorn (Rhamnus cathartica L.) invasion in the Northeast and acid deposition in forests of the Adirondacks. His current research on invasive earthworms and their impact on native taxa involves the establishment of long-term monitoring plots throughout upstate New York and New England. His focus is on better understanding the expansion of invasive jumping worms in undisturbed forests of the upstate region, including the Adirondacks, and the distribution of uncommon, native earthworms in the state. He is also actively involved in the Museum of the Chenango Valley, Colgate's natural history museum.
McCay teaches courses in ecology, biostatistics, conservation, and vertebrate zoology, where he has involved students in a project to survey the street trees in the village of Hamilton, and in developing a strategic land conservation plan with the Cazenovia Preservation Foundation as a part of Colgate's course on community-based study of environmental issues. He often co-authors papers with students, and is active in several communities of faculty at undergraduate institutions that value the role of undergraduate research in education.
During the fall 2022 semester, McCay taught FSEM 124: Conserving Nature, a first-year seminar on biogeography, invasive species, and biodiversity conservation in upstate New York. This course began with an examination of global patterns in biogeography and diversity on the planet, then narrowed to the biogeographic and anthropogenic history of the upstate region. The course gave students a greater sense of place that they might carry with them during their time at Colgate, and the chance to visit local sites of biological interest such as the habitat of the Chittenango ovate amber snail, the most local federally endangered species. McCay plans to continue his public scholarship on Asian jumping worm identification and control with area gardeners and gardening groups.
McCay, who developed and taught a new first year seminar on the topic of natural resource conservation with a focus on upstate New York, said he took students to visit many natural areas in the region that exemplified different approaches to conservation. McCay said students met with the executive director of a local land trust, visited several New York State Parks and Forests, and toured the Stone Quarry Hill Art Park, noting that his aim with this class was to inspire first-year students to engage with the natural environment in which they will be embedded for the next four years. McCay also offered his existing BIOL 305: Vertebrate Zoology course with an extra emphasis on local vertebrate fauna, where students spent time in the field learning the distinctive birds, mammals, amphibians, reptiles and fish of the central New York landscape.
"I have used this past year to redouble my efforts to engage with local communities on the topic of invasive pests," McCay says, noting that the invasive earthworms he studies, particularly invasive jumping worms, are widely disliked by gardeners because they undermine (literally) the quality of the soil on which gardening depends. "Because jumping worms often infest mulch and other horticultural products, gardeners often serve unwittingly as conduits of jumping worms into natural habitats. I have spoken to many regional garden and conservation organizations in recent years, and especially this year as Burke Chair, about jumping worms and how they might be controlled in gardens and forests."
McCay's research program has focused this year on the movement of these invasive species from residential and agricultural habitats into forested natural areas in central New York and the Adirondacks.
"Unfortunately, jumping worms seem to be invading natural areas of the Adirondacks that have not been widely colonized by earlier waves of invasive earthworms," McCay says. "This may have large implications for the biodiversity and nutrient cycling of Adirondack forests, and we are beginning to document these changes."
McCay's work in the summer of 2022 with local gardeners was featured in the Syracuse Post-Standard Empire Section, "No, don't use them for bait: Everything to know about New York's invasive jumping worms."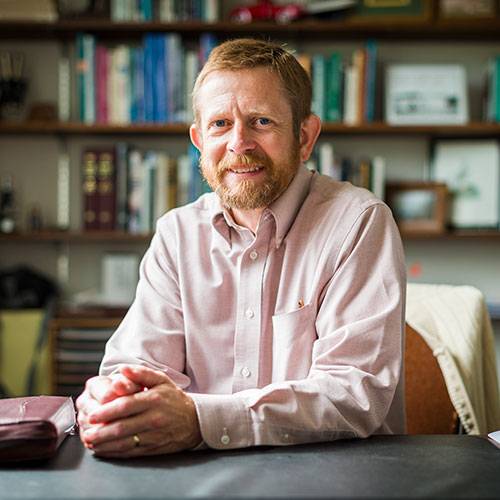 Gretchen Hoadley Burke '81 Endowed Chair in Regional Studies; Dunham Beldon Jr. Professor of Biology and Environmental Studies