The Gretchen Hoadley Burke '81 Endowed Chair for Regional Studies is an annual appointment that supports outstanding teaching and research on the Upstate New York region.
The appointment is for both Colgate faculty and leading scholars in and/or on the Upstate New York region. The Burke Chair teaches two courses during his or her appointment and provides lectures open to the campus and the community. Established in 2006 by Stephen Burke '80 and Gretchen Hoadley Burke '81, this chair is supported by an endowment fund created to support and recognize outstanding scholars whose research interests focus on Upstate New York.
Current Chair
William Peck, Professor and Chair in the Department of Geology, has been named the Gretchen Hoadley Burke '81 Endowed Chair in Regional Studies for one year, beginning July 1, 2021.
William earned his BS degree at Beloit College and his MS and PhD at the University of Wisconsin-Madison.  At Colgate he teaches courses in Mineralogy, Petrology, Mineral Deposits, Geologic Field Methods, and Isotope Geochemistry.  William also teaches the first-year seminar Geology Outdoors, which uses the Hamilton area and the Upstate region as the basis of teaching introductory Geology.  William's PhD research was conducted in the Adirondack Mountains, and since coming to Colgate in 2000 he has taken students to the Adirondacks for class field trips, Geology's summer field methods course, and student research projects.  Because rocks in the Adirondacks originally formed at high temperature and depth, they make a perfect natural laboratory for examining the fundamental processes that control mineral growth and melt migration in the deep crust.  
The Adirondacks formed between 1.0 and 1.3 billion years ago, when eastern North America was a volcanically active continental margin like the Andes Mountains.  William's research with students focuses on the geologic evolution of the Adirondacks and related rocks in Ontario, Quebec, and New Jersey, and tries to reconstruct the geologic history of this region.  Their work has investigated the intrusion of magmas that became the Adirondack High Peaks, the architecture of deep fault zones, the paleogeographic position of the Adirondacks in the past, and mountain-building caused by the collision of North America with the Amazon craton 1.07 billion years ago.  Most recently, they have been investigating the origin of the graphite deposits near Ticonderoga (of yellow pencil fame) and the environmental impact of Adirondack mine wastes.
In the fall of 2021, William will teach a course on mineral deposits, mining, and its impacts where students will have the opportunity to explore these issues in the Adirondacks, and the range of relationships that people who visit, live, and work there have with the environment. In this course, students will conduct research and consider the history of several past and current mining operations, and examine the current environmental issues associated with them.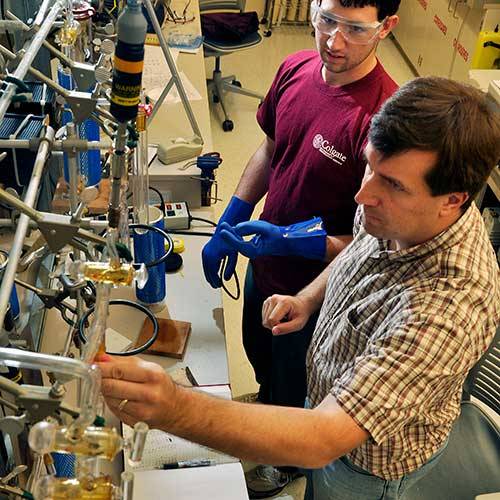 Professor and Chair, Department of Earth and Environmental Geosciences