January 15 – November 29, 2020
The Picker Art Gallery continues its in-depth look at the past, present, and future of the art collections at the Picker Art Gallery in Original Materials II: The Picker Art Gallery and the Building of a Collection. Drawing from the museum's holdings, the exhibition combines works on view during  the fall 2019 semester with many new selections—along with material from Colgate's University Archives. The exhibition highlights some of the principal sub-collections that have shaped the museum, considers the people who helped to build the collection, and examines the ways in which the Picker has contributed to a Colgate education.
January 24–March 10, 2019
What constitutes an "authentic" work by a master? What can we learn from frames and the backs of paintings? Who is the mysterious woman in red? These questions and others are pursued in this exhibition, which presents the results of ongoing research on Dutch and Flemish artworks in the Picker Art Gallery's collection. This small but significant group features paintings by artists such as Pieter Brueghel II, Isaac van Ostade, and David Rijckaert III, many of which are being publicly displayed for the first time since the early twentieth century. By looking closely at the objects themselves, as well as their recorded traces in archives and literature, the exhibition investigates the works' original significance as well as their centuries-long journey before coming to the Picker. Research remains a work in progress and the exhibition—which will be updated regularly to share new insights with visitors—considers both the potential and the limitations of art historical, archival, and object-based methods to shed light on all that remains unknown about museum collections.
Research on the Picker Art Galley's collection of Dutch and Flemish was carried out by Dr. Suzanne van de Meerendonk and was supported by a grant from the Kress Foundation.
September 5 – December 15, 2019
Original Materials draws from the museum's holdings to present an in-depth look at the past, present, and future of the art collections at the Picker Art Gallery. The exhibition explores significant moments in the museum's development, considers those who helped to build the collection, and examines the ways in which the Picker has contributed to a Colgate education.
January 24–March 10, 2019
The Dr. Luther W. Brady H'88 Collection at the Picker Art Gallery is one of the museum's richest. For nearly four decades, gifts of artwork to the museum from Brady have greatly enhanced the museum's holdings and have become invaluable resources for teaching and learning with art at Colgate. Even more remarkable, Brady's philanthropic relationship with the University was not that of an alumnus, but grew from his penchant for developing personal relationships with artists — including Colgate professor Eric J. Ryan, whose untimely death was the catalyst for Brady's first donation in 1981. Throughout his illustrious medical career, Brady demonstrated a strong commitment to arts patronage — in Philadelphia, where he began practicing medicine in 1956, and elsewhere — and an abiding belief in the value of art as part of a well-rounded education.
This exhibition honors Brady, who passed away in 2018, by presenting two dozen artworks that tell the story of how his attitude toward artists, arts patronage, and collecting helped to shape the Picker Art Gallery's collection. A disciplined, deep collector who acquired South Asian, East Asian, pre-Columbian, Native American, and modern and contemporary art, Brady greatly expanded the museum's holdings of works by abstract expressionists. Works by leading figures of this and other postwar art movements, such as Richard Diebenkorn, Barbara Hepworth, Jasper Johns, Robert Motherwell, and Fritz Scholder, are included in the exhibition. Also featured are works by several Philadelphia-based artists, many of whom found an avid and active patron in Brady, who was also a loyal patron of the Picker. As Colgate celebrates its Bicentennial, this exhibition recognizes Brady's legacy and a collection that has become foundational as part of the museum's teaching mission.
The exhibition is partially funded by the Dr. Luther Brady Endowment for Art Maintenance, the Robert J. Gerberg '59, P'85 Endowment for the Visual Arts, and by the Friends of the Picker Art Gallery.
March 21–June 30, 2019
Koolanga Boodja Neh Nidjuuk (Children Listening and Looking on Country), a traveling exhibition organized by the John Curtin Gallery of Curtin University in Perth, Australia, features thirty-eight artworks made by the Aboriginal children from the Carrolup State School at the Carrolup Native Settlement in the late 1940s. 

The children artists made use of a vibrant palette to depict the world from their own experiences and started a pictorial landscape tradition that would gain international attention. The works once formed part of a donation to Colgate in 1966 by Herbert Mayer '29 and remained in the collection of the Picker Art Gallery until 2013 when they were returned to Western Australia. Oversight of the exhibition, education, and research regarding the collection at Curtin University is the responsibility and authority of the Carrolup Elders Reference Group. The Elders have encouraged broad access to the collection through exhibition of the drawings throughout Noongar country in the southwest of Western Australia. This international exhibition honors the enduring relationship between the Noongar community, Curtin, and Colgate in the University's Bicentennial year.

A symposium on the role of museums and galleries in reconciliation, repatriation, and reparation will accompany Koolanga Boodja Neh Nidjuuk on April 12. Dr. Margo Smith, director and curator of the Kluge-Ruhe Aboriginal Art Collection at the University of Virginia will deliver a keynote talk. Colgate Associate Professor of Art and Art History Elizabeth Marlowe and Curator of the Longyear Museum of Anthropology Christy DeLair will also present. Professor of Anthropology and Africana & Latin American Studies Michelle Bigenho will moderate. 

The symposium will be immediately followed by a celebratory welcome reception and remarks at the Dana Arts Center with representatives from the Carrolup Elders Reference Group, Curtin University, Oneida Indian Nation, and Colgate University.

In its final gathering of the spring semester on April 24, Museum Conversations: Moving Beyond Repatriation, will provide an opportunity for the Colgate community to engage in an informal discussion about issues of reconciliation and repatriation.

Koolanga Boodja Neh Nidjuuk (Children Listening and Looking on Country) is presented with the guidance of the Carrolup Elders Reference Group and support of the John Curtin Gallery's JCG Founders Club, Curtin University. The exhibition is partially funded by the Robert J. Gerberg '59, P'85 Endowment for the Visual Arts, the Tim '82 and Alexandra Murphy Endowment to Promote the Arts, and by the Friends of the Picker Art Gallery.
March 21–June 30, 2019
Now in its third year, Colgate Alumni Collect presents the personal collections of Tim Keny '77 and Bruce Silverstein '89. Featuring textiles and photographs from the twentieth-century, each alumnus has carefully built a focused collection that is a reflection of his own personal expression. Curated by Michael Quinan '19.
March 21–June 30, 2019
A selection of artworks from the permanent collection will be on display accompanied by labels written by students in Professor Moure Cecchini's Fall 2018 class, ARTS 238: Transatlantic Avant-gardes, 1880–1920.
January 24–March 10, 2019
Three Acts features installations by three American artists who have had a lasting impact on contemporary art through performance, use of nontraditional media, and experimental modes of display. For each of these artists, community advocacy and activism have been central to their practice and embedded in their work. This exhibition puts single installations by the artists — Untitled (LA) (1991) by Felix Gonzalez-Torres; A.C.Q. – Cross Eyed, A.C.Q. – Cross Ban, and  A.C.Q. – Cross Waves (2016–17) by Senga Nengudi; and Boxes (1970) by Joe Overstreet—in conversation to encourage interdisciplinary and intersectional conversations about gender, race, sexuality, and social practice in contemporary art.
Special events to accompany Three Acts include a candy-making workshop series at the Hamilton Public Library led by local confectioner and owner of Maxwell's Chocolates and Ice Cream Jennifer Jury. This workshop series will result in a collaboratively created candy sculpture temporarily installed on Colgate's campus and inspired by Felix Gonzalez-Torres' art practice. An interdisciplinary program led by Colgate Visiting Assistant Professor of Theater Casey Avaunt will bring students in the Advanced Contemporary Dance class together through visual art, dance, and music, in response to the work of Senga Nengudi. In collaboration with Sisters of the Round Table (SORT), a student group dedicated to promoting the voices of women of color on campus, Los Angeles-based artist Uzumaki Cepeda will install her artwork at the Picker and lead a public workshop, both in conversation with Joe Overstreet's installation.
Generous support for this exhibition and related programs provided by Art Bridges.
February 6-March 10, 2019
In partnership with Art Bridges and Sisters of the Round Table, the Picker Art Gallery presents Making Space, a new installation by Uzumaki Cepeda. As part of a new generation of artists who are embedding community advocacy and activism in their artistic processes, Cepeda contributes an additional intergenerational dimension to the dialogue existing between the works in the exhibition Three Acts. The artist's process finds particular resonance with that of Joe Overstreet, whose colorful canvases strikingly claim space and whose work with Kenkeleba House has tirelessly focused on creating spaces for artists of color and others who have been overlooked by the mainstream art establishment.
Cepeda's installations are spaces for people to feel safe and comfortable, especially those for whom these feelings may be regularly denied—people of color, women, LGBTQ people, those suffering from mental trauma, and "anyone who steps out of their home and feels like it's a battle to just exist." Enveloped in a soft, vibrantly colored world, visitors are encouraged to get in touch with their inner child, to absorb the bright colors, touch the soft faux fur, relax, and revel in these simple pleasures.
Generous support for this program is provided by Art Bridges.
February 1–May 20, 2018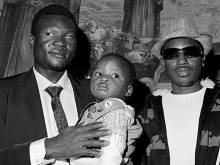 This Place comprises the work of twelve photographers who, between 2009 and 2012, spent extended periods of time in Israel and the West Bank. Frédéric Brenner, Wendy Ewald, Martin Kollar, Josef Koudelka, Jungjin Lee, Gilles Peress, Fazal Sheikh, Stephen Shore, Rosalind Fox Solomon, Thomas Struth, Jeff Wall, and Nick Waplington each brought their own expertise and perspective to bear in developing their individual projects. Brought together in This Place, their photographs reveal a portrait of a land and its peoples that is complex, fragmented, and paradoxical.
The Picker Art Gallery will present works by four of the twelve photographers: Josef Koudelka, Rosalind Fox Solomon, Thomas Struth, and Nick Waplington. The exhibition is part of a collaborative project with the Wellin Museum of Art at Hamilton College, the University Art Museum at SUNY Albany, and the Tang Teaching Museum at Skidmore College. Each museum is exhibiting their portion of This Place concurrently. This experimental presentation underlines the intention of the organizers and institutions to offer the exhibition as a space of experimentation, questioning, and dialogue.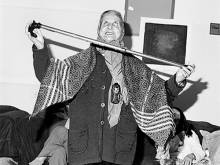 Thanks to a grant from the Teagle Foundation, the Picker Art Gallery is working closely with faculty at Colgate to encourage interdisciplinary and cross-campus collaborations and creating new ways of thinking about learning and teaching with museum exhibitions. This Place provides a unique occasion for documenting and assessing the rich pedagogical potential of museum exhibitions.
This Place is organized by Chronicle of a People Foundation, Inc., New York, and the tour is managed by Curatorial Assistance, Pasadena, California. The project was conceived by Frédéric Brenner and curated by Charlotte Cotton. This Place is supported at the Tang Museum at Skidmore College, the Picker Art Gallery at Colgate University, the Wellin Museum at Hamilton College and the University Art Museum, University at Albany, State University of New York, by the Teagle Foundation.
Images
Rosalind Fox Solomon, Untitled, from the series THEM, 2011. Archival pigment print. 16.75 x 16.75 in. (42.55 x 42.55 cm). © Rosalind Solomon. Courtesy of Bruce Silverstein Gallery.
Rosalind Fox Solomon, Untitled, from the series THEM, 2011. Archival pigment print. 16.75 x 16.75 in. (42.55 x 42.55 cm). © Rosalind Solomon. Courtesy of Bruce Silverstein Gallery.
May 31–July 1, 2018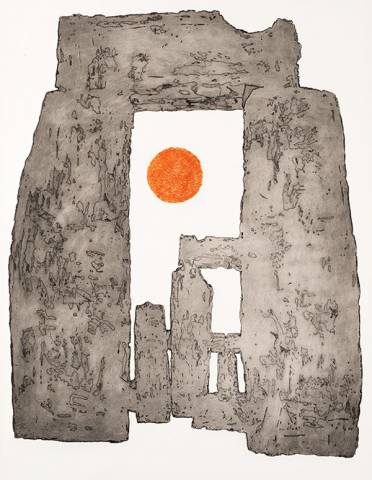 Labor and Literature is an exhibition curated and produced by Colgate students featuring prints from the permanent collection donated by alumnus Robert Gordon '50. The selected artworks include prints by primarily British and American artists that explore the theme of labor, whether visible or unseen. The exhibition also investigates the work involved in printmaking itself and the close relationship between the printed image and the written word, in the process revealing Gordon's own tastes as a collector.
Image
Julian Trevelyan, Stonehenge, 1961. Etching and aquatint on paper. © The Estate of Julian Trevelyan/Bridgeman Images. Photo: Richard Walker
May 31–July 1, 2018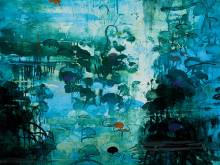 Colgate Alumni Collect '18 features artworks from the collections of three alumni — Andrew Brozman '72, William P. Carl '74, and Jane Shapiro '76 — who have acquired works of art throughout their lives and have developed a passion for preservation. With objects ranging from prints, drawings, and oil paintings to clay sculpture and textiles, this exhibition focuses on artistic interests and explores how personal expression is intimately connected with the process of caring for and collecting art.
Image
© 2018 Estate of Michael Mazur, courtesy of Krakow Witkin Gallery, Boston. Photo: Peter Paul Geoffrion.
September 19–December 16, 2018
Drawing from the Picker Art Gallery's permanent collection along with selected works from the Longyear Museum of Anthropology, this exhibition explores how artists have engaged with the body as subject and as metaphor. Embodied considers the social and political meanings of the body, particularly issues of identity, gender, and race. How have external structures shaped our perceptions of the body, and what are the implications for how we interpret bodies in contemporary society?
The exhibition will include works on paper, sculpture, and photography by artists such as Diane Arbus, Alexander Archipenko, Paul Cézanne, Claude Cahun, and Philip Pearlstein, as well as African and Pre-Columbian objects depicting the human form.  
Embodied features artist-in-residence Jessica Posner. Major support for the residency is provided by the Colgate Arts Council, and additional support is provided by the Department of Theater, Core152, and the Department of Art and Art History.
September 19–December 16, 2018
This exhibition presents photographer Lee Friedlander's images of the Prayer Pilgrimage for Freedom, a critical yet generally neglected moment in American civil rights history. On May 17, 1957 — the third anniversary of the landmark Supreme Court decision Brown v. Board of Education, Topeka, which outlawed segregation in public schools — thousands of activists, including many leaders from religious, social, educational, labor, and political spheres, united in front of the Lincoln Memorial, in Washington, D.C. At this first large-scale gathering of African Americans on the National Mall, an event that was a forerunner of the 1963 March on Washington at which Martin Luther King, Jr., delivered his famed "I Have a Dream" speech, protesters called on federal authorities to enforce desegregation, support voting rights, and combat racial violence. Friedlander photographed many of the illustrious figures who attended or spoke at the march, such as Martin Luther King, Jr., Rosa Parks, Ella Baker, Mahalia Jackson, and Harry Belafonte, and he wove among the demonstrators on the ground to capture the energy and expressions of the day.
Exhibition organized by LaTanya S. Autry, Curator of Art and Civil Rights at the Mississippi Museum of Art and Tougaloo College and former Marcia Brady Tucker Fellow, Yale University Art Gallery. Made possible by the Janet and Simeon Braguin Fund and the James Maloney '72 Fund for Photography.
The exhibition is partially funded by the Robert J. Gerberg '59, P'85 Endowment for the Visual Arts and by the Friends of the Picker Art Gallery.
January 26 – May 21, 2017
Opportunities to view Indigenous peoples through the eyes of Indigenous photographers are rare and recent. This photographic exhibition features works by Indigenous artists from the United States, Canada, Peru, and New Zealand. Our People, Our Land, Our Images is distinctive in its historical reach, including newly discovered nineteenth-century pioneers, established contemporary practitioners, and members of the next generation of emerging photographers. Reflecting contemporary trends, the photographs vary in style, from straightforward documentary accounts to aesthetically altered images combining overlays and collage. However, the images stand united in exploring their makers' connections to their lands, communities, and traditions. The multiplicity of perspectives represented by this exhibition and accompanying texts demonstrates the longevity and continuing vitality of Native traditions of photography and answers the overdue and continued need to expand the knowledge of Indigenous self-presentation in photography.
Guest curator Veronica Passalacqua of The C. N. Gorman Museum at the University of California, Davis, originally organized this exhibition in conjunction with a conference for international Indigenous photographers held at the museum. For the past fifteen years, Passalacqua has been active in the field of Native North American art as a writer, curator, and scholar. Most recently, she facilitated the donation/repatriation of a significant private Lakota collection of artifacts to the Buechel Memorial Lakota Museum, Pine Ridge Reservation, South Dakota. Previous curatorial work includes exhibitions at the Pitt Rivers Museum, Oxford, England; the Navajo Nation Museum, Window Rock, Arizona; and the Barbican Art Gallery, London.
The exhibition is toured by ExhibitsUSA, a national program of Mid-America Arts Alliance. ExhibitsUSA sends more than twenty-five exhibitions on tour to more than one hundred small- and mid-sized communities every year. Mid-America is the oldest nonprofit regional arts organization in the United States. More information is available at www.maaa.org and www.eusa.org.
Our People, Our Land, Our Images has previously been on view at Tarble Arts Center, Eastern Illinois University, Charleston, IL (2011–2012); Sordoni Art Gallery, Wilkes University, Wilkes-Barre, PA (2013); Fred Jones Jr. Museum of Art, University of Oklahoma, Norman, OK (2014); Museum of the Southwest, Midland, TX (2014); and Oklahoma State University Museum of Art, Stillwater, OK (2016–2017).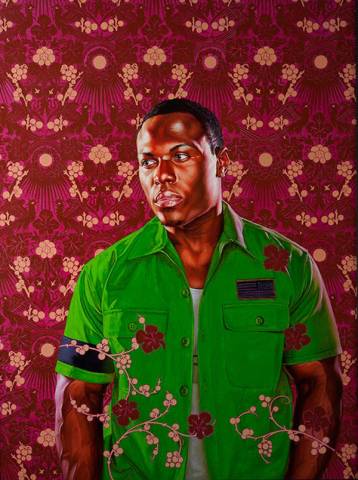 Colgate Alumni Collect features diverse art works from the collections of four alumni — Anne Huntington '07, Paul Jacobs '67, Oscar Seikaly '83, and Rick Stone '81 — who have acquired art from all corners of the globe throughout their lives. With objects ranging in origin from Lebanon and the United States to Tanzania and the United Kingdom, this exhibition focuses on collecting trends and investigates how the practice of collecting can serve as a form of personal expression. Selected works from the Picker Art Gallery's permanent collection generously given by alumni will also be on view.  
Colgate Alumni Collect is curated by Natalie Bryt '17, Kally Mott '17, Natalie Ramirez '19, and Julia Wolf '17. The exhibition and its accompanying catalogue are generously sponsored by Rick '81 and Lesley Stone and Family and also partially funded by the Friends of the Picker Art Gallery.
Image:
Kehinde Wiley, Alston Sajery, 2010, oil on canvas. Private collection of Oscar '83 and Carole Seikaly, Miami, FL. © 2010 Kehinde Wiley. Used by permission.
September 21–December 17, 2017
Featuring paintings, drawings, prints, and photographs from the Picker Art Gallery's permanent collection, this exhibition examines how artists—from the seventeenth to the twenty-first centuries—have depicted natural and built environments and how, in turn, their perceptions of landscape were structured by the philosophical, social, political, and economic contexts within which they operated. Addressing themes that resonate with current debates about environment, land use, and identity, the artworks on view reveal many of the complex ways in which people and land influence each other, as well as how these relationships continuously shift and change.
Image:
Kenneth Josephson, Wyoming, 1971 (from the History of Photography series), 1971, gelatin silver print. Purchase of the Gary M. Hoffer '74 Memorial Photography Collection Fund, 1979.110. Photography by Warren Wheeler. © Kenneth Josephson, Courtesy of Gitterman Gallery, NY and Stephen Daiter Gallery, Chicago.
September 15, 2016 – January 8, 2017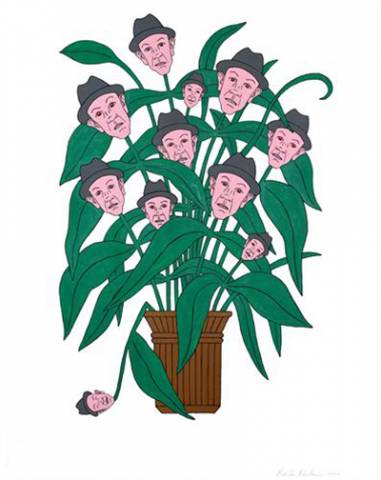 The Picker Art Gallery at Colgate University announces the opening of its new exhibition, Marko Mäetamm: I Want to Tell You Something, which features work by internationally acclaimed Estonian artist Marko Mäetamm. Mäetamm has exhibited in galleries in the United States and abroad, and he represented Estonia at the Venice Bienniale in 2003 and 2007.  The works featured in Mäetamm's solo exhibition—drawings, paintings, videos, sculptures, and installations, some of which were created specifically for the Picker—demonstrate the artist's satirical perspective on life that is informed by his own experiences. This exhibition is part of Mäetamm's four-month residency at Colgate University as the 2016 Christian A. Johnson Endeavor Foundation Artist-in-Residence.
This exhibition is a collaboration with the Departments of Theater, Art and Art History, Music, and the Picker Art Gallery, and it is funded in part by the Friends of the Picker Art Gallery.
Image:
Marko Mäetamm, Psychotropic Self-Portrait With One Dead Head, 2016, acrylic paint on paper, 39 x 28 in. Courtesy of the artist and Temnikova & Kasela Gallery.
June 2–July 3, 2016
Converging Perspectives presents eight examples of faculty and student approaches to the permanent collection of the Picker Art Gallery across the four academic divisions at Colgate University: Arts and Humanities, Social Sciences, Natural Sciences and Mathematics, and University Studies. Featuring more than forty works of art — including prints, drawings, photographs, paintings, and sculpture from the fourth to the twenty-first centuries—this exhibition highlights the interdisciplinary ways in which Colgate University students, faculty, and alumni have utilized collection objects for teaching and innovative research.
Image:
Andō Hiroshige, Okazaki, from the series Fifty-three Stations of the Tōkaidō, 1831–34. Color woodblock print. Picker Art Gallery, Colgate University, gift of Henry Colgate, 1955.1.39. Photography by Richard Walker.
January 21–May 15, 2016
Renowned South African artist William Kentridge experiments with a broad thematic repertoire using diverse media. Featuring more than seventy-five linocut prints, this exhibition highlights recurring themes in Kentridge's oeuvre—coffee pots, typewriters, trees, birds, and nude figures—and explores the artist's creative process. The Picker's presentation also includes the sculpture, Nose II (Walking), by Kentridge as well as a video recording of his Norton Lectures, Six Drawing Lessons, delivered at Harvard University in 2012. In addition, two documentary films, Drawing the Passing and The End of the Beginning, are on view.
William Kentridge: Universal Archive is organized for tour by the Gund Gallery at Kenyon College and is made possible, in part, by contributions from Alva Greenberg '74, the Gund Gallery Board of Directors, and the Ohio Arts Council.
Additional support comes from Colgate University's Robert J. Gerberg '59, P'85 Endowment for the Visual Arts.
Image:
William Kentridge, Ref 2, 2012, from Universal Archive series, linocut printed on non-archival pages from The Shorter Oxford English Dictionary. Image courtesy of Gund Gallery, Kenyon College and David Krut Projects, Johannesburg/New York.
September 17, 2015–January 3, 2016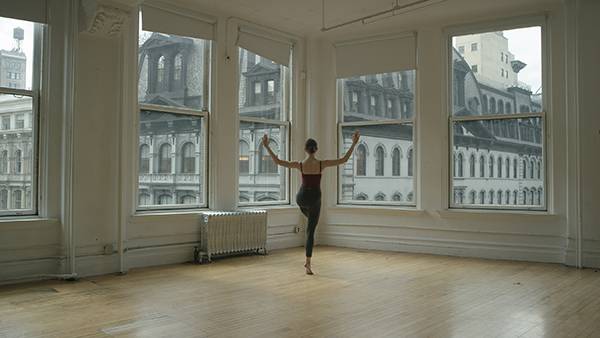 Contemporary multimedia artist Jaye Rhee embraces a myriad of disciplines within the visual and performing arts, including photography, film, dance, and music, to address themes concerning the body's movement through space, the relationship between aural and visual perception, and the role of memory in recreating the past. The artist's solo exhibition at the Picker Art Gallery features a selection of video installations and photography from key points in her career and debuts a new two-channel video created specifically for the Picker's presentation.
Jaye Rhee is supported in part by generous funds from the AHL Foundation and Susan Baik/Baik Art.
Image:
Jaye Rhee, Still from The Perfect Moment, 2015, two-channel video installation with sound. © Jaye Rhee
May 28–June 28, 2015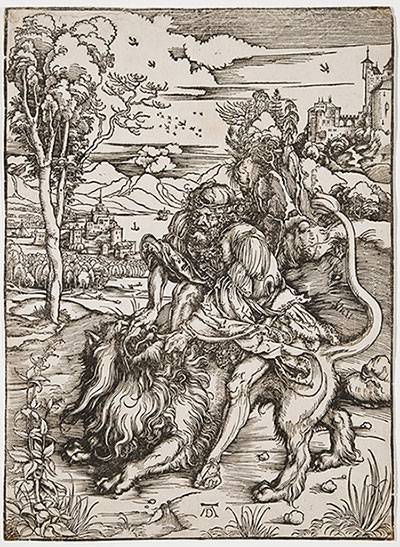 Black and white are fundamental to the story of art. Found in the toolkits of most artists, these achromatic colors are considered basic for formal experimentation, yet their usage also reveals insight into the cultural context in which a work of art was made. Featuring selections from the Picker Art Gallery's permanent collection — over 60 prints, drawings, photographs, paintings, and sculptures from the 15th to the 21st centuries — this exhibition explores the way in which myriad applications of a dramatically reduced palette, predominantly one in black, white, and combinations thereof, reflect historical changes in artistic technologies and methodologies and impart contextually-specific and deeply metaphorical meanings.
Image:
Albrecht Dürer, Samson Rending the Lion, c. 1496-97 Woodcut. Gift of Norman H. Strouse H'58, x17
January 22–May 17, 2015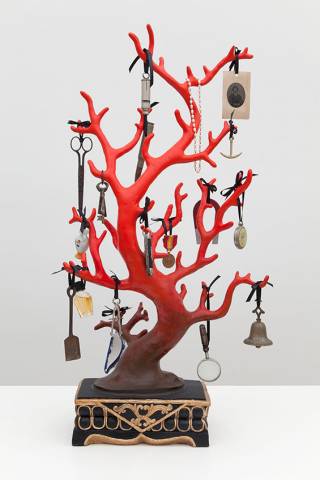 In conjunction with Mark Dion's new collaborative installation to be created in the Department of Art and Art History's Clifford Gallery, the Picker Art Gallery presents a partner exhibition of more than 40 works by the artist to serve as a touchstone for students, faculty, staff, and the community at large.
Throughout his artistic career, Dion has consistently interrogated the ways in which knowledge — particularly our understanding of nature, science, and history — is and has been constructed and presented in academic and public institutions across time and place. The Picker Art Gallery's exhibition brings together works by Dion — including sculpture, prints, and artist books spanning from the early 1990s to the present day — that employ aspects of museum practice and scientific study to complicate dominant narratives about topics including the environment, politics, activism, and consumer culture.
Image:
Mark Dion, Blood Red Coral, 2013. Resin and assorted objects; 33 1/4 x 17 x 9 in. (84.5 x 43.2 x 22.9 cm). Courtesy the artist and Tanya Bonakdar Gallery, New York.
September 18, 2014–January 10, 2015
Twenty-seven photographs by Diane Arbus (1923–1971) from the collection of John Pelosi '85 and Susan Manly Pelosi '85 are featured in one of the largest exhibitions of the artist's work ever to be held at a university museum.  Arbus, who revolutionized the art she practiced, found most of her subjects in New York City, particularly during the 1950s and 1960s. Studying the complexities of the human experience through powerful photographic portraits of couples, children, carnival performers, and transvestites, among others, her engaging work encourages self-reflection and continues to resonate today. The accompanying publication features a conversation between Jeff L. Rosenheim, curator in charge, Department of Photographs, The Metropolitan Museum of Art, New York, and Jill Shaw, senior curator of collections, Picker Art Gallery.
September 18, 2014–January 10, 2015
Richard Serra's Venice Notebook etchings, lent through the generosity of trustee emeritus Paul J. Schupf '58, highlights the artist's virtuosic work outside of the realm of monumental sculpture, the medium for which he is typically known. This series of 20 intimately sized prints by Serra originated after he revisited and made sketches of his sculptures installed at the 2001 Venice Biennale. The drawings of the sculptures Serra made in his notebook informed these textural — even sculptural — etchings that he executed with master printmakers from Gemini G.E.L. (Graphic Editions Limited). Accompanied by three additional prints by Serra from Schupf's collection, the exhibition reveals the skillful and innovative use of printmaking by the artist to rejuvenate and perpetuate his artistic invention. An illustrated catalogue, featuring an interview with collector Paul J. Schupf and Xavier Fumat, the master printmaker who collaborated with Serra on the works featured in the exhibition, accompanies the show.