Larry Fink: Beyond the Gloves
September 24–December 19, 2021
Breaking down the barrier between photographer and subject, Larry Fink gives an intimate, in-the-moment look into the electrifying, bloodthirsty, vulnerable, and glory-filled world of men's competitive boxing. Looking beyond machismo displays, Fink's black-and-white photographs are deeply complex, highlighting the tender homosocial interactions that permeate life around the ring. These bold photographs reveal how race relations and social inequality in America are on display through modern-day sanctioned violence, while simultaneously giving a glimpse into the gentle moments that constitute the world of boxing as much as the fights themselves do.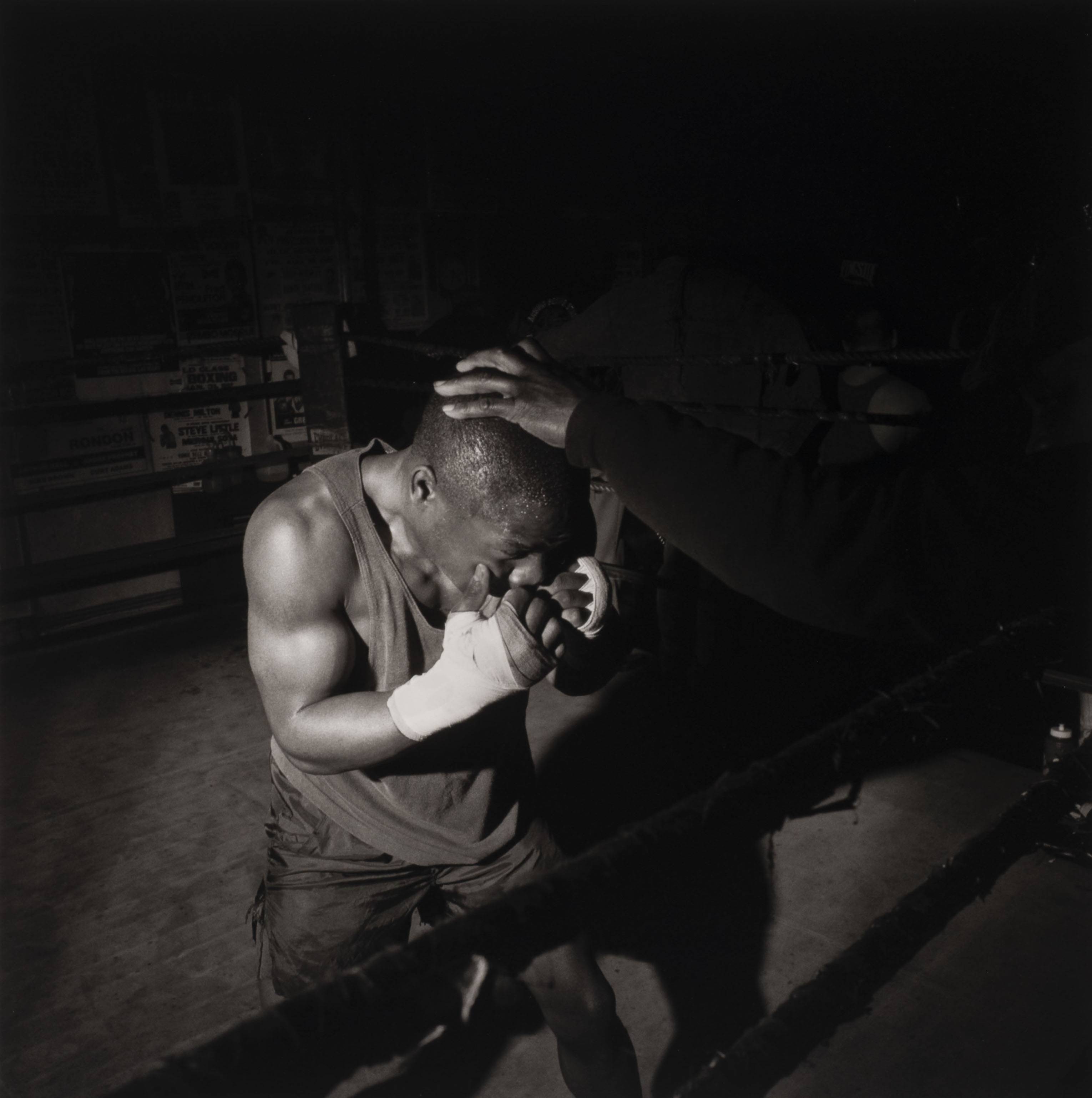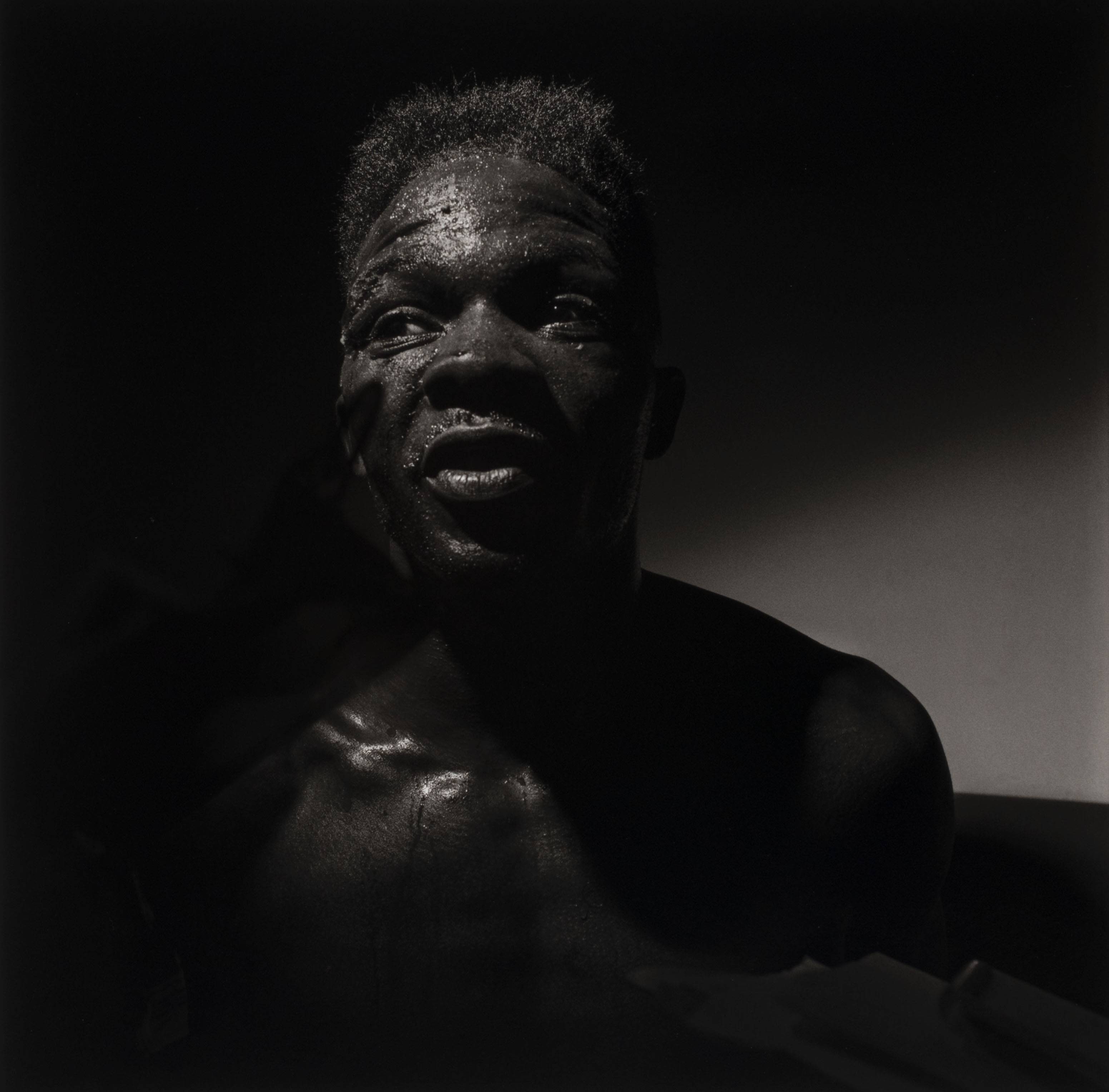 EXXIT: Prints of the 21st century
September 24–December 19, 2021
Extended for the fall semester!
During its 30 years of operation, Manhattan-based alternative art space, Exit Art was a place for underrepresented and outsider artists to come together, create, exhibit, perform, and ultimately, to advance the story of what constitutes art and who can make it. This exhibition presents 50 prints by artists such as Sanford Biggers, Chitra Ganesh, and Diana al-Hadid, who contributed to benefit print portfolios published by Exit Art. The museum's entire collection of Exit Art prints is on view for the first time. Addressing many contemporary issues surrounding race, inequity, and identity, the variety in images, themes, processes, and techniques, perfectly captures the spirit of experimentation and inclusion that Exit Art was founded upon.
Generous support for the exhibition was provided by the Robert J. Gerberg '59, P'85 Endowment for the Visual Arts.
Personal Observations Vary (PoV)
POV: Personal Observations Vary is an online exhibition curated by Colgate University students enrolled in the fall 2020 course, "Museum Curating in the Digital Age." Throughout the course, students grappled with the theory and practice of deploying digital tools in curatorial practice, a topic that has been at the forefront of museological thinking as institutions adapt to the radically new circumstances created by COVID-19 pandemic.
The exhibition encourages the visitor to reflect on how individual perceptions affect the act of meaning-making. Visitors encounter the artworks in digital space, but their path is unknown and they must make choices to proceed—choices that will determine their journey and its outcome. Along the way, they may choose to understand what they are seeing by gaining additional context, or simply react to gut instinct. Each journey will be different and perceptions may shift.
We hope to provide the viewer with an immersive and interactive viewing experience that will inspire them to not only engage with the artworks, but also to reflect upon their own perceptions. This student-curated exhibition circumvents the authoritative museum voice, instead drawing on the multitude of voices, opinions about perceptions, and personal stories with art. We encourage everyone who visits to share their own perceptions and prove there really is more than meets the eye.