The Picker Interdisciplinary Science Institute was established in 2006 through the generous support of Harvey M. Picker, a trustee emeritus.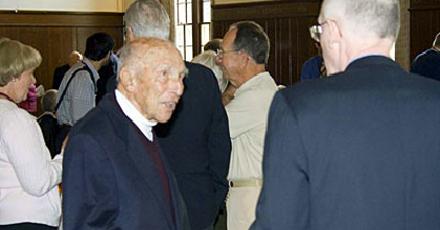 His broad appreciation for all areas of intellectual inquiry can be seen in Colgate's initiatives that bear his family's name: the Jean Picker Chair, in memory of his wife, who served as ambassador to the United Nations and as a trustee of Colgate; the Harvey Picker Scholarship; the Picker Classroom in the Case Library and Geyer Center for Information Technology; the Picker Interdisciplinary Science Institute; and the Picker Art Gallery, named for Picker himself in 1936, when his parents, James and Evelyn, established a scholarship in his honor.
During his time at Colgate, Picker was a physics major and a member of Sigma Chi and Masque and Triangle, the university's student theater organization. He graduated magna cum laude and Phi Beta Kappa, and attended Oxford University and Harvard University, where he earned his master's degree in business administration with distinction. 
Picker served as a lieutenant commander in the U. S. Navy during World War II before joining the Picker Corp., founded by his father, James Picker. He was chief executive officer of the company, manufacturers of X-ray and nuclear instruments, from 1946 until 1968 and remained chairman of the board until 1982. His scientific achievements include the development of ultrasound prenatal scans, several types of radiotherapy treatments, and portable X-ray units.
A true lifelong learner in the Colgate tradition, Picker returned to Columbia University at age 50 to earn his doctorate and, following two years as an adjunct professor at Colgate, served as dean of the Columbia University School of International and Public Affairs. In 1983, Harvey retired from his position to devote himself to charitable projects and a wide variety of public service projects. 
Most notable was his creation of the concept of patient-centered health care through the Picker Institute, a not-for-profit entity with offices in the United States, German, Sweden, Switzerland, and the United Kingdom.
A recipient of an honorary degree from Colgate in 1969, Picker was a charter member of the James B. Colgate Society and a recipient of the Maroon Citation and the Wm. Brian Little '64 Alumni Award for Distinguished Service.