Join us for a celebration and recognition of entrepreneurship at Colgate, featuring innovative student ventures, panel discussion with leading entrepreneurs, and the Entrepreneur of the Year.
Saturday, April 15, 11:00 a.m.–3:00 p.m.
Hall of Presidents, James C. Colgate Hall
Pitch Competition begins at 1 p.m.
Join us for an exciting showcase of entrepreneurship at Colgate.
Meet 18 Colgate startups and choose your favorites for audience-selected cash grants.
Watch six exceptional teams compete in a pitch competition to win up to $5,000.
Hear from Colgate's Entrepreneur of the Year, Britty O'Connor '12, MA'13.
Carole Robinson '83, P'18 - Panel Moderator
Chief Communications Officer, BuzzFeed Inc.
Carole Robinson joined BuzzFeed in 2016 as the company's first chief communications officer. She oversees all global communications strategy, public and media relations, financial communications, and internal communications. Prior to BuzzFeed, Carole spent more than 30 years at MTV Networks and Viacom in communications and management roles, including executive vice president of communications and chief of staff for the network group that included MTV, Comedy Central and Nickelodeon, and she served as executive vice president of corporate & marketing communications for Viacom. Carole holds a B.A. in English from Colgate University and currently serves on Colgate's Alumni Council.
Liza Benson '97
Partner, Moderne Ventures
Liza Benson is a partner at Moderne Ventures with more than 22 years of venture capital experience. She leads investment activity for the Fund, with particular focus on companies that can thrive within the real estate industry. Since joining Moderne four years ago, Liza has led transactions in Caribou, Xeal, Super, Kaiyo, Acorn Finance, Bend (sold to HSA Bank), EasyKnock, and Unacast. Prior to Moderne, Liza was a partner at StarVest Partners, a managing director at Highbridge Principals Strategies, a managing director at Bear Stearns' Constellation Growth Capital, and an investment banker at Patricof & Co. and First Union. Liza has served as a board member or observer in more than a dozen companies, including Cxense, Widevine, Webify, Siperian and K12, Bench, Ceros, Transactis, RAMP, and OpenSlate, Xignite, CrowdTwist, and UrbanBound. Liza received a BA in mathematical economics, summa cum laude, from Colgate University.
Kate Foster Lengyel '00
Co-Founder and CEO, The Outset
Kate Foster Lengyel is co-founder and CEO of The Outset, a clean and gentle skincare brand designed to simplify and elevate everyday self-care routines. Alongside her co-founding partner, globally recognized actor Scarlett Johansson, the duo launched The Outset in Spring 2022 at theoutset.com and with exclusive retail partner Sephora. A second-time entrepreneur, Kate's first start-up was acquired by media giant Meredith Corporation in January 2020. Prior to entrepreneurship, Kate built a 15-year career as a marketing and ecommerce executive for fashion and beauty brands. She was the chief marketing officer at leading denim brand NYDJ, and previously led marketing efforts at Juicy Couture, Ann Taylor, and the beauty division of Victoria's Secret. Kate earned an MBA from Columbia Business School, an MPS from FIT concentrating in beauty marketing and management, and an AB from Colgate University. Kate lives in Brooklyn with her husband Roger (Colgate '99) and their two children.
Tal-ee Roberts '01
Technology Consultant and Partner, Gear Institute
Tal-ee Roberts is an accomplished entrepreneur within the outdoor media and technology industries.  He is the co-founder and COO of GearInstitute.com, an online outdoor gear review website that also covers adventure travel, and events. Before launching Gear Institute, Tal-ee founded Roberts Internet Consulting, LLC and continues to consult for a wide range of businesses and government agencies in the area of web and mobile application development. Tal-ee recently co-founded a new venture in the travel media space (MilesJunkie.com), and is a seed stage investor in DashLX, a lived-experience data focused startup in Flagstaff, Ariz. In addition to his work in technology and media, Tal-ee is a big mountain skier, backpacker, and veteran marathoner — having run more than a dozen marathons across the country. Tal-ee received his bachelor's degree in English, with an emphasis in creative writing from Colgate in 2001. He lives in sunny Santa Fe, N.M., with his wife Katie '01, and their dog Pedro.
Justin Polk '03
Co-Founder and Director, Invisible Collective
Raised on sports and art, throughout his career Justin Polk has worked with a range of sports brands (Reebok), film companies (Village Roadshow Pictures) and advertising agencies (Deutsch LA). With Justin's diverse background in comedy, visual storytelling, and docs, he has directed work for clients including Amazon, MLB, and Verizon, for which his Super Bowl campaign "The Team That Wouldn't Be Here" won three Cannes Lions. In 2019, Justin founded Invisible Collective. A production company built for the future, Invisible has partnered with some of the biggest brands in the world to create authentic and dynamic work. The "Collective" in Invisible Collective represents their dedication to mentoring diverse talent from all backgrounds – from young directors to seasoned creatives across the board. Justin co-founded Three's A Crowd, a community of 150+ Black creative professionals. They have also developed the new podcast Hex Code Black, with each episode featuring raw and honest conversations with Black professionals at the intersection of race, culture, and creativity.
Britty O'Connor '12, MA'13
Co-Owner, Flour and Salt Bakery and Cafe, Martha's on Madison
2023 Colgate University Entrepreneur of the Year
Britty grew up in northern New Jersey before attending Colgate from 2008 to 2013. She received her BA in English literature and her MAT and teaching certification in secondary education. During her time at Colgate, Britty worked in multiple small businesses in the village. She taught for two years in the Hudson Valley before returning to Hamilton to open Flour & Salt in 2015. Her husband and fellow Colgate alum, Brendan O'Connor '09, joined as co-owner in 2016. They opened Martha's on Madison, a tavern and market, together in Hamilton in 2021. In 2022, Britty and Brendan expanded the Flour and Salt Cafe into the old Barge Canal space and turned their previous location into a production kitchen and bakery. They live in Hamilton with their two brindle pups and 2-year-old daughter, Sloane.
Brittany A. O'Connor '12, MA'13
Britty O'Connor was once a teacher who baked. With bachelor's and master's degrees from Colgate, she was teaching middle and high school English and baking treats for her students in New York's Hudson Valley.
Summers she returned to Hamilton to be with her now husband, Brendan (Colgate '09), who was running an organic farm. In the farm's kitchen, Britty baked bagels, pastries, and cakes for sale at the weekly Farmers' Market, as well as to Colgate and a clientele of Hamiltonians.
A local alum offered Britty the first floor of the historic property he was restoring downtown. "If I'm going to try something, I go in with both feet," said Britty. She left teaching and signed a five-year lease. In summer 2016 Britty and Brendan opened Flour & Salt Bakery and Cafe (F&S) on Maple Avenue. Response was over the top. The bakery sold out most days by 3:00. The cafe was so popular with townspeople, students, and alumni that it became the unofficial second office of Hamilton's mayor.
Then came the pandemic. But with a customer base and a website to support its robust take-out business, Flour & Salt weathered the challenge and kept all its employees. Britty, who believes a community of businesses strengthens all members, helped four other local merchants establish point-of-sale systems.
For someone with imagination, transitions create opportunities. Two years ago, at the historic Roth Building on Madison Street, Britty and Brendan opened MOM's, a friendly tavern. And when a storefront came open on Lebanon Street around the corner from the bakery, F&S moved in with its cafe and sandwich shop and converted the old location to full-scale production of breads and baked goods.
Community has always been central for Britty, who started a writing program for Hamilton high schoolers when she was a student. A member of the Hamilton Business Alliance (HBA) since she opened F&S, Britty is HBA's newly elected – and clearly committed – president. Meanwhile, online, Britty is the face of posts that feature F&S, MOM's, her family (including two-year-old Sloane), and tips for other entrepreneurs. And she's a dynamic force on campus, whether counseling future entrepreneurs through TIA, or baking special orders, such as an 18-foot-square Bicentennial birthday cake.
"Busy? Apparently, that's how I like it," said Britty O'Connor, an energy and idea center in the Hamilton community, and Colgate's Entrepreneur of the Year.
April 2023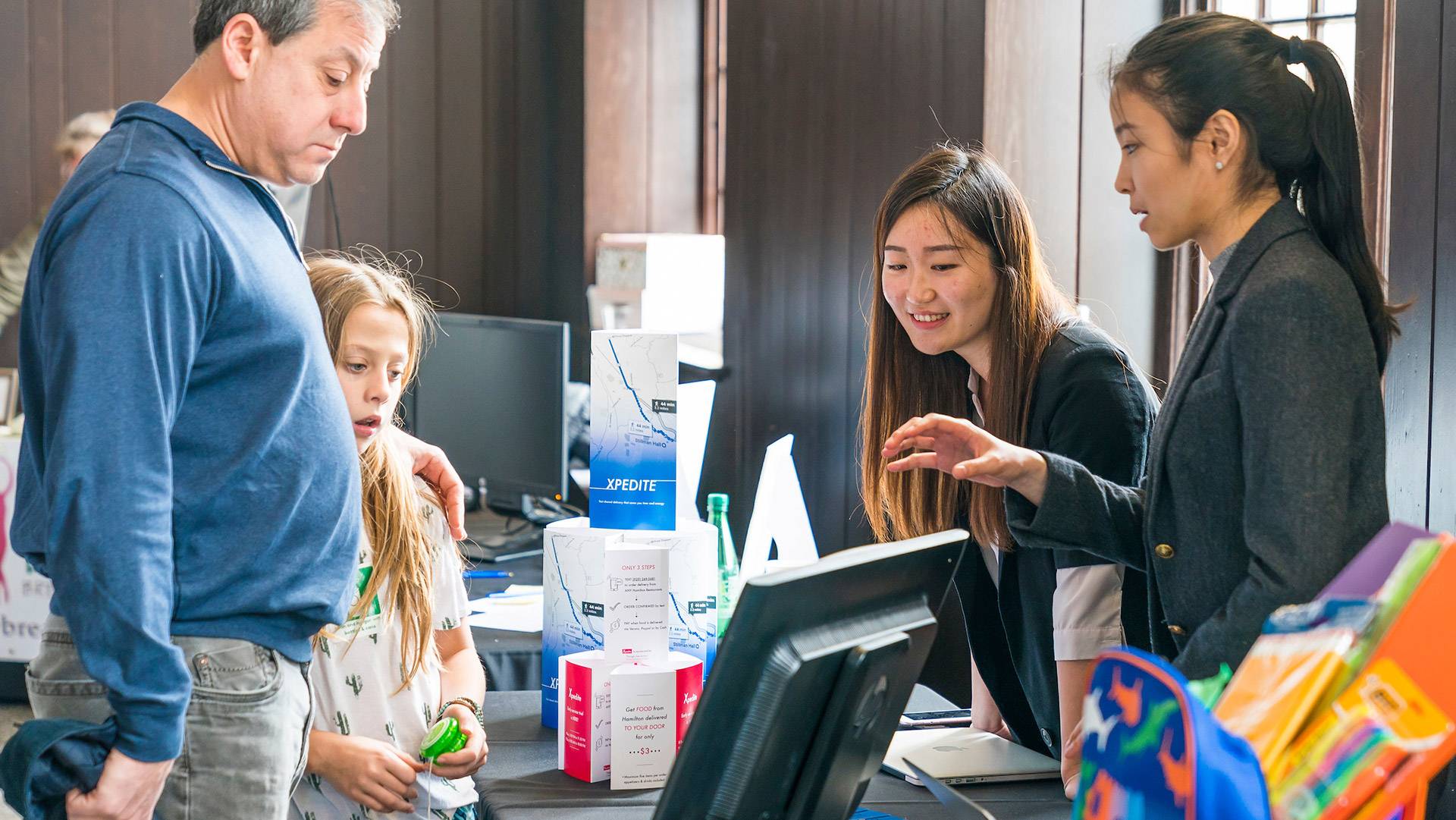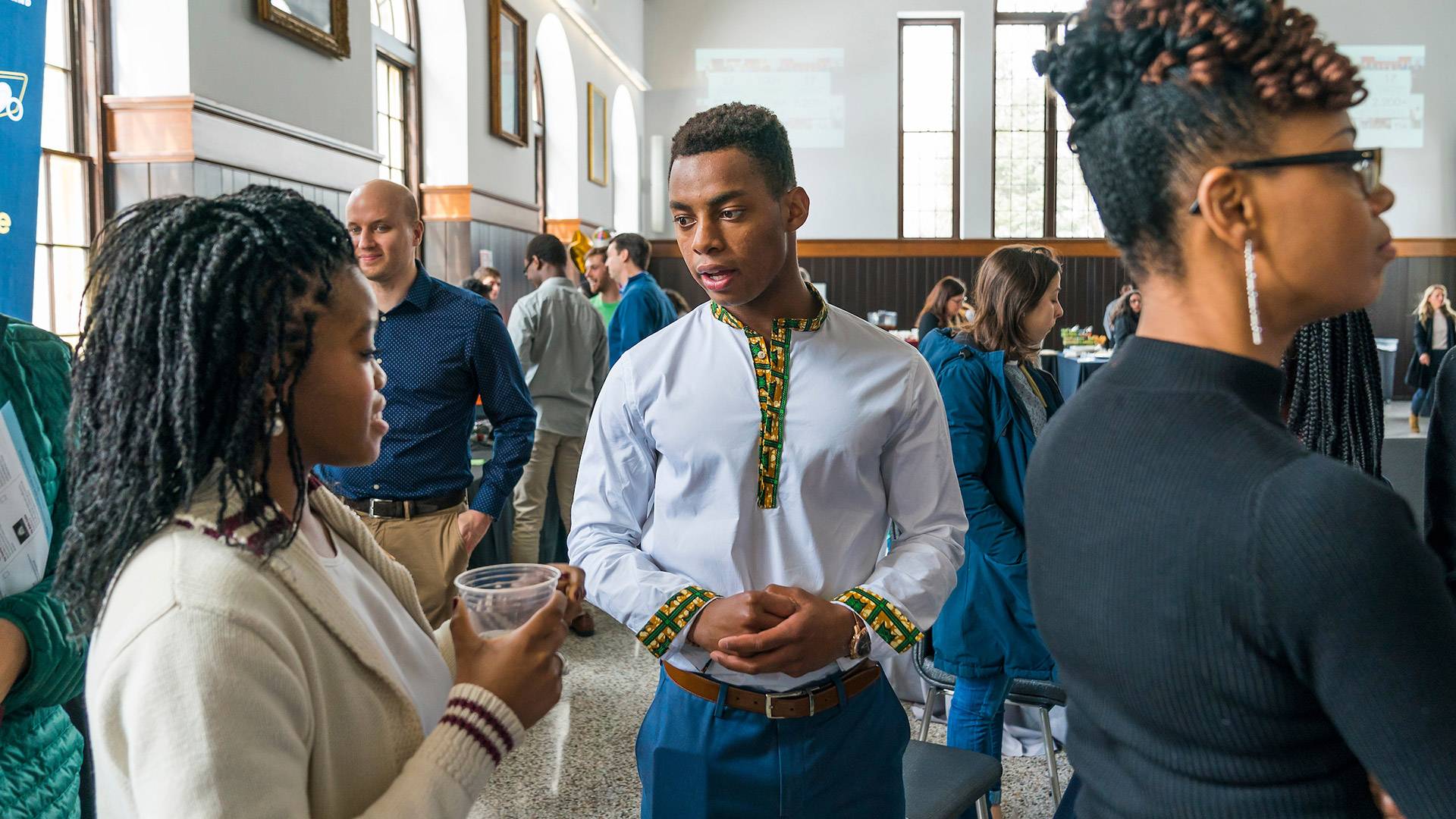 Highlights from Past Showcases