On Saturday, April 9, students, faculty, alumni, and friends gathered in the Hall of Presidents for Colgate's 10th annual Entrepreneur Weekend. Student and alumni entrepreneurs representing 28 different ventures showcased the work they have done this year through Thought Into Action (TIA), and six of those ventures competed in a pitch competition before a panel of Colgate community judges. 
Each year, Thought Into Action introduces students to the calling of entrepreneurship, providing in-person mentorship from the University's experienced, dedicated alumni network. Some arrive with a venture in mind, while others are simply interested in the process and join a team to learn more.
"Entrepreneur Weekend is not only a showcase for students to gain customers for their new products and services," said Andres Echenique '83, alumni director of TIA. "It's also an opportunity to pitch their business visions and ambitions for potential partners and investors. It's truly an event that marks their debut as entrepreneurs."
To kick off the day of ingenuity and competition, attendees visited venture booths staffed by founders. Each attendee carried five investment tokens called "Iggies," which they were given upon arrival and encouraged to award to ventures they believed to be most promising. Recipients of the most Iggies received cash grants between $250 and $1,000.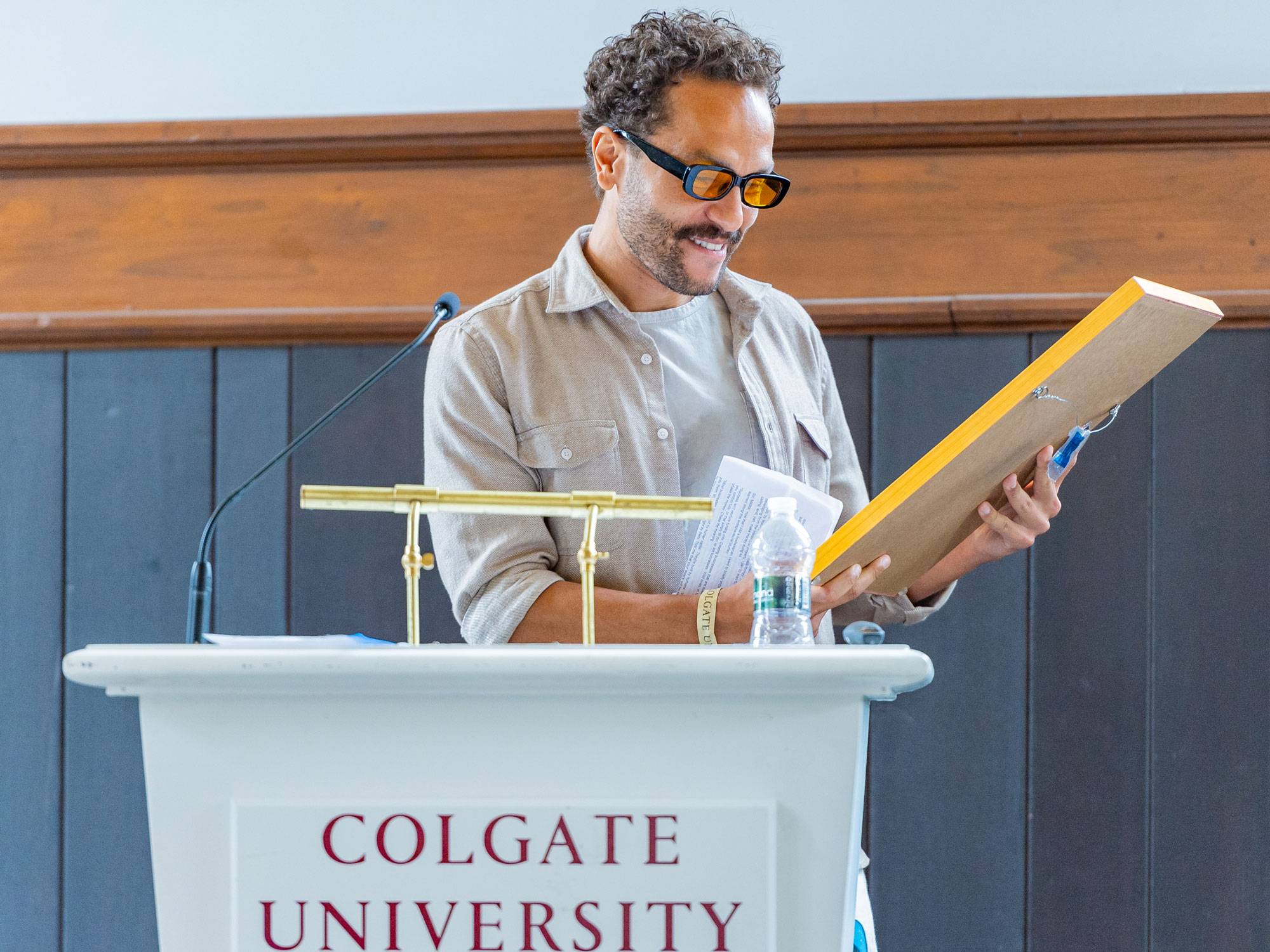 Once all of the Iggies had been awarded, the Colgate University Alumni Corporation presented its Entrepreneur of the Year Award, which recognizes alumni who best exemplify the ideals of entrepreneurship. This year's recipient was documentary filmmaker Sian-Pierre Regis '06, H'18, whose debut documentary, Duty Free, profiles his mother's struggle with age bias and discrimination in the workplace. 
In his speech, Regis spoke on what has made his career as an independent filmmaker so fulfilling. "Don't chase the money," Regis said. "Chase the meaning."
Following Regis at the podium, Echenique echoed the filmmaker's sentiments about seeking meaning over profit in his thoughts on the value of the TIA.
"It's not about whether the student venture is successful and making a steep profit by the end of the program, but rather about whether the students have come to stand for something," Echenique said.
Ventures then presented their compelling two-minute pitches to a panel of Colgate community entrepreneurs: Regis, investor Allison Stoloff '06, Super Coffee CEO Jimmy DeCicco '15,  and Rodial CEO and founder Maria Hatzistefanis P'25. These experts followed up with questions on growth potential and goals.
When the ovations and adrenaline settled, sports analytics company ShotQuality (Simon Gerszberg '22) and press-on nail boutique First Impressions Nails (Kadian Dixon '18) had tied for first place, with a prize of $5,000 each. Vintage-inspired jewelry company SUNLOOPS (Madison Bailey '18), Maua Organics (Sally Ngoje '19), NFT-centered venture BLANK_Humanity (James Daus '22 and Kris Gano), and virtual flashcard company Confucius Learning followed close behind with awards ranging from $1,000 to $3,000.
During the event, the names of the teams participating in the 2022 Entrepreneurs Fund Summer Accelerator were announced. James Chaplin '20, whose venture Downkore is an e-commerce site offering dance apparel from around the world, and Keshaun Dancy '23, whose venture is DMD Trucking, will receive up to $7500 in additional funding and mentorship from successful entrepreneurs in order to take their ventures to the next level.
For more on Thought Into Action and entrepreneurship at Colgate, visit colgate.edu/tia. Find details on Colgate's developing Middle Campus Initiative in Arts, Creativity, and Innovation at thirdcenturycampaign.colgate.edu.