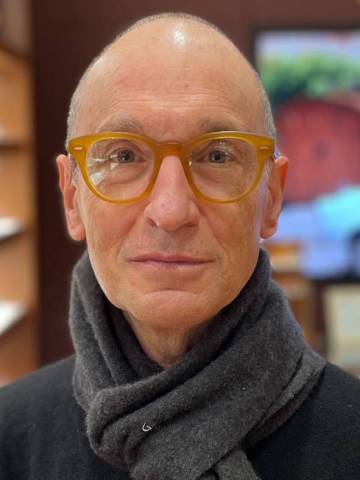 In February, the Council on Foreign Relations awarded geography professor and George R. and Myra T. Cooley Professor of Peace and Conflict Studies Daniel Monk an International Affairs Fellowship for International Relations Scholars (TIRS). Funded by the Carnegie Corporation, the program places senior scholars in government or intergovernmental agencies involved in policy-setting agendas. The goal is to give academics valuable experience that they can bring back to their classrooms and use to inform research. 
Monk's research on global humanitarian issues and refugee policies led him to apply for the fellowship, with the hope that his experience will provide a meaningful link between the academy and policymaking agencies. Beginning this summer, he will serve a full year in one of a number of agencies actively involved in making global refugee shelter policy. 
Monk co-authored The Global Shelter Imaginary: IKEA Humanitarianism and Rightless Relief (University of Minnesota Press, 2021) with University of Michigan Professor Andrew Herscher. The book, which earned an honorable mention in the 2023 International Studies Association's International Political Sociology book awards, explores practices that aspire to help refugees — such as using quick-to-assemble metal shelters instead of tents in camps for displaced people — yet sidestep the underlying problems they face. "Almost since World War I, architects have suggested they could fix the problem with the mass production of houses or units, or providing a better type of camp," Monk says. Recently, the decades-old argument has gained traction. "All of a sudden we saw the idea take off within the framework of global humanitarianism — at a moment when we're starting to see the biggest displacement of humans since World War II."
While the architectural innovations are well-intentioned, Monk sees them as problematic because they allow governments to avoid addressing underlying political issues. Most world states signed on to the U.N.'s 1951 Refugee Convention and still claim to be committed to its terms. "But they're also attempting ways to externalize border controls, making sure people who would seek asylum are never in a position to make a claim," he says. One way in which states do that is through category fetishism, or making people jump through many hoops to qualify for seeking asylum. "That's a terrible form of hazing that asylum seekers are subjected to all the time." 
Rich countries, in particular, are functionally reneging while purporting to continue their commitments under international agreements. Often, they make arrangements with poorer countries that agree to function as holding centers for displaced people — a way to guarantee that they have no rights. "What we're creating is masses of humans who are kept in suspended animation," says Monk. "Under the Refugee Convention, displaced people should receive one of three possible options: return to their home country because the state is no longer persecuting them, settle where they've landed if the state will agree, or be settled in a third country through the work of the U.N. and other actors. That's the goal, but the reality is we have people living under conditions of permanent impermanence — and that's where the question of shelter assumes a problematic moral and political position."
By participating in TIRS, Monk hopes to gain understanding about how policymakers navigate this difficult terrain. "I recognize that they're professionals who are involved in something quite challenging, and I want to come with humility to learn how things are managed on a day-to-day basis," he says. "More broadly, I'm seeking to understand how people who are caught between a rock and a hard place are managing that almost impossible situation — and how the rest of us might help, if it's possible to frame the problem in ways (for diplomatic reasons) they can't."
Monk hopes his experience in the fellowship will inform the new book he's currently writing, The Humanitarian Aesthetic, which has also received support through a major award from the Colgate Research Council. He's excited, as well, to link Colgate students with policymakers involved in current refugee policy and create new, practical research opportunities within his courses. 
Ultimately, he is thankful for this unique opportunity. "It's not that common for academic researchers to be invited to enter policymaking situations, or for the policymaking establishment to be able to incorporate academic viewpoints. There's an alchemy there that's remarkable, and I'm very grateful that I've been given the chance to participate in it."
— Jessica Leigh Brown