From the side, it looks like an ordinary autumn wardrobe staple. But when turned to the front, its iconic detail is made known: the split toe. Made of leather with a rounded heel and sleek look, Martin Margiela's Tabi boot has appeared on runways in several iterations for the past 30 years.
An array of Tabi shoes collected by Professor Lynette Stephenson are on display in the Clifford Gallery exhibition ARTS Collects, a selection of items from art and art history faculty and staff. They're among dozens of other items, from vintage student art projects to herbal remedies.
"Some of these objects were chosen because they are intrinsically, visually interesting and compelling. Others were chosen because they represent a lifelong hobby and they're good examples of the kind of thing we value. And then there's other object that were chosen because they represent a single experience that was profoundly meaningful to the person," said Associate Professor Elizabeth Marlowe at the exhibition opening.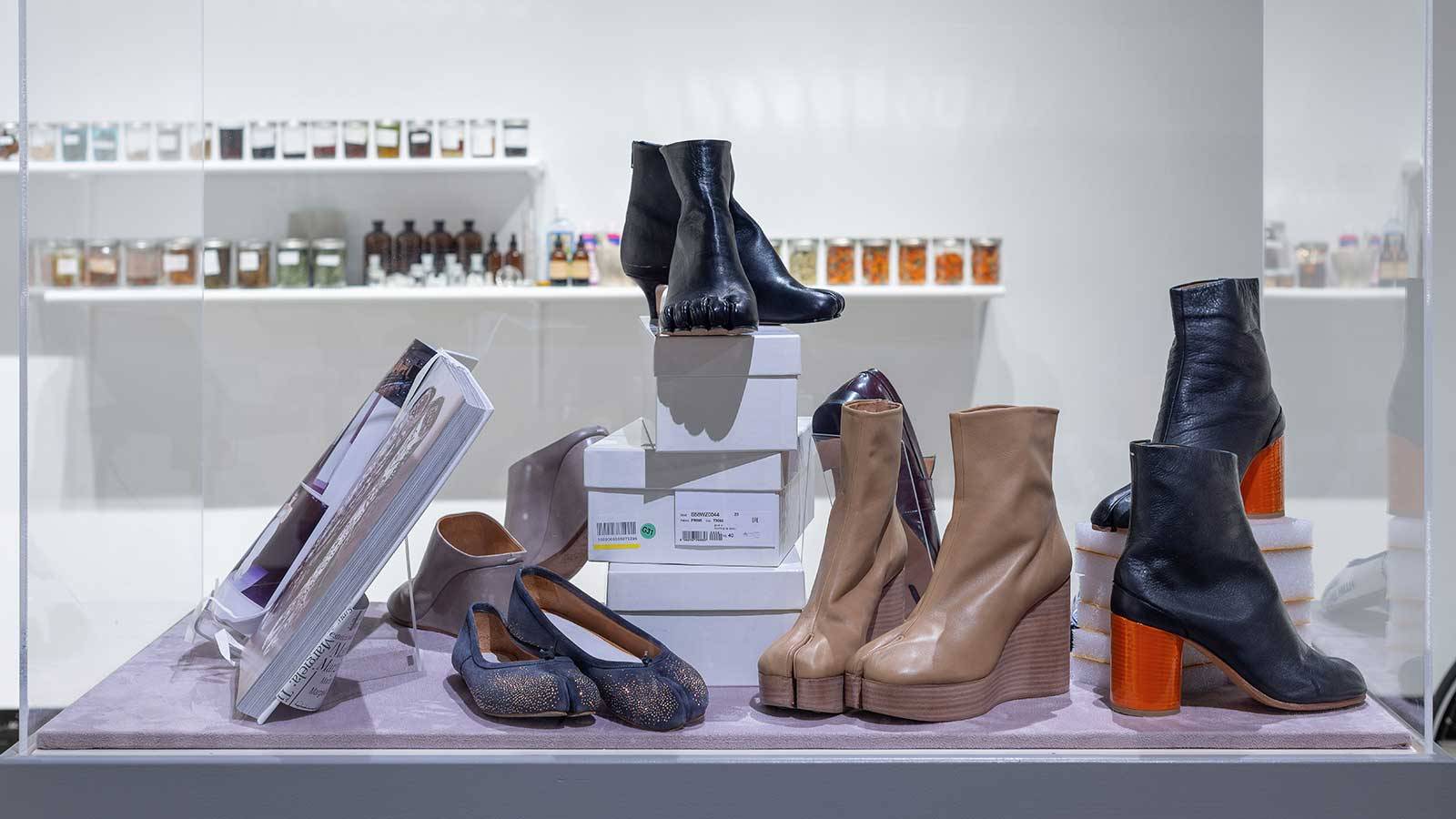 The exhibition was curated by Professor DeWitt Godfrey, who says museums and institutions will often ask artists to curate from their own collections. The idea to show pieces from the department, not just faculty members, came long ago from the late Professor Emerita Linn Underhill.
"I knew from my relationships with colleagues that many of them are very serious collectors of very different kinds of things. I expected we'd get an interesting range, but in the end, it was a surprise," Godfrey says.
Among those surprises were Assistant Professor Margaretha Haughwout's collection of herbal remedies. Small jars of dried herbs, tinctures, oils, and honeys were arranged on a shelf, along with a doctor's bag that belonged to Haughwout's father. "That's how I got into herbalism, I rebelled against an expensive modern medical system and began to think about ways that everyday people can heal themselves. That rebellion began a lifelong conversation between us."
Staff from the department also lent items to the exhibit, including Administrative Assistant Lois Wilcox's vintage typewriters and Studio Safety Technician Duane Martinez's playfully designed bicycles.
For his part, Godfrey displayed three pieces, including a weighted industrial crane ball that he's hung on to since the 1980s. It's one piece from his 40-foot steel shipping container full of personal effects.
He says he's attracted to the weighted sphere because, like other tools, its beauty is in the fact that it was made just to perform its function — to keep the wire rope on a crane tight — without any embellishment. Godfrey sees similar attributes in natural specimens, like cow femurs, which he's using in his sculpture course.
Collections are deeply personal, and by displaying them to the public, including students and their colleagues, the faculty and staff in the art and art history department opened a window into their lesser-known interests. Altogether, Godfrey says that the effort shows the range of personalities the department has to offer.
"It's actually turned out even better than my wildest dreams — I think we've really got a wonderful collection of things."