Alina Sabyr '19 has been named one of only 41 Thomas J. Watson Fellowship recipients this year. The competitive national award from the Thomas J. Watson Foundation will allow her to spend a year traveling around the globe in a self-designed, independent quest for knowledge.
With a $30,000 stipend, Sabyr will live in Greece, Mexico, and New Zealand to explore the ways in which national identity and astronomical heritage shape stargazing attitudes and skywatching cultures.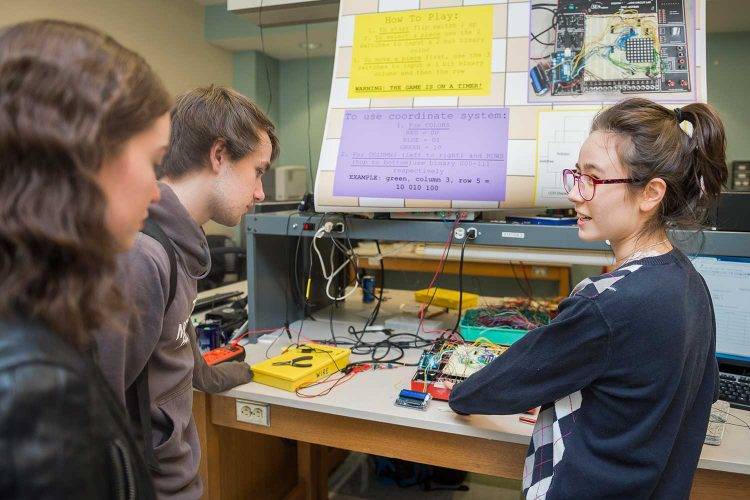 Sabyr's passion for cultural astronomy came about while she was browsing through astronomy professor Anthony Aveni's bookshelves. Two years later, this interest became the basis of her Watson project, Looking Up: Exploring Skywatching Cultures.
"I started off with cultural and ancient astronomy," she says. "Over time I became more interested in how I've interacted with the sky in my own life and how having the sky has inspired me on a day-to-day basis."
Starting in July, Sabyr plans on seeing how different cultures are keeping skywatching alive. In preparation, she has reached out to planetariums, amateur astronomy clubs, and outreach coordinators who advocate for the benefits of skywatching. During her year abroad, she wants to engage with people who care about sky-related issues, such as preserving air quality or establishing dark sky reserves, and understand how their astronomical heritage and national politics influence those views.
Sabyr picked Greece, Mexico, and New Zealand for their rich astronomical history. She hopes to partake in stargazing trips and speak to people who attend national observatory events to learn how these communities encourage interest in astronomy. She also wants to speak with local scholars to investigate the histories of astronomy in each country.
"In New Zealand, I hope to meet with Māori astronomy scholars and also stay at the Aoraki Mackenzie Dark Sky Reserve."
Sabyr is an astronomy/physics major and classics minor from Kazakhstan. She founded Star 'Gate, an astrophotography and astronomy club, and is a member of Impulse, a club that focuses on inclusivity and diversity in STEM communities. She also runs Ho Tung Visualization Lab shows on the sky and tutors students in the sciences.
My dream is to write a book based on this year and communicate the fascination with the sky beyond its scientific value.
After the Watson year, Sabyr plans to enroll in a PhD program to further pursue her scientific interest in the sky. While her future career interests remain scientific, she hopes her Watson year will influence and inspire her outreach work.
"My dream is to write a book based on this year and communicate the fascination with the sky beyond its scientific value," Sabyr says. "Now, I get this chance to dedicate a year to my passion."
The Thomas J. Watson Fellowship Program honors Thomas J. Watson Sr., the founder of IBM, and his commitment to education, the arts, and world affairs. The program aims to provide graduates with the opportunity to explore their interests under a more global mindset, spending a full year outside of the United States building confidence in their perspectives and passions and becoming a more informed member of the global community.
Colgate students and alumni have been awarded many of the most competitive national and international fellowships and scholarships. For more information, visit the Office of National Fellowships and Scholarships.