Colgate's Robert H. N. Ho Science Center does significant outreach with school groups from throughout central New York during the year.
To schedule a field trip or to find out more information about Colgate's Science Outreach program, please e-mail to scienceoutreach@colgate.edu or call 315-228-6325.
Groups are limited to no more than 50 students per visit.
Contact Information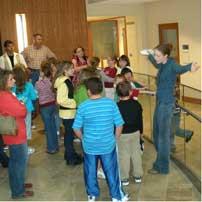 Joe Eakin
Tech Director & Designer of Ho Tung Visualization Lab
Science Outreach Manager
408 Ho Science Center
 315-228-6325
jeakin@colgate.edu
Science Outreach Virtual Demos 
Check out these fun science demos to do at home.
Activities and Demonstrations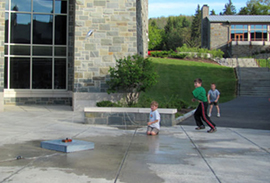 Below is a list of activities the science outreach center offers to school groups. They are based on grade level and are aligned to New York state learning standards.
Grades Pre K–1
Solar System, a night sky talk

Grades 1–2
Solar System/The Changing Earth: A look at the night sky; Linsley Geology Museum scavenger hunt

Grades 2–4
Solar System: A look at the night sky; meteorites show and tell

Grades 3–4
Energy: Van der Graaf generator
Grades 5–6
Evolution: Paleontological dig; Linsley Geology Museum fossil scavenger hunt

Solar System: Make a comet; night sky talk; meteorite display/Linsley Geology Museum

Forces: Volcanology

Grades 7+
Evolution: paleontological dig; Linsley Geology Museum 

Solar System: night sky talk; meteorite display/Linsley Geology Museum

Plant/The Changing Earth/Matter: greenhouse tour/make cytoplasm; Linsley Geology Museum

Energy: Van der Graaf generator
Space & Science Centers, Astronomy Resources
Earth- and Space-Based Telescopes
Astronomy Image & Multimedia