The First@Colgate program is designed to support first-generation students and their families in taking advantage of everything that Colgate has to offer.
Every year there are more than 300 first-generation students pursuing their degrees at Colgate. They are students who are the first in their families to attend college.
Recognizing that the unique experiences of first-generation students can present unique challenges, Colgate's first generation student program offers these students support and guidance in:
Making the jump to college life
Understanding academic expectations at the collegiate level
Navigating key campus offices
Building a sense of community with one another 
Colgate's investment in support for first-generation students has resulted in 4-year graduation rates of over 92% in recent years.
About the Program
The First@Colgate program, which is open to all incoming first-generation students, includes the following components:
The pre-orientation program includes:
A welcome dinner for students and families
Peer mentoring and social activities with current first-generation Colgate students
Academic advising to assist with course selection, registration, and understanding academic rules
Scholastic Toolbox, which includes sessions on

Scholarly habits of mind, critical thinking skills associated with effective reading, note-taking, class participation, and writing
Building relationships with faculty via office hours
Time management, self-care, and building a healthy social life
Programming during the academic year includes:
Additional advising for course registration
Formal mentoring on making the most of opportunities at an elite liberal arts college from the staff of the First@Colgate program
Ongoing programming connecting first-generation students with the many resources on Colgate's campus, especially with key offices including:

Career services
The registrar's office
The financial aid office and student accounts
The Office of National Fellowships and Scholarships
Health services and counseling services
The Office of Student Involvement (OSI)

Regular First@Colgate communications to highlight class-year specific opportunities and institutional deadlines
Social events designed to build community for first-generation students, including dinners, study break, and game nights.
Leadership opportunities through which first-generation students can mentor younger students and help to shape the ongoing development of the First@Colgate program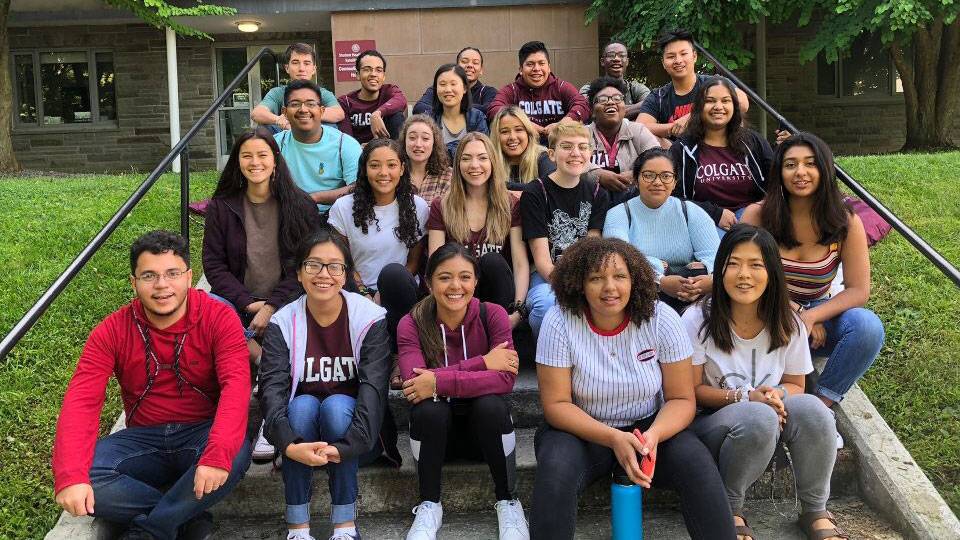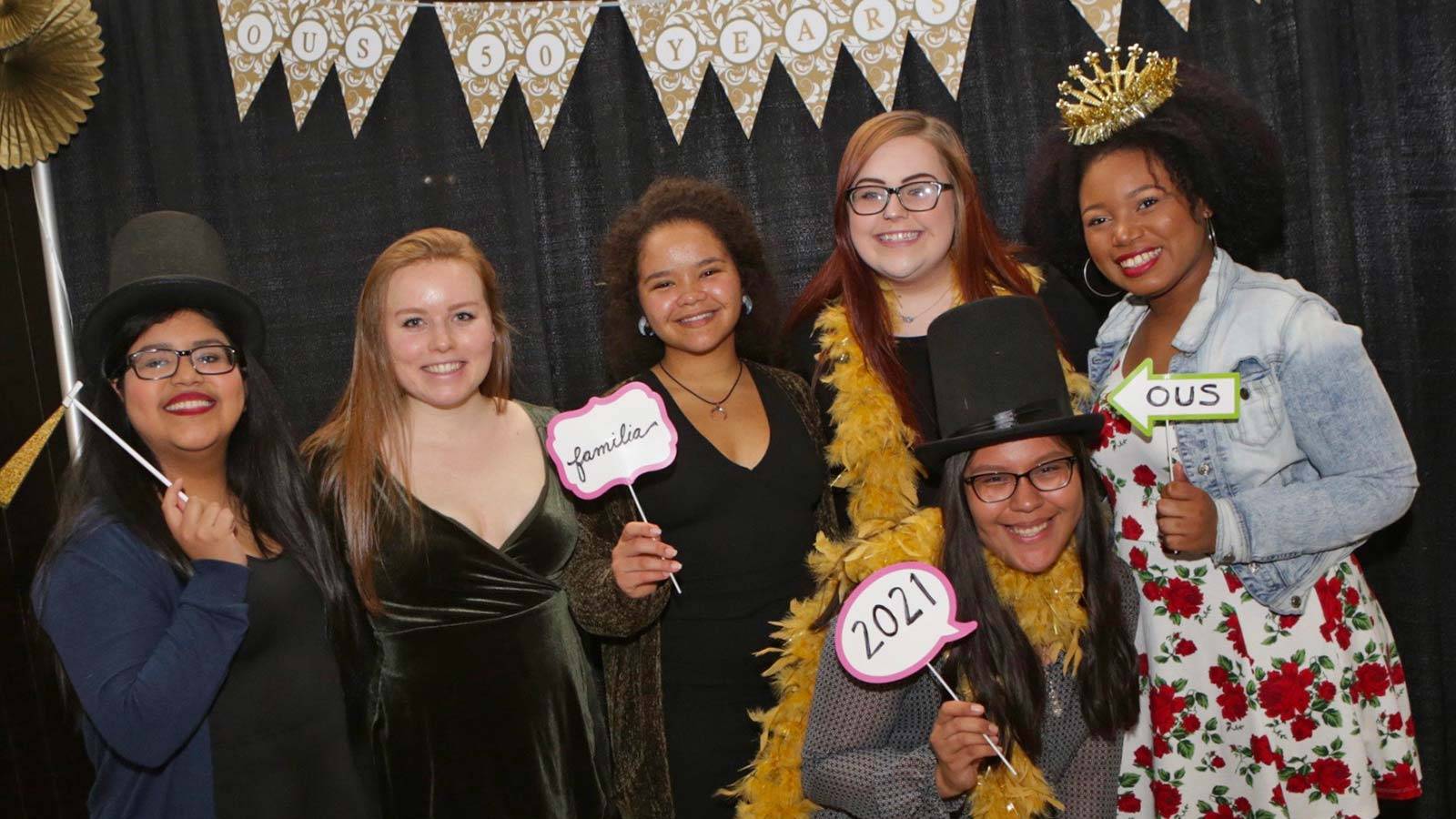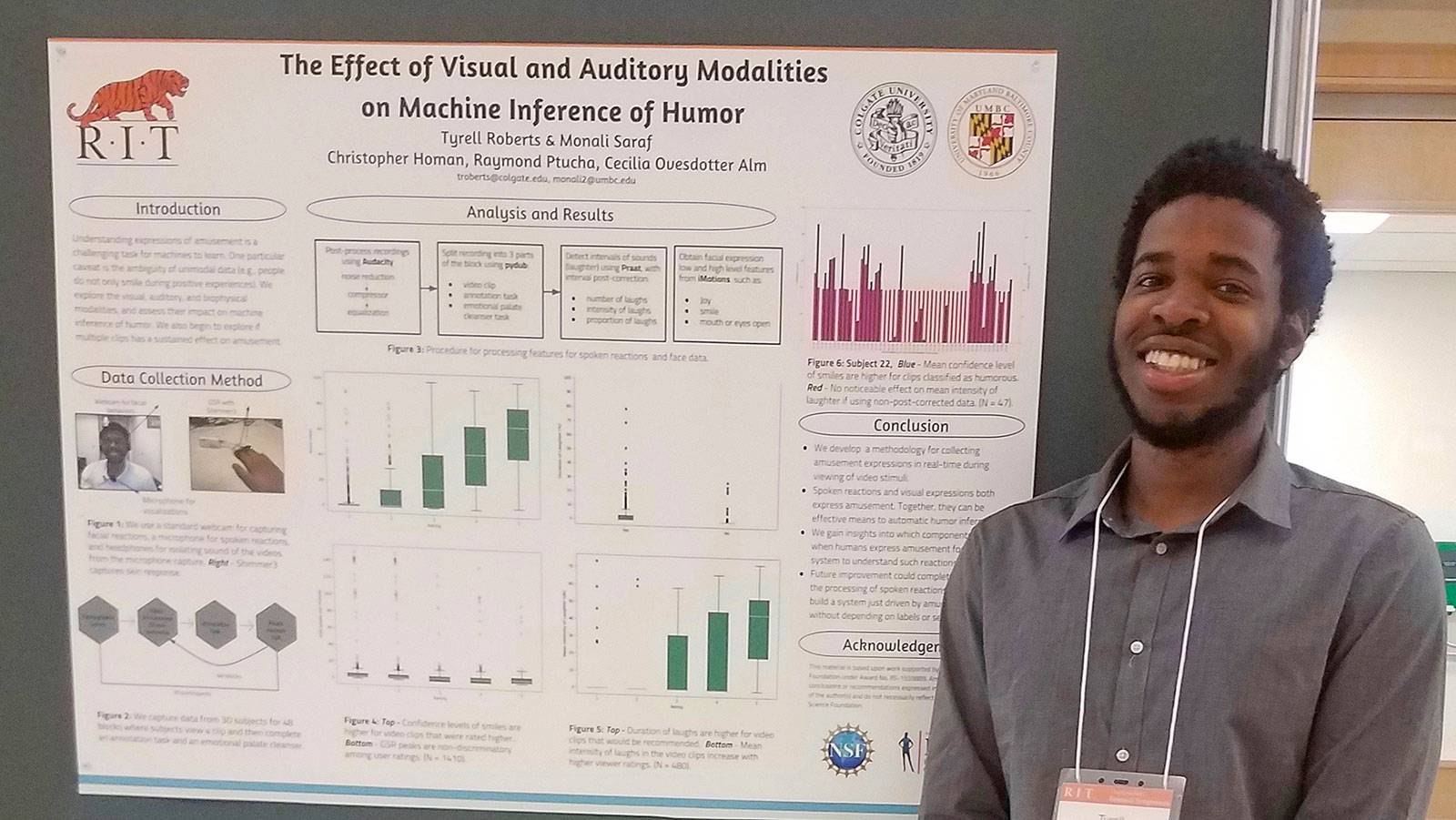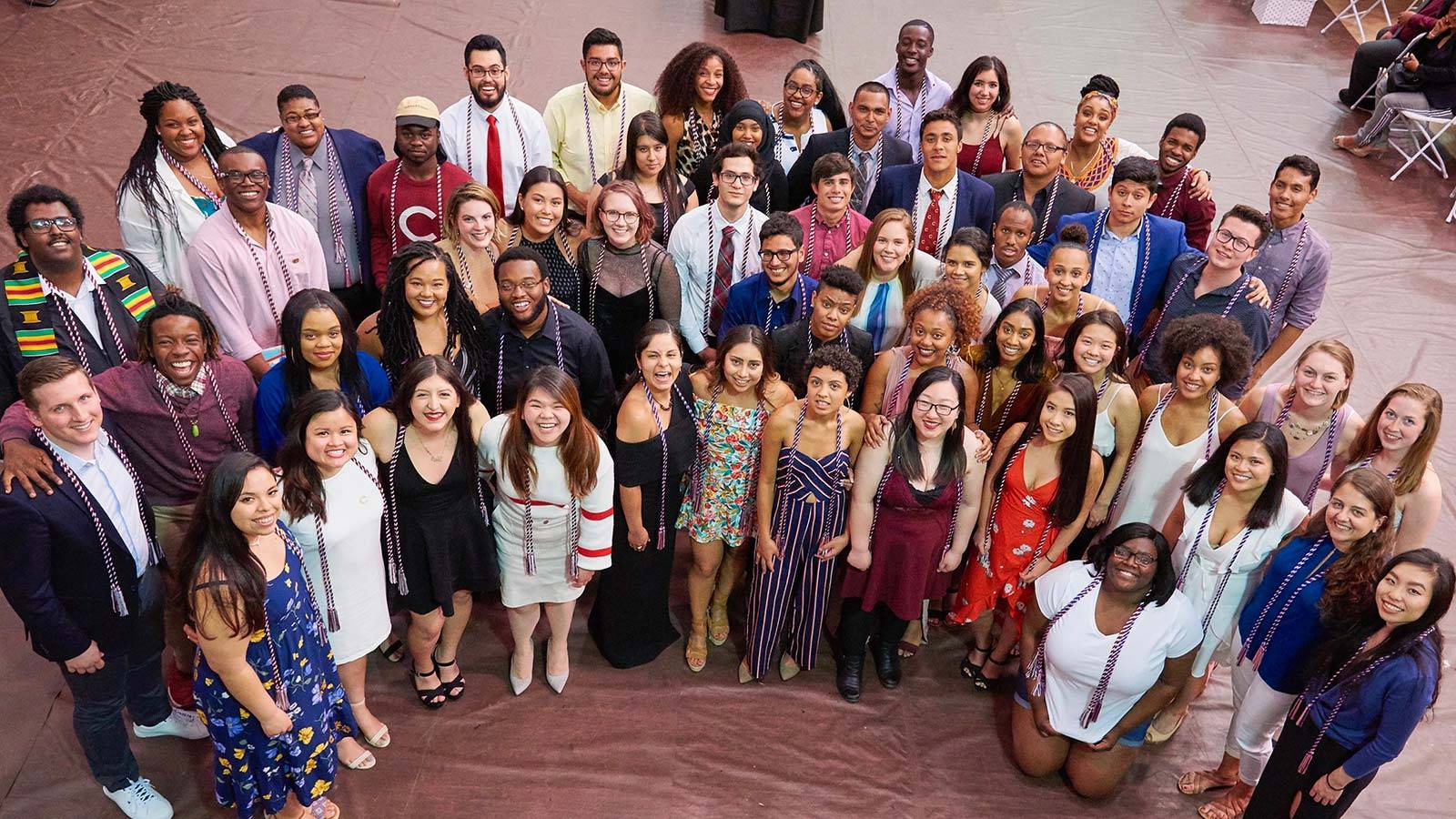 First-Generation Student Profiles
Diana Flores '20
Diana Flores was nearly a second-gen student. Her father attended university in Puebla, Mexico, but left school to join the protest movement against the Mexican government before he could complete his degree. Her mother attended high school in rural Mexico. The couple moved to Aspen, Colo., to raise their family of four daughters.
"None of us ever felt pressured to go to college," Flores said. "My dad used to tell us, 'When you get an A in class, I love you so much, and you're my daughter, and that's excellent. But if you get an F, I love you so much, and you're my daughter, and that's excellent.' That was just the way they raised us."
But no pressure was necessary, because Flores loved to learn and pursued a challenging International Baccalaureate during her high school years.
As she began her search for a university, Flores met Gary Ross, the Jones and Wood Family Vice President for admission and financial aid, at a college fair. Ross took the time amid the bustle to have a meaningful conversation — not so much about Colgate but about Flores' interests and goals. By not talking solely about the University, he sold her on it. The inclination was reinforced by her high school counselor and a few older classmates, who also thought it would be a perfect fit.
"I came with my dad in April, and I was like, 'Oh my god, there are so many hills!'" The hills that inspired in the spring of 2016 became home by autumn. And although her love of science came along for the ride, Flores' Colgate coursework introduced her to peace and conflict studies and reminded her of how much she enjoyed history. The disciplines became her double major.
"I didn't know we had military bases on islands that no one talks about," she said. "It seemed so important to me to know these things that I had never known, and that outweighed biology."
As a junior, Flores spent a full year abroad. Studying at the University of Cape Town in the fall, she saw an educational system in the throes of a modern-day decolonization. Digging through the British Archives in London during the spring, she read historical documents of a colonizer trying to maintain control of its dominions.
Flores — a Link staffer and member of the Spanish Debate Club — is now preparing for graduation and pondering a career in law. But she will take a gap year after graduation from Colgate to consider her options. "The universe inspires," she said. "Life has been good to me. I feel like I'll end up wherever I need to be."
Colgate Highlight: Membership in the Spanish Debate Club
Debate has really taught me to take a step back. I've had constructive conversations with people I don't agree with, because I'm able to explain to them very persuasively why I am the way that I am, but I'm also able to accept their points as well.
Colgate Challenge: Confronting my own identity
Freshman year for me was really a challenge. I felt like I didn't belong to either community [white or Mexican American], which was hard. I was confused. I've learned a lot about myself and my position as a person of color, which is something I had never really ever had to confront at home.
Anthony Wright '20
Wright was born in Harlem, N.Y. From the age of 12, he lived with his grandmother in her apartment just a few blocks from Central Park, eventually taking a daily train ride from Manhattan's east side to its west side, where he attended Columbia Grammar and Preparatory School.
Based on Wright's preference for a smaller college, his high school counselor recommended that he apply to Colgate. "When I was accepted," Wright recalled, "I came for April visit days, saw the campus, got to meet different students, and realized that this is somewhere I wanted to be."
The OUS scholar program was another draw. "It gave me the chance to come to Colgate over the summer, take two classes, be on campus, and get familiarized with it before the actual school year started."
Wright had strong math skills, so his family suggested he go into accounting, and he considered it as a first-year. But during the fall of his sophomore year, he did some careful thinking about his future and realized that his calling was education — in particular, teaching in the New York City public school system.
"I was privileged enough to go to a private high school," Wright said. "But thinking about the people that I went to elementary and middle school with — knowing that they didn't necessarily go to good high schools and thinking that they don't have the same opportunities as I do now — that opened my eyes."
Wright's eyes have also been opened to the ways in which upbringing and background can impact the educational experience regardless of school environment — even at Colgate. Students from lower incomes might be distracted from their coursework by the jobs they must take to pay for their education. They might also feel the pressure to break down stereotypes or in some way demonstrate their worthiness.
"I think a lot of students of color on campus feel like they are held to a different standard, feeling like they have to show that they deserve to be in a certain space even though they already were admitted to the school," Wright said. "You deserve to be here, but sometimes it's not necessarily the case that we all know that."
Wright's career as a teacher has begun early as he tries to combat that feeling among new students, current classmates, and the children he encounters during his observation sessions at Hamilton Central School. "If you need help," he said, "that's what we're here for."
Furthermore, he wants the next generation to know that it's ok to ask for that help. "Speaking for myself, I have a hard time asking for help even when I need it, and that's just being a product of my environment," Wright acknowledged. "My grandmother was pretty much the one that raised me, so not seeing her asking for much help around the house made me think, 'Okay, she's going to do it on her own. So I should copy that.'"
Colgate Highlight: The OUS Scholars Program
Just having that month of being on campus without everybody else, being with other first-years, and knowing that coming in to Colgate I already had people — students that could relate to my experiences — it was nice to be able to have a community already on day one of orientation.
Colgate Challenge: Membership in the Melanated Dance Company
With Dance Fest, every dance group has been working on dances, and then they perform in front of the student body, and that was something I'd never done. Once the music stops, and I walk off the stage, even though I am extremely tired, it is a lot of fun to feel that relief.
Arturo Max Longoria '21
Arturo Max Longoria was born in Galveston, Texas. At the age of one, his family relocated to the area of Monterrey City, Mexico. He spent the next 14 years of his life there — until the drug war pushed his family north once again, where they settled in Houston, Texas.
In high school, Arturo was the quiet kid, the writer. But as his senior year approached, he made a resolution that he would become more of an extrovert. "I have to be someone. I have to put my personality through," he thought. "If not, I'm going to be so boring."
Arturo took up debate and began to deliver his own written pieces as public oratory. When he started his college search, his debate coach, Anthony Farah, mentioned Colgate as a possibility and sent Arturo's resume to Michael Poulos '53. Poulos himself was the child of immigrants when he arrived in Hamilton in the late 1940s with $5 in his pocket. He went on to become a successful businessman and philanthropist, establishing the Michael J. Poulos Endowed Scholarship at Colgate.
"He said, 'Come over to River Oaks Country Club in Houston. I want to meet you,'" Arturo said. "He told me all about Colgate. He told me that he wanted to make sure that other children, immigrants, had the same opportunities as he did." Arturo left the meeting committed to Colgate. He applied early decision and was accepted as an OUS scholar.
Arturo arrived on campus in August, exhausted from his flight, dragging three large suitcases, and hoping for a good night's sleep. But it wasn't to be. "They start giving me all these books. 'You have to read this for tomorrow; you have to do this by tomorrow.' And I had to get right to it. I was really scared."
For all the fear that it initially inspired, the summer program would make autumn coursework seem much more doable. "You have to push yourself to the limit. It was worth it, and I don't regret it."
Arturo not only found confidence, he also found an outlet for his creativity at Colgate. He took on a double major in Spanish and Latin American Studies, allowing him to enjoy poetry and literature while also exploring the intersectionality of cultures that describe his own identity. He found the Spanish Debate Club, the Latin American Student Organization, and ALANA.
Thanks to his academic and extracurricular activities, Arturo has now crisscrossed Latin America as a member of the Colgate community: Panama, Peru, Chile, Mexico, Ecuador, Colombia, and Cuba. After graduation, he plans to pursue a career in Spanish-language media. And as he contemplates the closing of this chapter in his education, he's still thankful to the man who inspired him to succeed. 
"I knew that if I wanted to reach that full potential — those things that Mr. Poulos would talk about when we met — I knew that I had to put in that energy and that extra effort."
Colgate Highlight: Friends
"I made a lot of senior friends my freshman year, a lot of junior friends, who have already graduated. I now have connections in New York City, Seattle, and Miami. They still talk to me. 'How's everything? Do you need anything?' Right now, I'm doing that with first-years. It's a little cycle for me to create these connections so I can give back."
Colgate Challenge: Adapting to the education
"I think the biggest challenge was to work harder to be at the same level as students who are not first generation. You feel alone. You feel the struggle of 'I see all these people getting the best grades, and I'm here struggling because I didn't have the access to take this AP course, or take this honors class.'"