In the small Albanian village where Oneida Shushe '19 was born and raised, there wasn't a single dentist. And because it was a farm town, a trip to visit a dentist in the city was expensive and only undertaken when someone was in a lot of pain.
"Lack of access resulted in poor oral health for everyone, including me," Shushe says. "I had a mouthful of cavities by age 9." When her family won a visa lottery to move to the United States and settled in Albany, N.Y., Shushe, who was finishing up the third grade, noticed that her new classmates had much healthier teeth and gums than the children from her home country. 
That realization launched her on a journey, both literal and metaphorical, to become a dentist and serve those most in need of dental care — in America and in the Balkans. Her latest trip took place this past summer, funded by a $10,000 grant awarded by Davis Projects for Peace.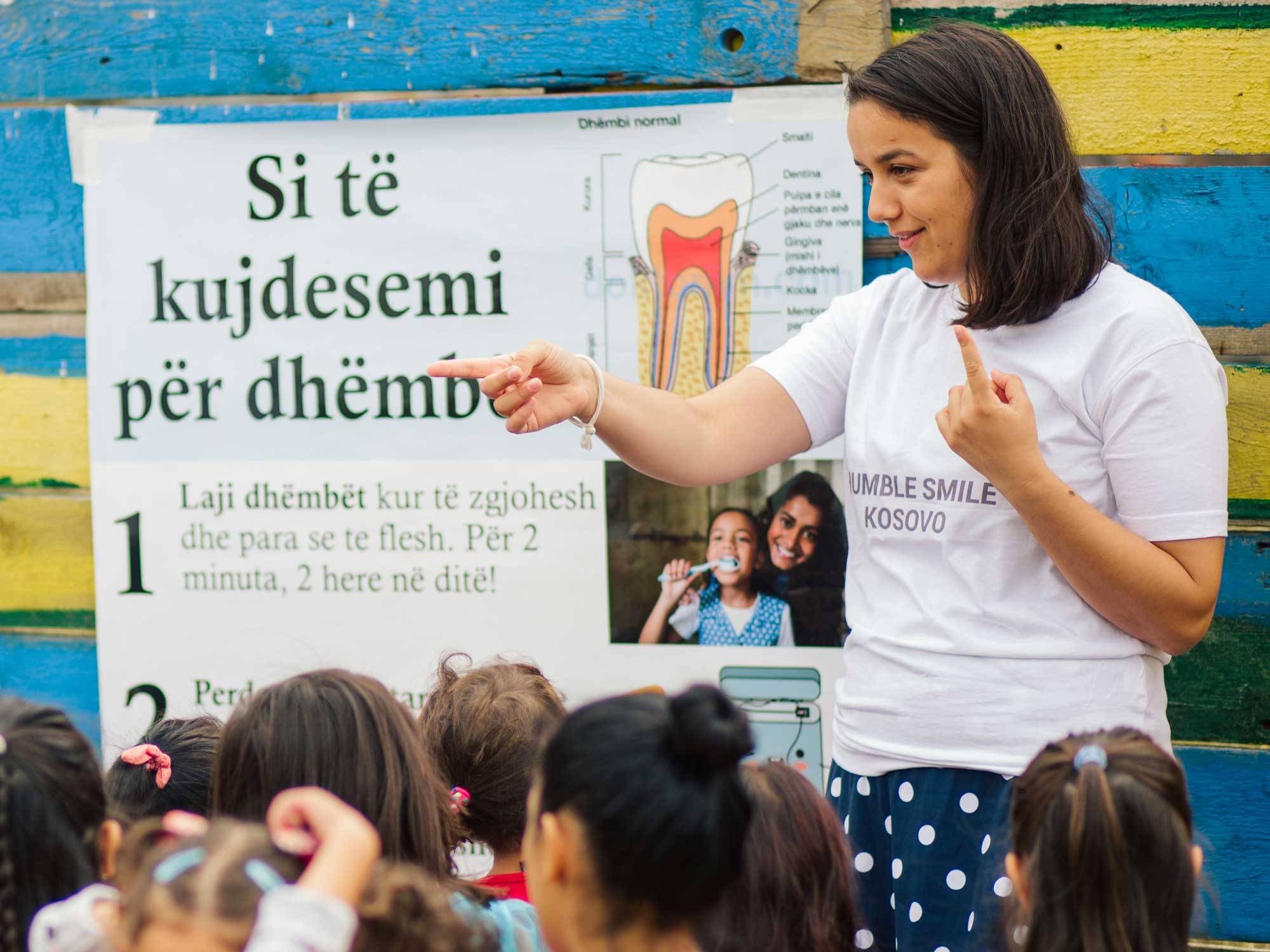 After graduating in May 2019 with a degree in molecular biology, Shushe spent seven weeks in the Republic of Kosovo presenting her Bigger Smiles Project on oral health to children and teenagers. She visited local schools and handed out 3,200 dental kits with toothbrushes, paste, floss, and a kids' book on oral health, written in Albanian. (Colgate-Palmolive Central Europe East, The New York State Dental Foundation, a pair of dental clinics, and the Hamilton Rotary Club covered the majority of the kits.) Shushe spoke about oral health. She presented a poster on brushing, flossing, avoiding sugary foods, and visiting the dentist, and she shared a model of teeth that younger kids could brush and floss. She also brought 3D models of a healthy tooth and decayed tooth for demonstrations. "The kids were really cute and very willing to participate," she says.
Kosovo is 90% ethnically Albanian, so Shushe could speak the language, although the dialect's slightly different than what she grew up speaking. She chose Kosovo for the Davis grant work because it's a post-conflict country in need of oral health education, and she was eager to share knowledge among different ethnic groups, primarily Albanians and Serbs.
"It felt like my home country, which was important to me. I want to know about the communities I go into so I'm not simply an outsider, giving things out for free," she explained. 
But preventing cavities in one of the poorest nations in Europe isn't just a matter of handing out toothbrushes. 
At one preschool, a mother couldn't make use of the pamphlets Shushe gave her because she didn't know how to read. Dental floss isn't commonly sold in stores. And at schools that weren't as poor, "the kids don't pack lunches, so they would run out and storm the nearby supermarket at lunch and buy processed foods and sugary drinks," she explained.
Dentistry is very personal to me. I can't imagine being in any other field. Wherever I go, I will find a way to contribute to oral health, and I'd like to integrate it into existing community structures, like the school curriculum.
"It made me realize that communities often have other needs besides oral health, so the work I do in the future shouldn't be isolated. I'd like to link oral health to education, sanitation, and other sectors."
This is the third time that Shushe's returned to the Balkans to spread the word about healthy teeth and gums. In 2014 she traveled to her hometown of Orman, Albania, giving demonstrations and handing out pamphlets to 50 families, and in a 2017 Colgate University–sponsored project, she brought 1,000 dental health packs for children and adults to six sites in Albania, while also conducting a study on barriers to oral health care service. 
Shushe is currently working at the New York State Department of Health's Wadsworth Center, researching a diagnostic tool that promotes infection control in healthcare settings. She's also waiting to hear where she'll be accepted to dental school, which she plans to start in 2020.
"Dentistry is very personal to me," says Shushe. "I can't imagine being in any other field. Wherever I go, I will find a way to contribute to oral health, and I'd like to integrate it into existing community structures, like the school curriculum."
After dental school, she plans on practicing in a rural area similar to where she was born, or working in a community health center that offers dental, medical, and social services. "I hope to continue giving back to my communities in Albania and the Balkans, and to the United States, too," she says. "I have big dreams about doing this, not just at the one-on-one level with patients, but also at a systemic level."
Support for this project application was provided by the grants office, the Max A. Shacknai COVE, the Peace and Conflict Studies Program, and the Office of National Fellowships and Scholarships.