Newly published research authored by 10 Colgate students and led by Associate Professor of Biology Engda Hagos, reveals how a specific protein inhibits cancer growth at the cellular level, which could one day lead to new cancer treatments. 
The research, titled "Cells deficient for Krüppel-like factor 4 exhibit mitochondrial dysfunction and impaired mitophagy," was published earlier this month in the European Journal of Cell Biology and funded through the Colgate Picker Fellowship, a Colgate major grant, and a private donation from Dr. Richard and Mary Brauer P'18.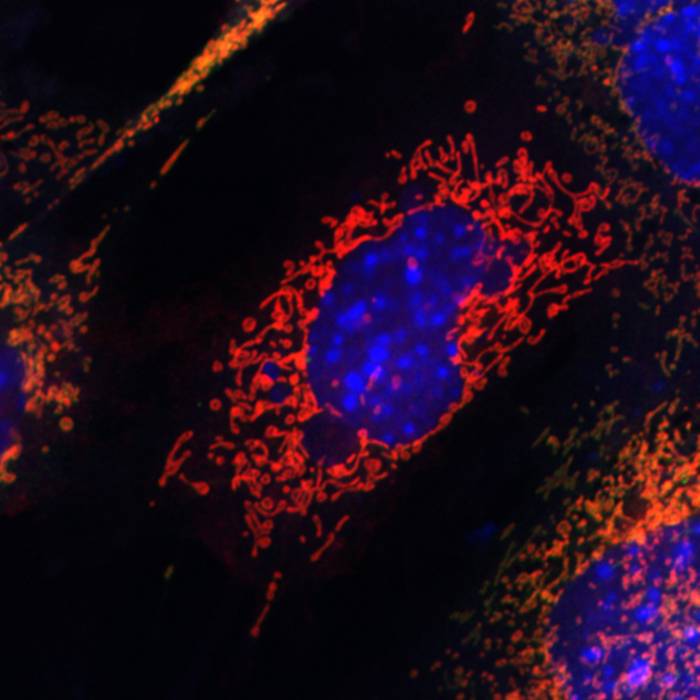 Students in Hagos's lab conducted experiments to better understand why mitochondria that lacked the Krüppel-like factor 4 (KLF4) protein were more prone to cancer growth. 
"Part of the mystery is figuring out which genes KLF4 is responsible for controlling, and why without KLF4 the cell is more likely to become cancerous," the paper's authors wrote. "Our research leads us to the mitochondria."
One of the paper's lead co-authors, William Rosencrans '19, who is now a post-baccalaureate fellow at the National Institute of Child Health and Human Development at the National Institutes of Health, said Hagos's lab conducted experiments to better understand the cellular processes in mitochondria that lacked KLF4.
"They are the colloquial powerhouse of a cell. They produce this energy, but they're also dangerous when they're broken. Just like batteries, mitochondria can leak, and when they leak, the chemical part of that process can destroy and damage part of the cell," Rosencrans said. 
Hagos said the complex research took more than four years to come to fruition, and each student in his lab contributed to the ultimate result of these new findings.
"My lab is extremely demanding, but I always take students who are serious and want to do the work," Hagos said. "I organize the lab in a way that we have meetings once a week to go over what works, what doesn't work, and what kinds of problems we have with our experiments, so that we would be able to troubleshoot them. Experiments don't always work, and if they do, we need to repeat them many times before they are ready for publication." 
Lead co-author of the paper, Zachary Walsh '18, said his work in Hagos's lab had a formative impact on his career interests and trajectory that ultimately led to graduate school with a focus on cancer immunology. 
"I was given the unique opportunity not only to join Professor Hagos as a research assistant in his own lab, but also to spend a semester in Washington, D.C., as a member of Colgate's National Institutes of Health research program, studying cancer immunotherapy," Walsh said. "In only a few years, I have gone from developing an interest in research to matriculating into an MD-PhD program with a focus on cancer immunology research, and I have Professor Hagos to thank for that."
Other Colgate students who helped author the research include:
Nadia Houerb '20, a molecular biology and philosophy double major
Andrew Blum '21, a molecular biology major
Mezmur Belew '17, a third-year PhD student studying molecular biology at USC
Changchang Liu '15, a fifth-year PhD student in chemical biology at Harvard University
Brian Chernak '14, an internal medicine resident at New York Presbyterian Weill Cornell Medical Center
Angel Trazo '17, a second-year master's student in Asian American Studies at UCLA
Anna Olson '16, a graduate student at Wake Forest University in the Emerging Leaders Program in business and physician assistant studies 
Philip R. Brauer '18, a medical student at Case Western Reserve Medical School