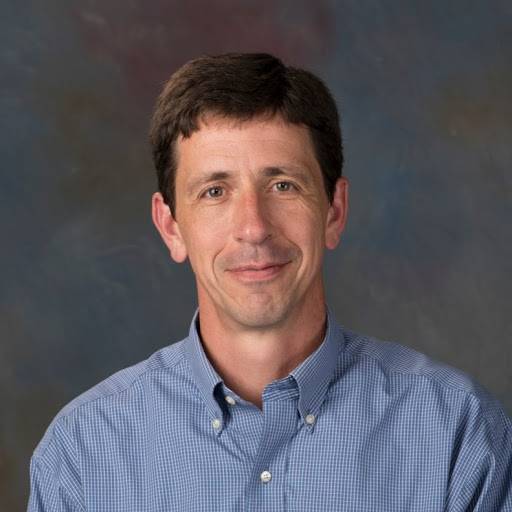 Ken Belanger
Russell Colgate Distinguished University Professor of Biology
Department/Office Information
Biology
BA, Luther College, 1990
PhD, Duke University, 1996
Russell Colgate Distinguished University Professor of Biology, Colgate University, 2020 - present
Professor of Biology, Colgate University, 2012-present
Associate Professor of Biology, Colgate University, 2005-2012
Assistant Professor of Biology, Colgate University, 2001-2005
Assistant Professor of Biology, University of Scranton, 1998-2001
Instructor in Biology, University of North Carolina-Chapel Hill, 1997-1998
Developmental biology, cellular biology, molecular biology, genetics
Understanding how cells respond to and influence their environment. I have focused much of my research on examining how the cell regulates the movement of molecules between the cytoplasm and nucleus to help facilitate changes in gene expression, and in understanding how individual cells and cell populations respond to changes in environmental conditions using nucleocytoplasmic transport. My current research focuses on the populations of microbes (both prokaryotic and eukaryotic) inhabiting particular environments ranging from the soil, to lakes and streams, to the human digestive tract. Ultimately, we hope to better understand how these microbes influence their environment and how the environment impacts the microbes that are present.
My teaching activities integrate my interest in the molecular events that take place inside cells with the resulting cellular activities that regulate the functions and the organization of individual cells, tissues, organs, and organisms.
Molecules, Cells, and Genes (Biol 182) is required of all Biology, Environmental Biology, and Molecular Biology concentrators and provides an in-depth introduction to eukaryotic cell function at the biochemical, macromolecular, and cellular levels. In lecture and lab, students are introduced to and asked to explore such topics as bioenergetics, enzyme kinetics, genes and regulation of gene expression, the cell cycle and the cytoskeleton, intracellular signaling and transport, and organelle structure and function. This class requires students to integrate their understanding of these seemingly diverse topics in order to explore basic cell function and to understand how different cells carry out different activities.
Molecular Biology (Biol 204) and Cell Biology (Biol 205) integrate lectures, class discussions, problem-solving activities, and careful dissection of the primary literature exploring molecular and cellular biology with a "methods" lab that includes a semester-long research project that using cutting-edge techniques to ask an original research question. These courses are instrumental in helping students learn how to gain independence in reading about, carrying out, understanding, and communicating new findings in biology.
Developmental Biology (Biol 356) examines how changes in gene expression and cell-cell interactions influence both the function and the fate of cells in a developing embryo. The progression from single-celled zygote to multicellular organism containing millions of cells requires intricately coordinated molecular events. Students in Developmental Biology examine such model developmental systems as sea urchins, fruit flies, amphibians, plants, and chicken embryos as they utilize a variety of molecular, microscopic, and microsurgical techniques to examine events occurring during early embryonic development.
Advanced Cell Biology (Biol 405) is an elective course that utilizes the primary literature and class discussions to investigate cell structure and function. All of the topics covered are areas of intense research in the field of Cell Biology, including mitochondria structure and ATP synthesis, cytoskeletal dynamics, intracellular transport of molecules, regulation of cell cycle progression, and programmed cell death. Students in Biol 405 write increasingly complex papers, climaxing with the synthesis of an in-depth "Current Opinion in Cell Biology" review article at the conclusion of the semester.
Exploring the Microbiome (Biol 483) is a biology Research Tutorial course in which 6 – 8 undergraduate students undertake an independent research project investigating a novel question focused on understanding the composition of microbes in particular environments, how those microbes impact that environment, and how the environment influences the microbiome. Students in Biol 483 each have their own project and spend the semester moving rapidly toward being able to design, carry out, and interpret their own experiments utilizing multiple techniques to investigate the microbiome.
Cells and Human Development (Core 124) is a Scientific Perspectives course taught as part of Colgate's Core Curriculum. As a Scientific Perspectives Core course, Cells and Human Development uses the field of human fertilization and early development to explore how scientists investigate new questions, analyze qualitative and quantitative data, and communicate the results and significance of their investigations. In addition, discussions focusing on assisted reproduction (in vitro fertilization), somatic cell nuclear transfer ("cloning"), stem cell research, and gene therapy allow us to investigate the potential impact scientific findings and technological advances have on society.
All of these courses, from the first-year seminar to the research tutorial, emphasize student comprehension of the process by which scientific information is obtained. This means that we spend considerable time discussing not only what we understand about specific aspects of biology, but also how scientists investigate the functioning of molecules, cells, and organisms. It is my goal to have students leave these courses not just having learned some new ideas about a particular area of biology, but also having taken a significant step toward "thinking like a biologist" and asking new questions about the field they have just spent a semester examining.
Chair – Mind, Brain, and Behavior Initiative Executive Advisory Committee (2021 – present)
Committee on Promotion and Tenure (2020 – present; chair 2022-23)
Director, Bethesda Biomedical Research Study Group (Fall 2023)
Biology Department representative to Olin Hall Capital Project planning group (2020 – present)
Faculty liaison to Colgate football (2010 – present) and men's basketball (2008-12)
Associate Dean of the Faculty (2015-19)
Chair – Department of Biology (2011-14)
Developer of "A Flight Through the Cell" 3-D animation for the Ho Visualization Lab with Colgate undergraduate students (in progress).
Faculty athletics representative for Colgate athletics to the NCAA (2009-15)
Member of the Health Sciences Advisory Committee (2002-07; 2010-14)
Director, Colgate HHMI undergraduate science education grant (2009 – 2013)
Colgate Advisory and Planning Committee (2011 – 2014)
Faculty Research Council (2012-2019); Chair (2013 – 2014)
Chair, Director of Athletics search committees (2013 and 2018)
Colgate Committee on Athletics – (2004 – 2007; 2008 – 2011; chair 2005 – 2007; 2008 - 2011)
Faculty Development Council (2004 – 2007, 2009 – 2010; interim chair 2010)
Director, Wales Off-campus Study Group (2009)
 
Wang D*, Russel WA*, Sun W*, Belanger KD, Ay A. (2023) Machine learning and network analysis of the gut microbiome from patients with schizophrenia and non-psychiatric subject controls reveal behavioral risk factors and bacterial interactions. Schizophrenia Research 251: 49-59. https://doi.org/10.1016/j.schres.2022.12.015
Belanger KD, Yewdell WT*, Barber MF*, Russo AN*, Pettit MA*, Damuth EK*, Hussan N*, Geier SJ, Belanger KG. (2022) Exportin Crm1 is important for nucleocytoplasmic shuttling and MBF transcription activation in Saccharomyces cerevisiae. BMC Molecular and Cell Biology 23:10. https://doi.org/10.1186/s12860-022-00409-6
Brown JT*, Haraczy AJ*, Wilhelm CM*, Belanger KD. (2021) Characterization of nuclear pore complex targeting domains in Pom152 in Saccharomyces cerevisiae. Biol Open 10(10): bio057661 https://doi.org/10.1242/bio.057661 
Belanger KD, Larson N*, Kahn J*, Tkachev D*, Ay A. (2016) Microarray analysis of gene expression in Saccharomyces cerevisiae kap108 mutants upon addition of oxidative stress. G3 (Bethesda). 6(4): 1131-9. DOI: 10.1534/g3.116.027011.
Finn EM*, DeRoo EP*, Clement GW*, Rao S*. Kruse SE*, Kokanovich KM*, Belanger KD. (2013) A subset of FG-nucleoporins is necessary for efficient Msn5-mediated nuclear protein export. Biochimica et Biophysica Acta – Molecular Cell Research. 1833: p1096 – 1103. DOI: 10.1016/j.bbamcr.2012.12.020 (NIHMS433156, Publ.ID: BBAMCR16842)
Beck, C. Klemow K, Paulson J, Bernstein A, Lam M, Middendorf G, Reynolds J, Belanger K, Cardelus C, Cid C, Doshi S, Gerardo N, Jablonski L, Kimmel H, Lowman M, Macrae-Crerar A, Pohlad B, deRoode J, Thomas C. (2012) Add ecology to the pre-medical curriculum. Science 335(6074): p1301.
Belanger KD, Griffith A*, Baker H*, Hansen J*, Simmons Kovacs L*, Seconi J*, Strine A*. (2011) The karyopherin Kap95 and the C-termini of Rfa1, 2, and 3 are necessary for efficient nuclear import of functional RPA complex proteins in S. cerevisiae. DNA and Cell Biology. 30(9):641-51.
Belanger KD, Walter D, Henderson TA*, Yelton AL*, O'Brien TG*, Belanger KG, Geier SJ, Fahrenkrog B. (2009) Nuclear localization is critical for the proapoptotic activity of the HtrA-like serine protease Nma111p. J Cell Sci. 122(21):3931-41.
Belanger KD. (2009) Using affinity chromatography to investigate novel protein-protein interactions in an undergraduate cell and molecular biology lab course. CBE Life Sci Educ. 8(3): 214-225.
Harper NC*, Al-Greene NT*, Basrai MA, Belanger KD. (2007) Mutations affecting spindle pole body and mitotic exit network function are synthetically lethal with a deletion of the nucleoporin NUP1 in S. cerevisiae. Current Genetics 53(2): 95 – 105.
Belanger KD, Gupta A*, MacDonald KM*, Ott C*, Hodge CA, Cole CN, Davis LI. (2005) Nuclear pore complex function is influenced by glycosylation of the transmembrane nucleoporin Pom152p. Genetics 171: 935 – 947.
Bembenek J, Kang J, Kurischko C, Li B, Raab JR*, Belanger KD, Luca FC, Yu H. (2005) Crm1-mediated nuclear export of Cdc14 is required for the completion of cytokinesis in budding yeast. Cell Cycle 4(7):961-71.
Belanger KD, Simmons LA*, Roth JK*, VanderPloeg KA*, Lichten LB*, Fahrenkrog B. (2004) The karyopherin Msn5/Kap142 requires Nup82 for nuclear export and performs a function distinct from translocation in RPA protein import. J Biol Chem 279(42):43530-9.
Belanger KD. (2004) Model Organisms. Encyclopedia of Genetics. Ed. B.D. Ness. Salem Press, Pasadena, CA. p545 – 547.
Belanger KD, Wyman A, Sudol M*, Singla S, and Quatrano RS. (2003) A signal peptide screen in Fucus distichus embryos reveals expression of glucanase, EGF domain-containing, and LRR receptor kinase-like polypeptides during asymmetric cell growth. Planta 217: 931 - 950.
Belanger KD and Quatrano RS. (2000) Membrane recycling occurs during asymmetric tip growth and cell plate formation in Fucus zygotes. Protoplasma: 212: 24-37.
Belanger KD and Quatrano RS. (2000) Polarity: The role of localized secretion. Curr Op Plant Biol 3: 67-72.
Booth JW, Belanger KD, Sannella MI, and Davis LI (1999) The yeast nucleoporin Nup2p is a docking site for nuclear export of importin-/Srp1p. J Biol Chem 274(45): 32360-32367.
Belanger KD, Kenna MA, Wei S, and Davis LI  (1994)  Genetic and physical interactions between Srp1p and nuclear pore complex proteins Nup1p and Nup2p.  J Cell Biol 126: 619-630.
Recipient of Colgate University Alumni Corporation 'Distinguished Teaching Award'
Academic Research Enhancement Award ("AREA") grants from the National Institute of General Medical Science of the National Institutes of Health (NIH)
Nominated for Phi Eta Sigma Professor of the Year
John LeFevre Appreciation Award for contributions to Colgate athletics
GTE-CoSIDA Academic All-America football team, Luther College
National Institutes of Health – Academic Research Enhancement Award (NIH-AREA R15): "Analysis of the role of FG-nucleoporins in nuclear protein export." $325,282. March 1, 2012 – February 28, 2015.
National Science Foundation – Scholarships in Science, Technology, Engineering, and Math (NSF S-STEM): "A Program To Enhance Undergraduate Success and Persistence in the Sciences," GE Gogel, DH Saracino, EG Nolen, KD Belanger, L Waldman. $600,000; Sept 15, 2007 – August 31, 2012.
National Science Foundation – Major Research Instrumentation Award (NSF-MRI): "MRI: Acquisition of a laser-scanning confocal microscope for multi-disciplinary research at Colgate University," JE Meyers, AJ Tierney, D McHugh, KD Belanger, K Ingram. $495,158; Sept 1, 2009 – August 31, 2012.
National Science Foundation – Frontiers in Integrative Biological Research (NSF-FIBR): "A systems approach to study redox regulation of functions of photosynthetic organisms." Co-PI with four others (PI: Himadri Pakrasi, Washington University). $294,131 to Colgate. September 1, 2004 – August 31, 2011.
National Institutes of Health – Academic Research Enhancement Award (NIH-AREA): "Influence of glycosylation on nuclear pore function." $205,959; August 1, 2005 – July 31, 2009.
National Science Foundation – Major Research Instrumentation Award (NSF-MRI): "Acquisition of fluorescence microscopy instrumentation for research and education in biology, geology, and neuroscience." Primary author with four co-PIs. $98,086; July 1, 2002 – June 30, 2005.
National Institutes of Health -Academic Research Enhancement Award (NIH-AREA): "Examination of Nup1-mediated nucleocytoplasmic transport." $124,731; July 1, 2001 – June 30, 2005.