One of Colgate University's two new residence halls will be named Jane Pinchin Hall, in honor of Jane Lagoudis Pinchin, former interim president, former provost and dean of the faculty, and Thomas A. Bartlett Chair and professor of English, emerita.
An anonymous couple with deep ties to the University — who wished to recognize the essential work of Colgate faculty — donated $10 million to name the residence on the west side of the courtyard and an additional $5 million in support of financial aid.
"Colgate is known for its distinguished history, beautiful campus, and committed faculty members," said President Brian W. Casey. "These elements of distinction have been brought together in one place with the naming of Jane Pinchin Hall. I congratulate Professor Pinchin on this honor, and I extend profound thanks to the source of this transformational gift."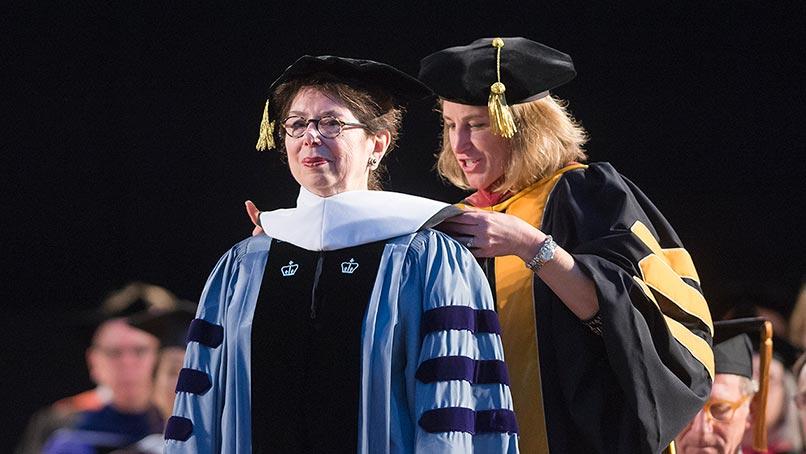 Pinchin was hired in 1965 as the University's first full-time female professor. She served as provost and dean of the faculty from 1994 through 2001, when she assumed the role of interim president for the 2001–2002 academic year. During her decades on campus, she also served as chair of the English department, acting director of the Picker Art Gallery, vice president for academic advancement, and director of both the humanities and university studies divisions. Alongside her English department colleague Professor Jennifer Brice, Pinchin co-taught the Living Writers course, which allows students, parents, alumni, and community members to engage in conversation with world-renowned authors. She received an honorary doctorate from Colgate in 2018.
"Jane has been many things to many people: a longtime friend and colleague, mentor, teacher, leader, scholar, and a living link to five decades of Colgate history," said Bicentennial Committee Chair and former Interim President Jill Harsin, Thomas A. Bartlett Chair and professor of history. "In Pinchin Hall, students will continue to live and learn, faculty and staff will convene and converse — a fitting tribute to a member of our community who has found a way to be warm, human, and historic."
Jane Pinchin Hall is a 100-bed residence, featuring three upper floors of double rooms and study lounges. The first floor and ground level are dedicated to seminar rooms, classrooms, offices, and social lounges. The building was designed by Robert A.M. Stern Architects, adhering to LEED Silver sustainability standards. Its first students will take up residence in the fall of 2019.
"This gift," Casey said, "ensures that Professor Pinchin's name, her contributions to the University, and her dedication to generations of undergraduates will be remembered and celebrated — even at Colgate's Tricentennial. More importantly, perhaps, it shows how generations of alumni were shaped and transformed by Colgate's faculty. Today, through this extraordinary gift, a Colgate family has not only recognized a leading figure in the Colgate faculty, but has also demonstrated a deep respect for the work of our teacher-scholars over many generations."