Every incoming Colgate class participates in the tradition of a shared summer read.
This is the first opportunity for the Class of 2024 to engage with the practice of the liberal arts — students engaging in dialogue with faculty and staff members on questions that transcend disciplinary interests and that require independent analysis. Through these conversations, which incorporate multiple perspectives, students synthesize a coherent understanding of human experience. The shared summer read also provides a foundation for a variety of related events throughout your first year at Colgate.
In addition, your responses to the summer read will provide a way to introduce yourself to your faculty adviser (your First-Year Seminar instructor) and administrative dean so that they can get to know you better.
2020 Summer Reading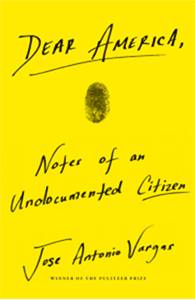 During the 2019-20 academic year, the Summer Reading Selection Committee composed of faculty, staff, and student representatives from all four Residential Commons stewarded the selection of this summer's text. 

Dear America: Notes of an Undocumented Citizen
By Jose Antonio Vargas
 
Accessing Your Copy
Follow the instructions below to access your digital copy.
If you would prefer to opt out of receiving a digital copy and instead receive a physical copy by mail, follow the instructions under "Request a physical copy."
You will automatically receive an access code from Vitalsource to your digital copy of Dear America. Follow the instructions in the email to access your digital copy. You may also follow these instructions:
Sign into Bookshelf Online (https://bookshelf.vitalsource.com) using your email address and password. If you do not have a Bookshelf account, click Create a VitalSource account and follow the prompts to create a Bookshelf account.
Once you are logged into Bookshelf, click Redeem Codes at the bottom right of the page. 

Copy and paste the redemption code you received in your email and click Redeem.

Your Bookshelf library will update with your new book. Updating your library may take a few minutes.
Note: You can manually update your app by clicking the following  icon and selecting Update Library:

Tap on the book cover to read it.
Request a Physical Copy
Click the link provided in the email from VitalSource providing your digital copy code (the link will begin with https://portal.verba) to access your personal Student Portal.
Click the Opt Out button.
Confirm your reason for opting out and click Confirm.
Your opt out decision will be processed and you will lose access to the digital book.
Video Introduction
Below are linked four parts of a video introduction to the text featuring Paul Humphrey, Assistant Professor of LGBTQ Studies and Kerra Hunter, Assistant Dean for Administrative Advising and Director of International Student Services. We encourage you to listen to or view this introduction prior to reading Vargas' book.
Summer Assignments
The first part of your assignment is an opportunity to introduce yourself to your FSEM instructor and your administrative dean. One of the rewards of teaching an FSEM course is the opportunity to share in the excitement and anticipation that incoming students bring to the classroom. FSEM instructors take great pleasure in learning about the brilliant and accomplished incoming students. So please be thoughtful in your responses to the following prompts and make this some of your best writing. It's your chance to make a good first impression with a mentor who may remain part of your life long after you graduate.
 
Write a paragraph describing the two or three things (i.e., activities, people, places, animals, worthy causes, books, etc.) you currently care most about and why.
Describe an experience either inside or outside the classroom that illustrates your intellectual growth over the last four years (e.g., becoming a better problem solver or a more effective writer).
In what ways do you hope to build on these experiences over the next four years?
Describe which aspect of college life you are looking forward to the most.
 
The second part of your assignment is to read Dear America: Notes of an Undocumented Citizen by Pulitzer-Prize winning journalist Jose Antonio Vargas and write a short essay that specifically responds to the prompt below. Below are linked four parts of a video introduction to the text featuring Paul Humphrey, Assistant Professor of LGBTQ Studies and Kerra Hunter, Assistant Dean for Administrative Advising and Director of International Student Services. We encourage you to listen to or view this introduction prior to reading Vargas' book.
Vargas' Dear America was selected as the Summer Reading by a campus-wide vote, stewarded by a committee composed of faculty, staff, and student representatives from all four Residential Commons. In his stirring and insightful memoir, Jose Antonio Vargas writes about his experience of coming to the United States at the age of twelve to live with his grandparents, while leaving his mother behind in the Philippines. A few years later, he discovers he is not supposed to be here. Vargas describes being placeless and growing up in a country that does not view him as having a legitimate claim to citizenship or "belonging." Writing about the challenges he faces as an undocumented immigrant, Vargas touches on issues of community, identity, and privilege, and outlines the inadequacies of the U.S. immigration system.
 
During the academic year, this text will form the basis of a shared intellectual experience that will touch every corner of Colgate's campus. As part of your FSEM class, you will be encouraged to attend book-related events that may include lectures, films, or performances that will touch on the topics and themes addressed in Dear America, and you'll also have other chances to discuss the book with fellow students and faculty. We invite you to become active participants—perhaps even leaders—in these moments. In preparation for these events and discussions, we ask that you write a 750-1000 word response to the following prompt:
Dear America revolves around issues of citizenship: how it is granted, who does and does not have access, and what it means in our daily lives. Near the end of the book, Vargas describes a "citizenship of participation": he writes, "citizenship is showing up. Citizenship is using your voice while making sure you hear other people around you. Citizenship is how you live your life" (195-96). How is this "citizenship of participation" different to other ways that we define "citizenship" and what benefits might there be to redefining it in this way? How does it reframe the concepts of "belonging" and being a member of a community? As you prepare to join Colgate's community, what might your "citizenship of participation" in Hamilton, N.Y., look like?
Submit your assignments
About the Author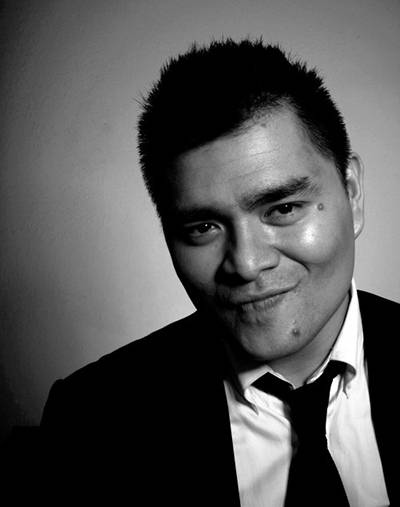 Jose Antonio Vargas is a Pulitzer Prize-winning journalist, Emmy-nominated filmmaker, and Tony-nominated producer. A leading voice for the human rights of immigrants, he founded the nonprofit media and culture organization Define American, named one of the World's Most Innovative Companies by Fast Company. His best-selling memoir, Dear America: Notes of an Undocumented Citizen, was published by HarperCollins in 2018. Most recently, he co-produced Heidi Schreck's acclaimed Broadway play What the Constitution Means to Me, which was nominated for two 2019 Tony awards, including Best Play.
In 2011, the New York Times Magazine published a groundbreaking essay he wrote in which he revealed and chronicled his life in America as an undocumented immigrant. A year later, he appeared on the cover of TIME magazine worldwide with fellow undocumented immigrants as part of a follow-up cover story that he wrote. He then produced and directed Documented, an autobiographical documentary feature film that aired on CNN and received a 2015 NAACP Image Award nomination for Outstanding Documentary. Also in 2015, MTV aired White People, an Emmy-nominated television special he produced and directed about what it means to be young and white in a demographically changing America.
Among accolades he has received are the Freedom to Write Award from PEN Center USA and honorary degrees from Emerson College, Colby College, and the John Jay College of Criminal Justice. Passionate about the role of arts in society and promoting equity in education, he serves on the advisory board of TheDream.US, a scholarship fund for undocumented immigrant students.
A product of the San Francisco Bay Area, he is a proud graduate of San Francisco State University ('04), where he was named Alumnus of the Year in 2012, and Mountain View High School ('00). An elementary school named after Vargas opened in his hometown of Mountain View, California, in August 2019.
Reviews and Accolades
Living the American Dream — in Hiding: New York Times Book Review
In Memoir, Jose Antonio Vargas Shares His Life As An 'Undocumented Citizen': NPR Author Interview
What Happens After You Become the 'Most Famous Undocumented Immigrant in America': The Atlantic Book Review