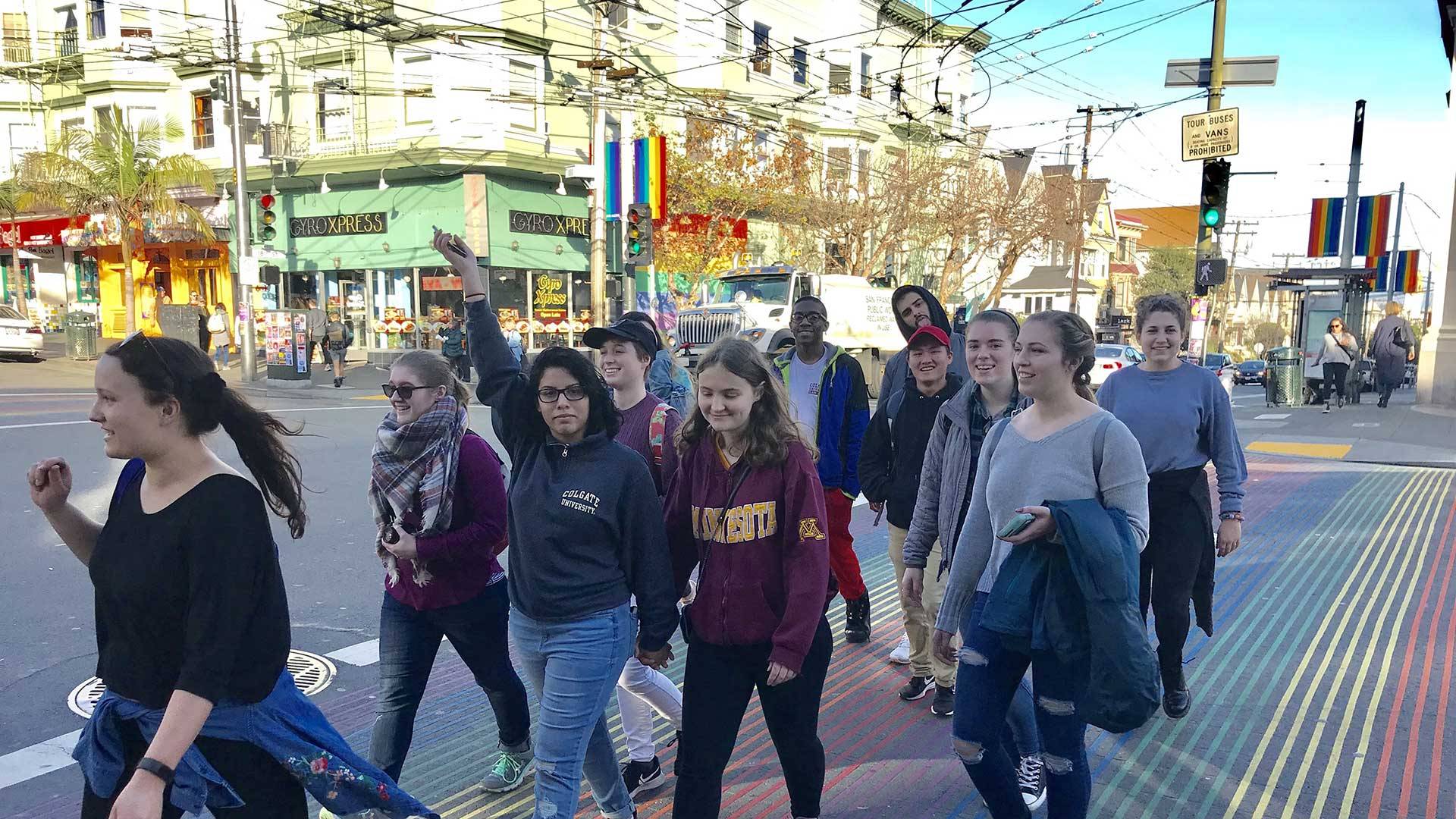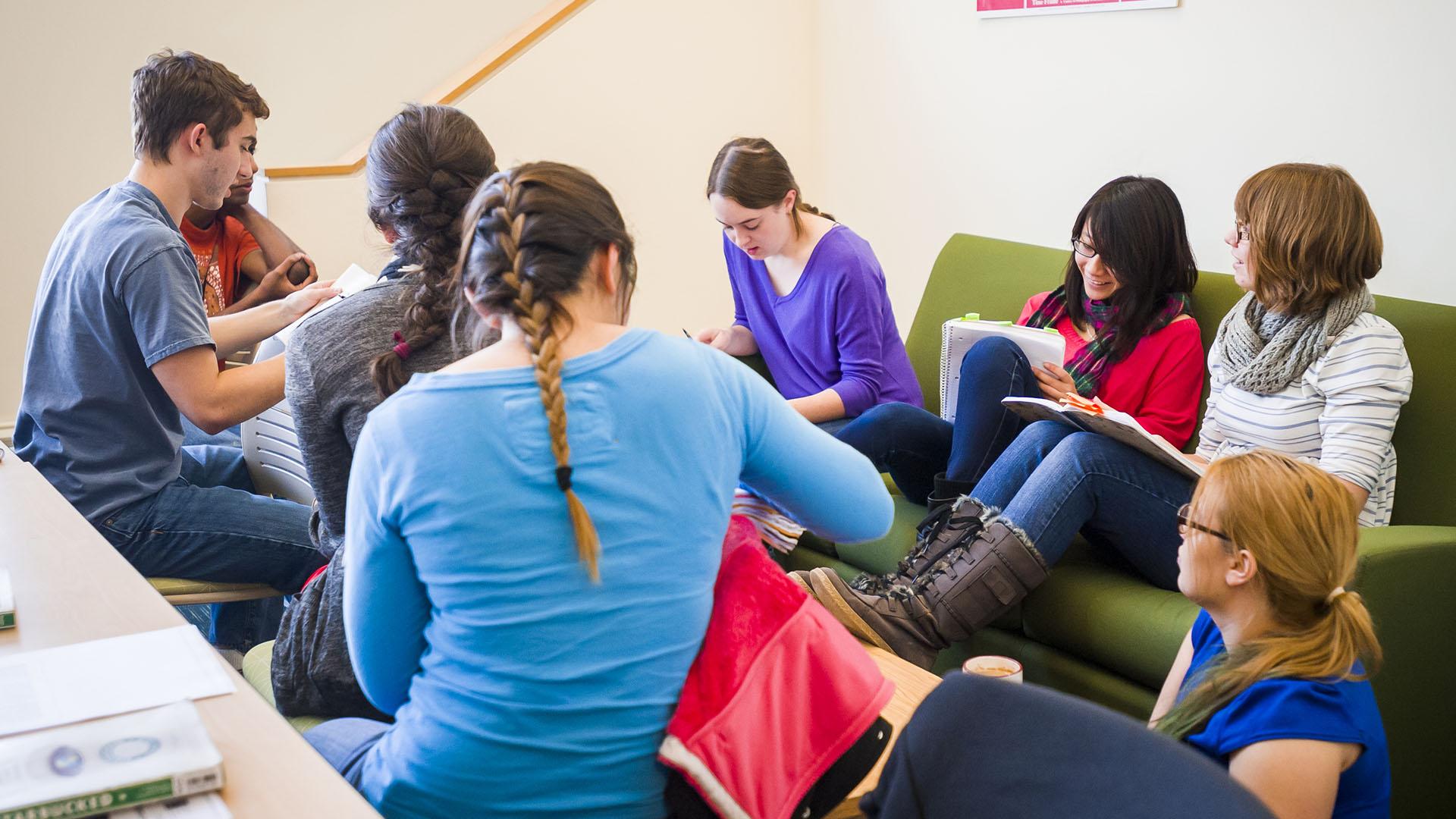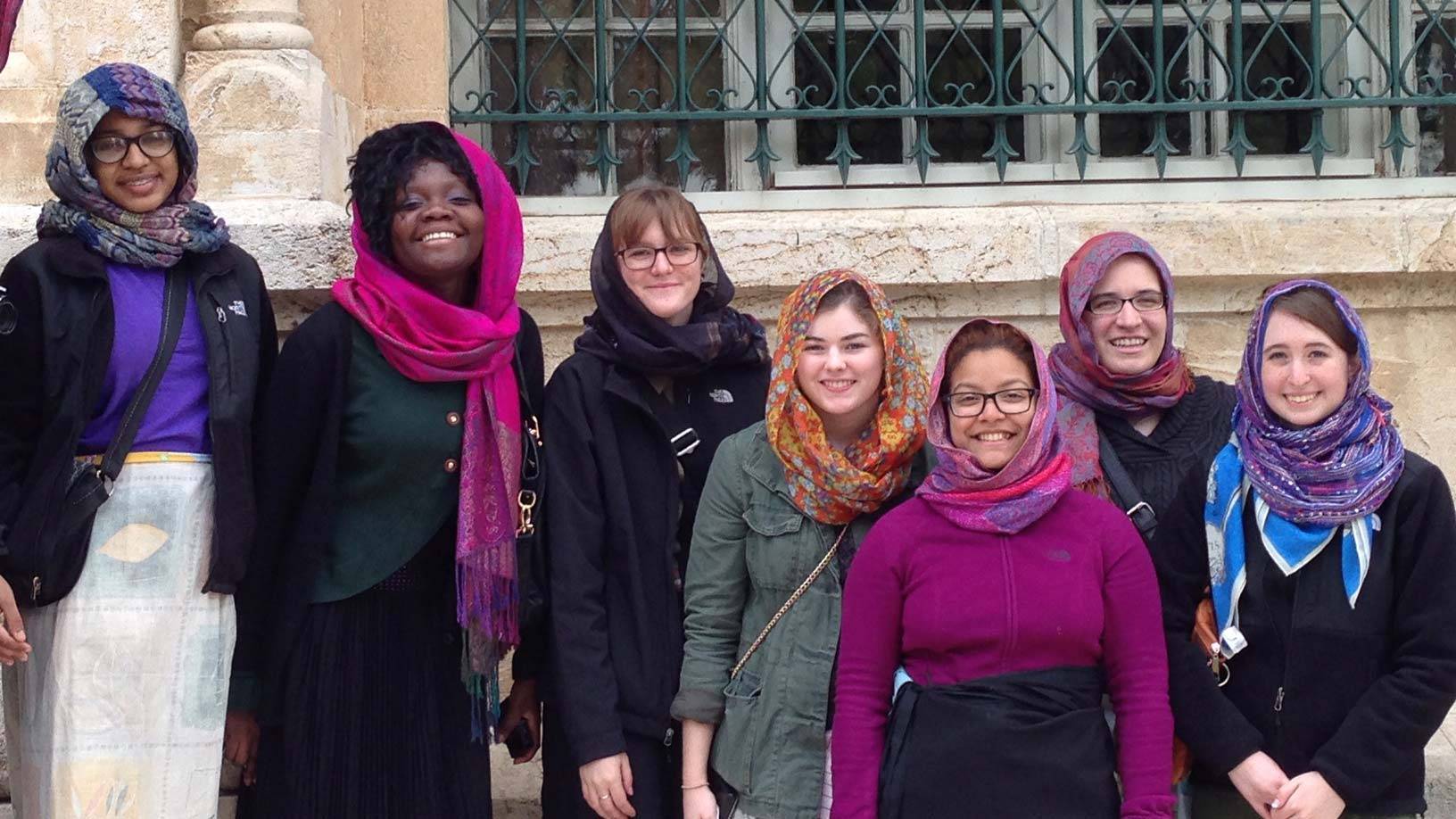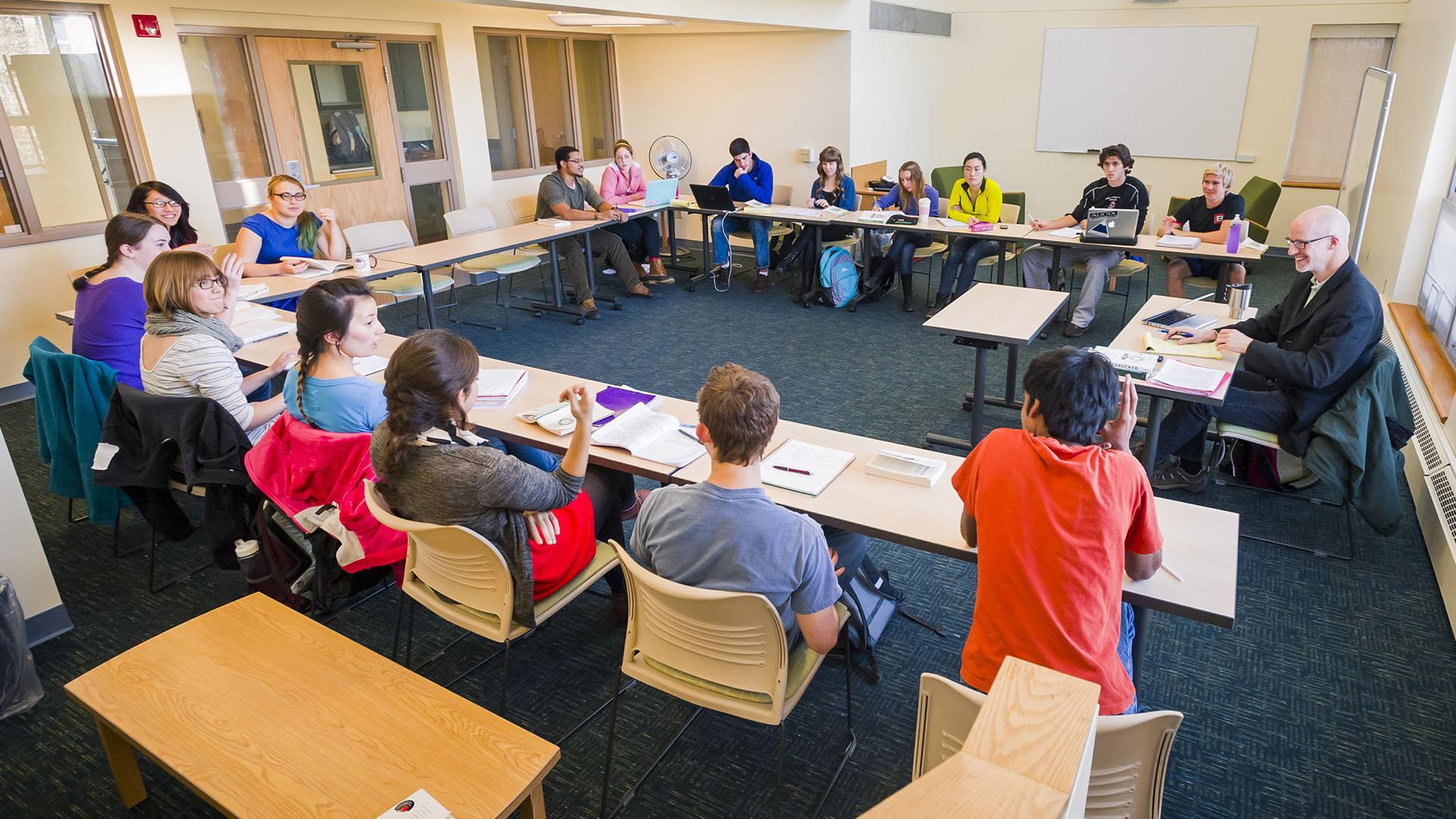 Accepted students live and study together, then immerse themselves further in the learning experience through travel with their faculty member.
The application period for the 2019-20 academic year will begin in January 1, 2019, and all applications must be submitted before February 2, 2019.
Sophomore Residential Seminars are a unique and immersive living-learning experience during the sophomore year. SRS students have opportunities to build deep academic communities based on common interests and sustained interactions with SRS faculty members. The capstone experience is a 7-10 day trip in January that extends the academic experience out of the classroom and into the real world. Apply in January to join this exciting academic community!
The program is a transformational series of intensive residential seminars for sophomores, initially made possible with a significant grant from the Mellon Foundation. Students who are selected will live and study together, meet regularly with the seminar professors and guest speakers in their residence hall, and engage in an embedded academic travel experience related to the course at no extra charge. Each spring, all SRS students will continue the dialog with a one-quarter-credit course with their professor.
Applications Due
Faculty teaching in the program will interview students during the first two weeks of February 2019 and offer spots to students beginning on February 12, 2019.
Fall 2019 Seminars
Environmental health is a field of interdisciplinary study that integrates human society and behavior with ecological and evolutionary processes to understand environmental dimensions of human health. This course focuses on knowledge generated in the natural and social sciences that concerns human-environmental interactions and its implications for human health risk, and how understanding environmental health informs both healthcare delivery and environmental conservation. It introduces students to the conceptual and empirical underpinnings of the direct and indirect relationships between environment and health, approaches to measuring these relationships, and the ways in which health and conservation policies, programs, and practices have been organized to reduce risk at various geographic scales: locally, national, and internationally. We will explore these issues through the case of Bwindi Impenetrable National Park and Queen Elizabeth National Park in southwestern Uganda, and the communities that surround them. We will spend considerable time examining the work of Bwindi Community Hospital, and emphasize the importance of an interdisciplinary approach to investigating environmental health issues and also the complexity of environmental analyses. To deepen our understanding of these issues, we will travel to southwestern Uganda in January 2020 to see this complexity first-hand and also learn from our long-term partners at Bwindi Community Hospital and the Uganda Wildlife Authority. There are no pre-requisites to this course and it may be counted towards a major in Environmental Studies.
More About Professors Frey and Scull
Frank Frey is a professor of Biology and Environmental Studies who uses genetics to investigate questions in evolutionary ecology and environmental health. Peter Scull is a professor of Geography who uses geospatial tools to investigate questions in environmental change and environmental health. In addition to their combined study group leadership (Australia, Manchester, Wales), Professors Frey and Scull have traveled with over 75 students to southwestern Uganda in the past decade, and engaged them with collaborative projects on infectious disease transmission in mountain gorillas, maternal and child health, malnutrition, and water quality, sanitation and hygiene. Professor Scull has also worked with students in the highlands of northern Ethiopia studying church forest dynamics. Both are strong advocates for experiential education, and fostering creative, inclusive, and interdisciplinary classrooms.
Berlin has long been seen as the quintessential modern metropolis and one that continually reinvents itself as an ongoing experiment in urban culture. Today, the capital of united Germany's "Berlin Republic" is a vibrant, ethnically diverse city whose political and cultural meanings resonate far beyond its borders. Why did John F. Kennedy famously claim he was a Berliner? Since when is there a piece of the Berlin Wall in Hamilton, NY? How has migration to Berlin from around the world changed its civic identity and its international profile? This seminar will introduce students to contemporary Berlin and its twentieth-century biography through the changing stories of its urban landscape and public culture told by monuments and architecture, film and literature, eye-witness reporting and historical analysis. In doing so, we will take up the shifting conceptualizations of civic and national identity, collective memory and imagined futures elicited by Berlin's complex history. In November 2019, the city will celebrate the 30th anniversary of the fall of the Berlin Wall, that material marker of the global geopolitical divides of the Cold War and Germany's significance within them. The commemorative events on the Wall's impacts and legacies will enrich our seminar discussions during the fall semester as examples of the politics of memory and of ways that the Wall and Berlin itself have served as a mutable political and artistic stage with an international reach. Our travel to Berlin in January will allow us to further decipher the stories embedded in Berlin's built environment and public discourse, as we participate in the dynamics of the city first hand. We will visit sites we've studied and engage with the urban and artistic life of the city, navigating the city streets, discussing cultural politics with Berlin experts, and going to theater productions, museums and other cultural venues. The deepened reflection about place, space, and public culture afforded by our travel to Berlin will provide an effective vantage point from which to consider further how societies enact, negotiate and define their civic values, in Berlin and beyond. The course has no pre-requisites, will satisfy an Area of Inquiry requirement in Human Thought and Expression, and may be counted towards a major or minor in German.
More About Prof. Claire Baldwin
Claire Baldwin is an associate professor in the Department of German and offers courses on German literature, culture and language, as well as teaching in Colgate's Core Liberal Arts program. Her current research and teaching interests focus on post-war and contemporary transnational German culture and on eighteenth-century theories of cosmopolitanism. She frequently travels with students to Germany, including to Berlin, as director of Colgate's Freiburg Study Group. She first lived in Berlin during the period of political transformations from 1989-91 and since that time has considered Berlin her German home, spending time there each year.
Immigration is one of the most complicated social issues of our time. This class will use introductory economic theory to analyze the causes and consequences of immigration, with a focus on US immigration trends and policies. The SRS format will provide a space to discuss your own experiences and beliefs related to immigration and to challenge your assumptions. We will also invite several local experts to class so that we can benefit from hearing their viewpoints and engage in productive dialogue with them. The travel components of the class are two-fold so that you can experience both the northern and southern borders of the United States. The first excursion would be an overnight visit to the US-Canada border (near Canton, NY) in October 2019. The second excursion, in January 2020, would be a week-long experience along the US-Mexico border which will begin in El Paso, Texas and end in Tucson, Arizona. In both excursions, we will hear from local academics, policymakers and nonprofit organizations about their experiences working with migrant communities along the two borders. We will visualize and experience the 'wall' firsthand, crossing the border at multiple locations, so that we can compare and contrast different approaches in border enforcement. In addition, we plan on witnessing a legalization ceremony for those being granted US citizenship and watching deportation hearings for unauthorized migrants. We will explore many other topics during the semester, including immigrant selection, assimilation, the fiscal and labor market effects of immigration, and the impact of migrant remittances. A common theme throughout the SRS will be to analyze past and present US immigration policy. In the follow-up quarter-credit course during Spring 2020, students will develop their own comprehensive immigration reform and implementation plan. Please note that ECON 151, Introduction to Economics, is a prerequisite for ECON 233 and must be completed before Fall 2019. ECON 233 meets the requirements for an Area of Inquiry course in Social Relations, Institutions, and Agents, Global Engagements, and counts as an elective towards a minor or major in Economics.
More About Prof. Nicole Simpson
Nicole Simpson is a professor of economics at Colgate. She teaches courses in macroeconomics, immigration, poverty and international economics. Her research focuses on studying the determinants of immigration, migrant remittances and the impact of the Earned Income Tax Credit. In 2015, Prof Simpson co-authored a textbook on the Economics of Immigration. She has traveled extensively with Colgate students, including leading two study groups to London and an extended study group to Argentina.
Frequently Asked Questions
The seminars allow you to live and learn with other sophomores who share similar academic interests. The seminars also allow you to work closely with a Colgate professor over an entire year.
The online application will be available beginning on January 1, 2019. Faculty teaching the Sophomore Residential Seminars will interview students during early February. Scheduling an appointment is done after you have successfully submitted your application. The assignment of rooms and roommates will come later.
Students selected for the SRS program live among members of their class. Your roommate will be a member of your class, and a special SRS roommate selection process will take place during March-April 2019.
No. There is no direct charge for your research trip or the field trips and other activities connected to the program.
Yes, "Re-inventing Berlin: Memory, Culture and Urban Space" will fulfill one of the Human Thought and Expression Areas of Inquiry requirements and "Economics of Immigration" will fulfill one of the Social Relations, Institutions and Agents Area of Inquiry requirements.
You will be given an interview slot for your first-choice course, but faculty will share information with each other during the selection process. So, while it's not possible to have more than one interview, you will still be considered for other seminars listed on your application.
Your GPA is a factor, but it is far from the most important one. We realize that you've been at Colgate for only one semester, so it is a small sample size. If there are things you'd have us know about your first semester that put your GPA into perspective, please let us know about them in the application.
Many variables are considered when determining the specific travel dates of each program, such as cost of airfare and lodging, etc. Therefore, specific travel dates are currently not available. However, none of the trips will depart prior to January 2020, and families can anticipate trips taking place during the first two weeks in January. We want you to be home for the holidays and back with a bit of time to breathe before the semester begins. Most classes will return in time for students to attend Sophomore Connections.
You can direct your questions to Martin Wong, Associate Dean of the Faculty for International Initiatives (mswong@colgate.edu) or Brent Fujioka, Assistant Dean for Undergraduate Scholars Programs (bfujioka@colgate.edu).