This summer I have had the great fortune of interning with AdkAction, which is a nonprofit, based in Keeseville, N.Y., that oversees a number of different projects to increase vibrancy in the local community. Their work includes road salt reduction, improved broadband connectivity, composting efforts, food accessibility initiatives targeting low-income folks, an annual arts festival, and the pollinator project — what I'm doing.
It has been amazing to witness the success of AdkAction's wide array of projects designed to tackle community needs from all different angles, executed by a small team of very passionate people. The organization is funded by member contributions, and on-the-ground initiatives are carried out by the core team, with the help of volunteers. I have learned that community-scale projects need not be perfect — careful planning only goes so far — but it is the willingness of people from various walks of life to help and the messiness of cobbled-together efforts that make noticeable dents in efforts that often feel like major undertakings. Making something better than it was before and involving community members along the way is always worthwhile, but it is especially appreciated in more rural areas, such as the communities AdkAction serves.
My work on the Adirondack Pollinator Project is addresses the waning populations of bees, butterflies, hummingbirds and the like, by way of restoring habitat, discouraging pesticide use, and spreading awareness to people about how they can make their backyards more hospitable to pollinators. Beyond assisting with an annual native-plant sale, talking to people at farmers markets, and distributing free seed packets, I have been directly involved with the installation of 11 new honeycomb-shaped raised bed gardens in a variety of public locations around the region. I also installed four private gardens for a total of 15 this summer. As AdkAction's Pollinator Project intern, I have been the one driving every step of the process, from corresponding with garden recipients to using power tools to build the beds myself, sourcing the soil, and caring for the baby plants before transplanting. Each new garden boasts a variety of native plants of all different sizes, colors, and staggered blooming periods to strategically optimize the attraction of pollinating species.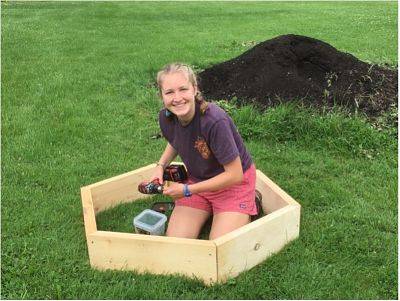 These kinds of efforts are particularly important when considering the many consequences we'd face if pollinator populations continued to decline, one being a major threat to our food system. Of course, the outreach and community engagement involved with these measures are beneficial in ways that are less tangible: getting people excited about helping pollinators and educating their friends and neighbors along the way is an ideal model for addressing an ecosystem need and making environmental stewardship an opportunity for residents of the area to come together. I would argue that the success of the Pollinator Project lies less in the creation of new habitat and more in the overarching, community-driven process.
Working with AdkAction has been eye-opening for me, and I feel lucky to have an internship that allows me to apply what I've learned so far as an environmental studies major and deepen my sense of belonging and love for the Adirondacks. In addition to ENST, I am majoring in molecular biology and following the pre-health track at Colgate. As someone who is pursuing a career in the hard sciences, I find it especially important to acknowledge the undeniable social aspects woven into ecological and medical work. I am fascinated by the relationship between our health and the environment, and I believe that the well-being of people is deeply connected to the resilience of our ecosystems. 
  
Becoming a field school fellow this summer has given me the opportunity to explore an environmental issue through a very social lens, and I have enjoyed working with so many community members to carry out my project. This kind of research is appealing to me because I know that bee populations, for example, do not exist in a vacuum — it boils down to making a point to understand the role people play in caring for the environment and why that stewardship is so beneficial to all parties. The Upstate Institute has served as an excellent arena for me to practice what I've learned in the classroom, and it has given me a glimpse of how rewarding and energizing it can be to take part in making even just a small corner of the world a little bit better. 
Submitted by Grace Leightheiser '22, one of 35 students doing community-based research this summer as a Fellow in the Upstate Institute Summer Field School