Summer Field School Fellows work with a community, government, or non-profit partners to create and complete projects that will have a positive impact on the Upstate region.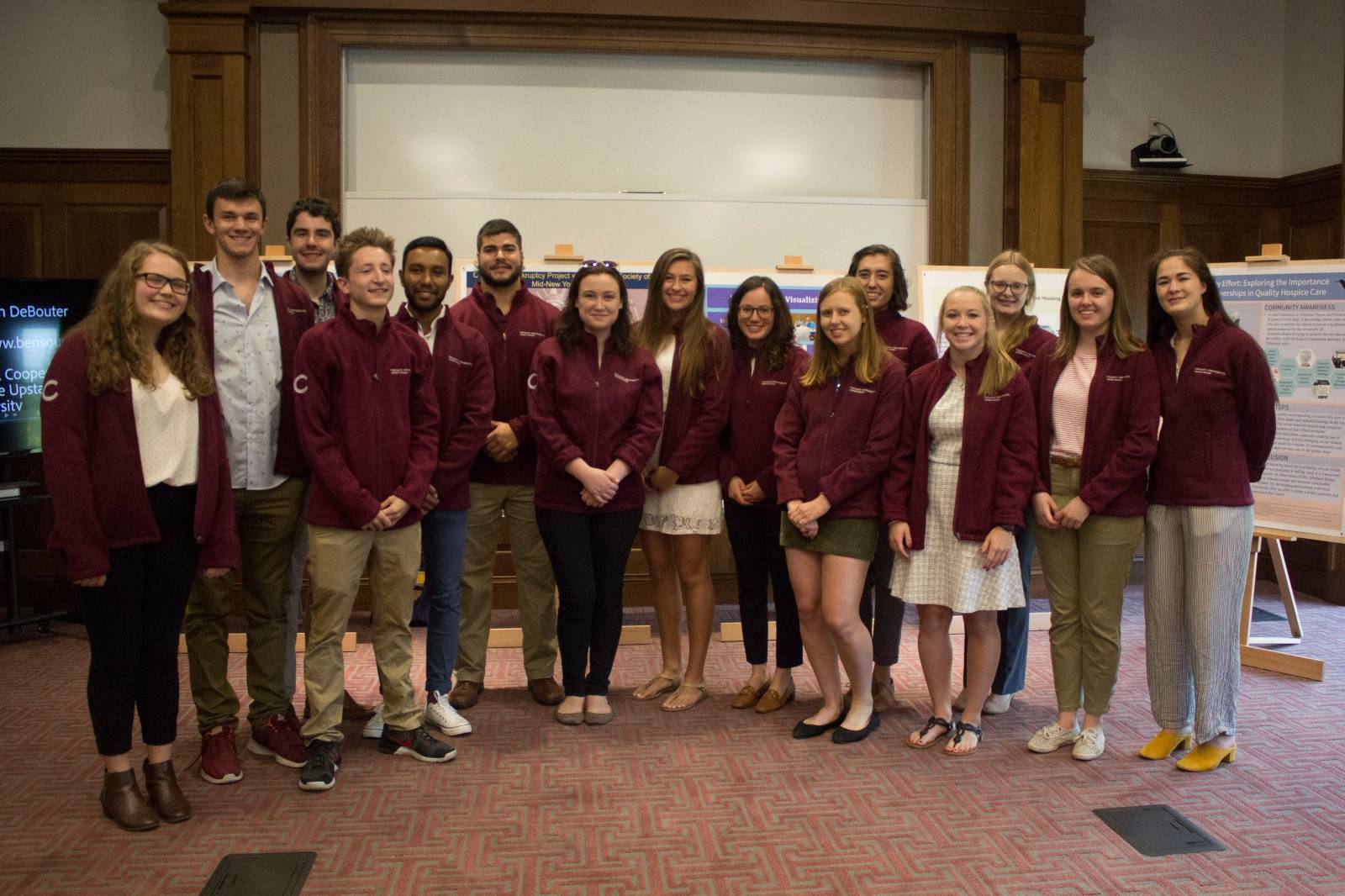 Field School Fellows
As an Upstate Institute Field School Fellow, students are responsible for building relationships in the local community while completing independent research work on innovative projects that provide a community benefit. Through a Field School Fellowship, students strengthen their skills while building the capacity of the community organization with which they are working. The Field School allows students to develop a deeper understanding of the issues facing Upstate New York and a stronger appreciation for what the region has to offer.
Details
Field School Fellowships are paid, full time research projects for Colgate students in the Central New York region, as well as in the Adirondack Park. Field School Fellows work 35 hours per week for up to ten weeks, and this work often takes place at the organization's office, under the supervision of the organization's staff. The Upstate Institute works with students to coordinate transportation. In addition, students meet weekly with Upstate Institute staff, and participate in an eight-week seminar on not-for-profit management and organization, and on the resources and needs of the Upstate New York region. Student researchers receive a stipend of $475 per week. Students working in Central New York have the option of on-campus housing in Drake Hall (with required meal plan), or they may secure private off-campus accommodations. Fellowships in the Adirondacks include housing.
---
Community Partner Application Process
The Upstate Institute is currently soliciting project proposals from community organizations, nonprofit organizations, and municipalities for the 2020 Summer Field School through the Upstate Institute. We intend to place 25 students in the Central New York region, and 5 students in the Adirondack region, to conduct research identified by the organization. These student researchers, called Field School Fellows, will work in partnership with their host organization to collect data that will belong to the organization at the end of the summer. 
Our application process is outlined in a document that is available below. We ask community organizations interested in hosting a student for the summer of 2020 to return proposals to us by Monday, January 13, 2020.
Application Procedures for Community Partners
Student Application Process
The student application process for Summer 2020 projects in Central New York and the Adirondack Park will be available on Thursday, January 23, 2020. Below are deadlines for the process this summer:
| | |
| --- | --- |
| Stages | Deadline |
| Students applications are due to the Upstate Institute | February 28, 2020 |
| Decisions will be announced to students via email | March 13, 2020 |
| Students reply to accept position and indicate start/end dates | March 20, 2020 |
| Summer Housing | TBD |
Students interested in applying for one of the projects available in Central New York or in the Adirondack Park should complete an application by February 28, 2020. The application consists of a Google form, accessible below, and three attachments:
1. an updated copy of your resume

2. a copy of your Colgate transcript. 

3. a letter that demonstrates your interest in the Summer Field School 
As a part of the application process, students will identify which projects are most appropriate for their skills and interests. A list of available projects is below.
Please feel free to contact Project Director Julie Dudrick with any questions about this process.
Student Application for the 2020 Summer Field School
Central New York Projects
The following are organizations in the Central New York region that would like to host a Field School Fellow this summer. Click on the name of the organization to learn more about the organization's research project and the skills required to complete the work.
Abraham House is a comfort care home in Utica providing hospice (end of life) care 24 hours a day for terminally ill residents. The house provides guests and their families a safe and loving home, with all the support needed for dignified end of life care, free of any financial burden as their services are provided free of charge. Because this organization does not bill for their services or receive state or federal funding, they survive based solely on donations, fundraisers, and small community grants.
Abraham House has two proposed projects available this summer. Both projects require a student to be able to work independently and effectively, as there are many tasks and few resources at this organization. The student should have strong writing and communication skills, and should be able to use technology and social media to solve problems. In addition to being organized and responsible, the student should be able to meet deadlines and see initiatives through to completion. While students working at the Abraham House do no provide direct patient care, applicants should possess a healthy respect for death and the dying, as opposed to an aversion to it.
A fundraising liaison will help the organization better utilize the resource of community businesses and partnerships to run donation drives and small fundraising activities. The student will develop advertising, partner with community organizations to locate donation boxes in the community, and assist with the planning and execution of fundraisers such as an annual golf tournament. The student will also use social media to help the agency publicize their work, and increase fundraising efforts, and will find ways to use free publicity venues like fliers, ads in church bulletins, announcements in the Town Crier, flyer distribution, etc.
An operations assistant will help the organization better organize their operations, especially at their thrift store, the Bird's Nest. The student will develop written procedures to help organize what they do and how they do it, and will help to create more streamlined processes. The student will use spreadsheets and Google docs to improve efficiency, develop and improve an online scheduling system, and increase use of the Homebase app to manage employees and communicate with the organization.
A Fellow working in either position will gain an all-encompassing experience in nonprofit operations at the Abraham House, with an opportunity to assist with fundraiser development, donation tracking, newsletter creation, public relations and promotion. The students will also gain valuable experience by participating in the preparation that occurs before board meetings and the reporting process that takes place during board meetings. 
BRiDGES is the Madison County Council on Alcoholism and Substance Abuse, Inc. Their mission is to improve quality of life by providing advocacy and services to the community, the workplace, families and individuals affected by addiction and the abuse of alcohol, tobacco and other substances. BRiDGES has two projects available for the Summer Field School:
1.    A student will work with BRiDGES to collect data about how systems work to meet the social determinants of health (SDH) in Madison County. Through interviews and surveys, a student would seek to learn how providers and community organizations assess clients' needs, and whether the providers and organization have the resources needed to look at SDH areas of need in their clients. The student will look at the gaps in services in a network of providers meeting SDH needs in the Madison County and in areas by zip code to determine what does and does not work. By partnering with the Oneida Area Not for Profit Consortium and the Hamilton Outreach Consortium, the student will reach out to providers to collect this data, and will look at the  211 system to see where community members in need are being referred when seeking assistance with SDH needs. 
2. Following the work done by Abigail Kelly '21 last summer, a student will continue to explore how local health systems are working to keep people from developing opioid addictions. The student will expand upon the 2019 survey that asked pharmacists in Madison county what they were doing to prepare for the mandated safe disposal program. The student will work with the Central Region Addiction Resource Center (CRARC) to expand the survey area to the five surrounding counties, and to explore how primary care offices and chronic pain providers educated their patients about alternatives to opioids, and the use of Narcan. The resulting data gathered will be utilized to promote and encourage providers, pharmacies, ERs and CRARC staff to make changes to their programs and practices that will directly impact the lives of community members in Madison County and the Central Region. The Fellow will have the opportunity to work with healthcare systems change, thus creating lasting community change to drive better health outcomes. The student will have the opportunity to attend many meetings in the region and will be able to meet and work with people who are tackling this issue from a county-wide and a regional approach. 
Both projects require a student to have strong interpersonal skills in order to work with various service providers in the area, and require effective and efficient independent work. Student applicants should have high-level skills in data collection, writing and critical thinking for these projects. 
The Chenango County Historical Society is the primary organization dedicated to celebrating the comprehensive history of Chenango County, located in the heart of the Upstate region. The Society's museum, located in Norwich, immerses visitors in the center of the county's past through exhibits exploring the rich history of the local region.   A new exhibit highlights local culture that has global influence, and they have plans to continue expanding exhibits and programming.
CCHS is planning an exhibit on "The Legacy of Alice Hudson." The CCHS Fellow will use standard museum practices to help the society effectively tell the story of the artist's life. Hudson was a prolific artist who used her art to encourage social change. As an educator both in and out of the classroom, Alice encouraged creativity and self-expression whenever the opportunity arose, and her finished pieces and landscapes are atypical of other artwork created in the county because of their whimsical nature. The student will work with CCHS to facilitate the curation of this exhibit and connect it to the Society's programming that will celebrate the 19th amendment's centennial and highlight women's history. This will include conducting research, designing, preparing and installing the exhibit. The student will work with the Association of New York (MANY), the New York State Museum, and the Chenango County Historian's Office to conduct research, and will collaborate with CCHS staff and board members, along with Alice's daughter,  anthropologist Elizabeth Bronson; her art agent, Sydney Waller; and family friend and stained-glass artist David Wilson.
Applicants should have excellent organizational and communication skills, and should be detail-oriented. This project is especially appropriate for students interested in curation, museums and nonprofit organizations.  This Fellowship will give students valuable archival and curatorial experience, as well as individualized, routine coaching, and guidance, and the Fellow will end the summer having left a lasting impact on a treasured Upstate community organization. 
The Chenango United Way builds partnership and maximizes resources to improve the quality of life for local residents by focusing on three areas of local impact- education, income and health. They serve the Chenango community-at-large and a portion of Madison County as a fundraiser, fund grantor and as a community convener around identified critical needs. For the fall 2019 annual campaign, the Chenango United Way raised $428,363 in local funds from payroll deduction campaigns and individual, business and corporate gifts, exceeding its goal of $425,000. The Chenango United Way is also the convener of three volunteer led Community Impact Teams (CIT's) around the critical community issues of income stability, education and healthy living. Each CIT is responsible for developing a shared knowledge and understanding of its impact area, identifying and prioritizing community issues into a community impact agenda, analyzing various program strategies relative to these issues and developing innovative and collaborative initiatives to address them.
Following the United Way Worldwide business model transformation, called "Modern United Way," small agencies like CUW must now plan for change. The transformation is intended to increase donor participation in local fundraising campaigns, but the associated dues increase will have a great impact on the agency. As a result, the United Way would like a student to research steps that a small United Way could take to be successful under this new model, and what best practices could be used to ensure the viability of a small United Way. Not only would this research project benefit the CUW, but will also help the entire UWNYS system, as a majority of local UWs in NYS are considered "small" and are concerned about their future within the United Way system.
The summer Fellow must be able to multi-task and handle stress well, as the Chenango United Way office is a very busy one during the summer months. The Fellow will have many chances to attend community meetings and collaborations regarding community needs throughout the summer, and participate in community events where interested. 
Cornell Cooperative Extension (CCE) is the community impact branch of Cornell University.  CCE Associations puts knowledge to work in pursuit of economic vitality, ecological sustainability and social well-being, and bring local experience and research-based solutions together to help families and communities thrive in a rapidly changing world. CCE has two projects available this summer:
Event Planning and Outcome Assessment Research for Open Farm Day 
Open Farm Day is an annual summer event that takes places throughout the county each July.  A hallmark offering, the event provides community members with wide access to farms that open their doors for a day of community access.  With an eleven-year history, it is time to rethink and reimagine the ways CCE measures the social and economic benefits of the event.  This research project will involve a backward look at data from previous years, a search for analysis methods of comparable events, development of a new assessment model along with implementation and analysis.  With less than 1.5% of the public directly connected to agriculture, events such as Open Farm Day are critical to help consumers understand where their food comes from.  In order to offer the event, CCE MC must annually obtain a strong event sponsorship base.  Research from this project will be essential in working with current and potential sponsors. 
Madison County Agriculture Producer and Service Provider Research Project 
CCE has recently completed the first phase of a mapping project to more clearly identify producers and service providers in Madison County.  The next phase involves verification followed by development of a data collection tool to capture baseline key performance indicator data. The goal is to develop a framework that can be used over time in a historical comparison study model. The 2017 Ag Census identified unprecedented loss of agriculture producers and service providers throughout the US.  As a result, CCE MC needs to find ways to create an annual 'snapshot' of agriculture to augment the broad data captured every 5 years through the Census.  The results of this research will be helpful in securing economic development funds for new and current producers. 
Both projects require students with strong interpersonal skills, clear and concise writing, curiosity for secondary research, ability to work in a feedback rich culture, interest in data collection and analysis.  Prior experience with survey design and implementation is helpful but not required. Background in/experience with agriculture is not required. During the fellowships, students will have the opportunity to: be part of the CCE team, attend team meetings and events, participate in farm visits, develop an understanding of agriculture, grow in their ability to think critically and build their professional portfolio. 
The Farmers Museum in Cooperstown is an outdoor history museum that works to cultivate an understanding of the rural heritage that has shaped the land, communities and American culture. Museum programming strives to give museum staff every opportunity to engage with the public, demonstrating the knowledge and skills that may otherwise be forgotten. 
 
A Fellow will help the museum create and implement educational programming this summer. The student will research skills and trades from the 1840's and determine the best means to teach these skills, such as cooking or farming, trades such as printing, or other topics such as music and other forms of entertainment.  In addition to research and program development, the student will be given the opportunity to present programs and to work as an interpreter in the historic village. 
 
The Fellow completing this project may be asked to adjust working hours to include some weekends and holidays, as those are the busiest times for the museum.  Student applicants must be creative, have strong oral and written communication skills, exercise self-discipline, and be willing to work with the public.  
The Fenimore is a Cooperstown art museum dedicated to fostering a deep appreciation of visual creativity and its cultural and historical context, and is one of the nation's premier mid-size American art museums. The Museum is interested in learning how their permanent collection and special exhibitions can be better utilized by social studies teachers in regional schools to discuss American government and civics. 
A Fellow will work with the Education Department in research and development of a school program for the Fall 2020 special exhibition, Pete Souza: Two Presidents, One Photographer, a collection of photographs by the official White House photographer for Ronald Reagan and Barack Obama. This on-site school program will be geared towards students in the middle to high school levels and offered during the fall season, utilizing exhibition to discuss both art (how photographs can be used to tell a narrative) and American history. The Fellow will research the artworks in the museum's permanent collection of American Folk Art as well as the Research Library collections to assist with the development of a school program and lesson plan centered on government and civics that can be utilized for years to come. The student will also assist the Manager of Arts Education with on-site public programs during the summer 2020 season.
The Fellow will have an opportunity to attend Education staff meetings, engage with staff members of other museum departments, interact with museum visitors, and gain a greater understanding of what it is like to be a museum professional. Applicants should be task-oriented, have excellent oral and written communication skills, and have an interest in both independent research and working directly with the public. 
The Fiver Children's Foundation is a comprehensive youth development organization that  makes a 10-year commitment to children from underserved communities throughout New  York City and Central New York (CNY). Through character-building summer and year-round out-of-school programs, Fiver empowers children to make ethical and healthy decisions, to become engaged citizens, and to succeed in school, careers, and life. Fiver provides children in our program with a residential summer camp experience. Children begin the program when they are 8-years-old and continue free of charge until they are 18. Central New York campers have the opportunity to interact with diverse peers from New York City, allowing them to learn the skills necessary to succeed in a multicultural world.
To help Fiver expand programming to alumni, a Fellow will help the foundation document, improve, collect and coordinate alumni data, to create a template for an annual Alumni impact report as well as the systems to efficiently collect and analyze data for that impact report.  The Fellow would be responsible for communicating and working with the Fiver staff and Alumni board to make improvements on current systems/program and would be tasked with laying out a plan of action for all alumni data collection and engagement.  This increased outreach to alumni would allow Fiver to deepen connections and create professional development workshops that will teach important skills like networking, salary negotiations, financial literacy, and work-life balance.
The Fellow will conduct this work at the Fiver camp facility as much as possible, because this allows the student to be immersed in Fiver culture, resulting in a more positive experience. Applicants should have strong verbal and written communication skills, be organized and have an analytical mind. The student should be comfortable working as part of a team as well as independently, and should be flexible and appreciative of diversity. An interest in non-profits, evaluation, development or programming is a plus. Students will gain an understanding of alumni relationships, data management, and non-profit administration. The Fellow will also have the opportunity to practice and further develop the following skills: leadership, taking initiative, team work, productive communication, and problem solving.
For The Good, Inc. is organized to foster community development in the city of Utica. The agency's programs focus on positive youth development, life skills, employment, wellness, the arts, cultural and higher education with special emphasis on peace and justice and the city's low-income residents and their neighborhoods.  For The Good seeks to serve as an integrator of services within the community, partnering rather than competing with other organizations. 
For The Good, Inc. has maintained high yield, raised bed, intensive organic Community Gardens in Utica's food desert since 2008. For the sixth summer, these gardens will be a site for the Summer Youth Employment Program. This relationship is ideal for accessing low-income, at-risk youth for attention to their diet, health and wellbeing. The two gardens are located within the inner city of Utica where health parameters are appreciably lower than the general population.
For the Good would like to determine the health parameters of participants, and learn more about how being outdoors, working in a garden and then bringing home produce from the community gardens changes the food on their tables, their wellbeing and the young people themselves. A student will collect data that will  determine how access to, working in, and training in gardening will help residents live healthier lives with more fresh organic vegetables on their tables. The fellow will work full time, completing a combination of garden work with client interviews and data collection. Because the summer in Utica is increasingly warm, garden hours done outdoors in partnership with Summer Youth will take place in the mornings, while office work and survey design will take place in the afternoons. 
This project requires a student with experience in developing and implementing surveys, a willingness to work in the garden, and an ease in working with diverse populations.
In partnership with Waterville First, an economic and community development agency in Waterville, New York, a group of residents is creating the 4-Corners Food Cooperative. A food co-op is essentially a grocery store that's owned by the people who shop there. Members get to decide what foods and products are stocked on the shelves, where those items are purchased and what quality standards both products and vendors have to meet. Members also vote on standards for negotiating prices, and they choose how co-op employees are compensated. Often, even part-time employees are eligible for health insurance. The 4-Corners cooperative will be a resource for community members living in the rural food desert along the Route 20 corridor between West Winfield, Waterville, and the surrounding areas (spread across 4 counties), and will serve those interested in supporting local producers outside of the seasonal farmers' markets. A student working with this start-up will conduct research on food cooperatives in general, and will help this team get their idea off the ground. This project is ideal for a student with an interest in food and community development!
Visit the Four Corners Food Cooperative Facebook page to read more about this idea.
The Hamilton Public Library serves the Village of Hamilton, New York and surrounding areas, and provides for the recreational, informational, and cultural needs of the  community. They perform outreach into isolated communities in the service area, such as Brookfield, Lebanon, and Madison.  Last summer, the library coordinated with the Earlville Free Library, Lebanon Community Club, and the  Sherburne-Earlville School District to bring a weekly Summer Reading Program to Lebanon for July and August. Through a grant from the MidYork Library System, the library brought performers, educators, storytellers, crafts, and snacks to the children of Lebanon. The program was so successful that they received same grant for 2020, and will expand the program to include additional programs in Brookfield and Madison.
The Fellow will work with library staff and community partners to administer these programs. The Fellow will also collect data to assess the impact of these programs on the issue of summer slide. The Fellow will be involved in planning events, ordering supplies, running programs, and working with multiple library and community partners.
Applicants for this project should be outgoing and used to dealing with children of all ages. Creativity is a plus. From the experience, the Fellow will gain a better understanding of library services, learn how to plan and execute a successful program, improve interaction with children and caregivers, balance a modest budget, and stick to a tight schedule. 
The Legal Aid Society of Mid-New York, Inc. is a not-for-profit law office created in 1952 by the Oneida County Bar Association and local attorneys to provide civil (non-criminal) legal services to low-income people in Oneida County. Throughout the years, it has expanded to include thirteen counties in the Central New York region. LASMNY provides legal information, advice and representation to low income clients in civil cases involving public benefits, healthcare, consumer and debt problems, housing, education, employment, family matters and other legal problems. Also provided are community legal education programs for clients, community agencies and the general public regarding legal rights and responsibilities.
Each summer, a Fellow works with LASMNY as a student paralegal to advance cases that are a part of the Consumer Bankruptcy Law Project. The project guides a client who is filing a simple bankruptcy through the process at no cost. Clients are usually filing for bankruptcy because of a job loss, medical debt, or domestic violence. The student Fellow will review a number of legal and financial documents for multiple clients, including credit reports and tax forms, in order to complete several of the schedules, required for one to file for bankruptcy. Once filed, the cases are referred to a pro bono attorney. The Fellow's work saves a significant number of hours of work on the part of the pro bono attorney, therefore making it easier for the lawyers to agree to take these cases on a pro bono basis.
In addition to working on the Bankruptcy project, Fellows have the opportunity to get involved in other aspects of the society's work, which leads to a better understanding of the prevailing economic issues of Utica and Central New York. As such, this project is especially well suited to students with an interest in a law career.
The Madison County Health Department works to protect and enhance the health of the community. The department has two projects for Fellows this summer:
Development of a Countywide Mosquito Surveillance Plan
This project aims to protect health by increasing knowledge of locally mosquito-borne disease risk. The county currently conducts mosquito surveillance in the Town of Sullivan, and would like to expand this into a county-wide program. A Fellow will work with department staff to conduct limited field collection and identification at pilot sites, and develop a plan that will identify geographic areas for surveillance, and a methodology for selecting new testing locations through the county and seek permissions for pilot sites for current and future testing. The student will also work with the Environmental Health staff to enhance the current mosquito surveillance database, and use GIS in support of the plan and surveillance activities. At the end of the summer, the Fellow will present the plan for an enhanced mosquito surveillance program to the Public Health and Environmental Health Directors.
Applicants for this position need a US drivers license. The student must be able to conduct literature reviews of scientific publications, and must have good interpersonal, writing and communications skills and be able to work independently in the office and in the field. Experience with GIS, research and analytical methods is preferred.
Comprehensive Assessment of Alcohol Use and Abuse within Madison County
In order to identify and address health issues, the Department of Health conducts a Community Health Assessment every three years in partnership with Oneida Health and Community Memorial hospitals. The most recent assessment identified substance abuse, including alcohol misuse, as a priority area. A Fellow will work with the department to learn more about alcohol misuse at the national and state level, as compared to Madison County, and what risks and protective factors are associated with alcohol misuse. The Fellow will conduct a literature review on the topic to answer these, and will be asked to describe the influence of social media and marketing of alcohol to different populations. The research may also explore the interconnectedness of mental health issues, alcohol as a social norm, and alcohol-related aggression and violence.  The Fellow will conduct an analysis of the policies, systems, and environmental factors that contribute to the misuse of alcohol, along with retailer advertising, and will administer surveys about the perception of alcohol use among peers. In addition, the student will have the opportunity to map things such as alcohol-related driving accidents, liquor stores Based on the findings from the literature review and assessment activities, the Fellow will conduct research on evidence-based strategies to address alcohol misuse. The recommendations most appropriate for this community at-large and population subgroups will be incorporated into the health issue profile as steps to address this issue.
Applicants for this position should have the ability to conduct literature reviews using peer-reviewed sources and should be able to work independently and possess excellent interpersonal, time management, writing and communications skills. 
Madison County Rural Health Council The Madison County Rural Health Council, Inc. was established by a consortium of organizations representing the largest providers of health and social services in Madison County. Through the MCRHC local providers are better able to coordinate the county-wide alignment of health care resources, expertise and services, and evidence-based practices to meet health needs in the community. The council works to identify gaps in services, coordinate and report on county-wide planning and alignment of health care services, and develop a shared health information system. A Fellow working with the Madison County Rural Health Council (MCRHC) will help the council identify transportation barriers for health care services. The student will develop a survey to distribute to the public that will identify transportation barriers for people who attend medical appointments throughout the Madison County area. The survey will seek to collect data on the mode of transportation used, frequency with which community members need access to transportation, and issues of accessibility and income constraints. The council will use the data to develop mobility management projects and for ongoing public education about transportation options. A student will need to have a US driver's license to complete this project. The student should be able to work independently and should be comfortable approaching diverse populations of people in a public setting. The student should also be able to analyze data and present it to a general audience and to health care providers in the county.
The Midtown Utica Community Center (MUCC) is a community center that works with many refugee families in their post-resettlement phase. Their mission is to build and provide a multi-cultural, refugee-friendly space that serves all. 
A Fellow will help the Center better understand the needs of the refugee community in Utica that are being addressed and those needs which are still unmet or undermet. A Fellow will work with a team of scholars to develop a community needs assessment that MUCC will use to inform its future decisions. This needs assessment will touch on areas including, but not limited to, education, health, culture, housing, lead, representation, finances, and child care. 
The Fellow will receive training in community surveying and will be part of training five high school assistants. Assistants will be bilingual and help with translations if needed when conducting the home surveys. The Fellow will compile and present findings at the end of the summer.
The Fellow is invited to be a camp counselor at the annual summer camp "MUCCamp" August 2-8, as this is a good opportunity to get to know the youth of MUCC and may prove helpful to gain access to the different data pools within the community.
The Fellow will be exposed to a wide breadth of different world views when working with the MUCC community. MUCC members come from all different walks of life and from all over the world. Learning how to communicate with everyone is a skill learned when "getting MUCCy." Since MUCC is such a lively place, the Fellow will learn quickly how to organize for such a spontaneous atmosphere. 
The National Abolition Hall of Fame (NAHOF) honors exemplary people from three centuries that have dedicated their lives, efforts, and personal wealth to gain equal rights for all. For the purposes of the Hall of Fame, abolition is recognized as both the legal ending of slavery, or the First Abolition, and the moral ending of discrimination, or the Second Abolition. 
The project in 2020 will continue the racial bias research accomplished by previous Upstate fellows Erin Burke '18 and JJ Citron '20, with attention to more time for individual visitors to NAHOF to interact with a survey. The focus this year will be on an instrument that collects the questions about race, that measures the racial bias of persons who come to NAHOF, and gathers information for programs that NAHOF could use to provide opportunities for increasing individual strengths in teaching tolerance. The fellow will also be involved in preparing for the launch of the 200th Anniversary of the Smithfield Community Center – the building in which NAHOF is located. The Fellow will also serve as the primary host to the Museum on the weekdays in which it is open.
NAHOF Fellows usually conduct research on Colgate's campus in the morning or use that time for community meetings and visitations to other social justice sites, and travel to Peterboro for on site afternoons. Scholarly attention to research, recording, reviewing, and reporting is critical for the Fellow placed at NAHOF, but the passion and determination to do so in light of the topic is even more important. The fellow must be a self-starter as s/he works alone a great deal of the time. At the same time, the fellow needs to be comfortable relating to people of various walks of life as they come through the museum door. The Fellow will also have opportunity to meet with the Cabinet (governing board of NAHOF), the Town of Smithfield Board, the Underground Railroad Consortium of New York State, and other community members. Appreciating the NAHOF community and the progress that it has made- as well as eagerness to move the organization forward - is essential, as is a "people person" with strong temporal and physical organizational skills.
Each year the History Center welcomes a Colgate student to develop an exhibit and related programs that focuses on some aspect of the history of Oneida County. This summer, because the Center is especially interested in attracting new visitors and appealing to diverse audiences, especially school groups, children and young adults, they would like a Fellow to include interactive programs targeted at visitors of all ages. The exhibit topic is open; however, it should relate to a major content area, and meet the standards, found within the New York State K-12 Social Studies Framework. Grades 4, 7, and 8 should be given priority.  Major content areas included, but are not limited to, the Erie Canal, Immigration, Social Change, the Revolutionary War, World War I, World War II, and New York State prehistory.
The Fellow will be encouraged to include interactive elements that will appeal to young learners. The Fellow will also create multiple programs and/or activities that compliment the exhibit for three age groups: under 12, teens, young adults (18-30).  These programs should be designed, so that OCHC staff and volunteers can reuse these programs in the future.  Programs can include presentations, games, scavenger hunts, or other ideas. Additionally, the Fellow is expected to help promote the exhibit and programs to schools and the public via flyers, articles, and social media.  The Fellow may also be asked to assist with History Camp to gain experience working with young learners.
A majority of the work will take place on-site at the History Center where the Fellow will have access to the OCHC collections, digital archives, and other resources needed to complete this project. The Fellow is encouraged to conduct outside research online or at the Colgate University library, and may also consider liaison with other cultural organizations such as the New York State Museum (Albany), New York State Archives, or local organizations such as town and village historical societies in Oneida County that have valuable sources including artifacts and archival material. 
The optimal candidate will have a general interest in education and history. This experience will provide the Fellow with research, exhibit development, and programming experience. This project will appeal to those interested in history and/or museum work as a potential career choice, and those interested in gaining experience along a broad range of museum-specific activities including collections management, interpretation, digital media, and basic exhibits development. Applicants should be comfortable with computers, especially Microsoft Office, and should be well-versed in social media and able to provide regular updates and/or interesting information to the public via Facebook, Twitter, or Instagram. 
Pathfinder Village was founded as the only community established specifically for individuals with Down syndrome. Today, the village promotes a healthy, progressive environment that respects each individual, supporting a life of value and independence for children and adults with Down syndrome and related developmental disability. The village includes residential homes, health services, and educational and vocational programs in a planned community campus setting.
A Fellow will work this summer on a research project related to Pathfinder's successful produce market and how the market can be used to address food insecurity. In 2018, Pathfinder designed an innovative solution to address food insecurity in Otsego County by creating a Mobile Market and "Feel Good Bags," which are weekly supplies of fresh food, personalized artwork and community resource information to almost 300 food insecure and chronically ill children and adults. This program has gained attention from numerous entities across the state for the use of community-level collaborations as a source of creative vision for change. 
The village would like a student to help evaluate the project, and other alternative intervention programs and food prescription program that reduce healthcare costs and address food insecurity. The Fellow will work as a project assistant to the director to drive this research, and help the agency understand the relationships between the impacts on social determinants of health and the cost-effectiveness of incentivized food prescription programs through Medicare and Medicaid. Student applicants should have strong communications and interpersonal skills as well as the ability to collect and analyze statistical data.  The Fellow will be required to maintain HIPPA confidentiality standards.
 
Southern Madison Heritage Trust works to conserve, for public benefit, natural resources in and around the townships of Brookfield, Eaton, Georgetown, Hamilton, Lebanon, and Madison in Madison County, NY.  They strive to protect land, conserve prime soils, working farms, water, unique habitats, scenic landscapes, recreational sites, and historic features through stewardship, public education, and support of practices that advance natural resource conservation.
There is a national movement towards accreditation of land trusts to build public confidence in the success of land trusts in protecting sensitive environments and land use. The Fellow working with SMHT this summer will begin by researching the process of accreditation, then will develop a survey to assess how accreditation would affect the perception of SMHT as a land trust.  The student will then develop the plan and resources required to move toward national accreditation as a land trust.  This will also include property monitoring and the development of brief monitoring reports for the SMHT properties with the assistance of board members. Finally, the student will organize at least one public event, such as a property walk, during the Fellowship.
This project is an opportunity for a student interested in conservation not only to learn the inner workings of a land trust but also to enable SMHT to make significant progress as an organization supporting conservation in the region. SMHT is working with two local dairy farmers to conserve portions of their land.  The student would have the opportunity to meet with the farmers and gain a sense of the role of dairy farming in the Central New York region, but would not be required to participate in that project. As all properties are within walking/bicycling distance of campus (less than two miles), an automobile or driver's license are not necessary.
The Center, an affiliate of Lutheran Immigration and Refugee Service, is a not-for-profit corporation that has been the main service provider for refugees in Central New York for over 35 years. The Center has assisted over 16,500 refugees from 36 different countries start new lives in this region. The Center has a centrally located office and training facility in Utica, including classrooms and computer labs for an on-site adult English for Speakers of Other Languages (ESOL) program that is administered by Mohawk Valley Community College.  The agency also retains a diverse and professional staff to effectively deliver linguistically and culturally appropriate services. 
Office for New Americans
Determining factors that will increase the likelihood of refugees and immigrants to complete the 2020 Census. The Field School Fellow with work with The Center's Office for New Americans to assess and develop strategies to increase participation in the 2020 Census whether by completing the paper questionnaire, over the phone, or online by the refugee and immigrant populations in Utica. 
Event Planning
Community outreach and event planning to bring awareness of diverse cultures. The Field School Fellow will work with The Center staff with planning World Refugee Day. 
Agency Retrospective
Digitizing past refugee arrival records to eliminate the need to maintain hard copy files.  In addition, the Field School Fellow will collect and digitize historical articles and studies related to The Center and create a database that can be accessed through the agency website. 
 
The Yleana Leadership Academy is a residential summer academy for rising high school seniors in low-SES urban areas (Boston and Boston's North Shore, NYC, Philadelphia, and Baltimore) which seeks to close the achievement gap through a three-week transformative intervention which allows students who might not be sure about an away-from-home college experience (or college, for that matter!) to try out college living for themselves on Colgate University's beautiful campus, while at the same time benefiting from intense SAT and leadership training.  
A fellow will continue the work done last year by Dylann McLaughlin to design and implement a critical thinking and imagination curriculum, which focuses on entrepreneurship as a vehicle to foster critical thinking skills and design thinking. This will be an opportunity for a student to help younger students grow the skills they desperately need by working with them in small groups of 6-8 students at a time to see what works and what doesn't, then tweak plans based on feedback and outcomes.
Applicants should be able to develop and implement an engaging curriculum around the foundational principles of design thinking and entrepreneurship. Direct experience with either of those subjects is preferred, but not required). The student will use creative insight to update and personalize existing lesson plans, and create detailed and flexible lesson plans from scratch based on new ideas. The Fellow will lead group brainstorming and feedback sessions with peers, and adapt plans according to group input. Applicants should be detail minded and organized, and should be willing to participate in summer camp activities and games outside of class time to foster relationships with students.

The Young Scholars Liberty Partnership Program is an ambitious collaborative project between Utica College of Syracuse University and the Utica City School District dedicated to motivating disadvantaged students towards, and making possible, a successful academic career both during and beyond the teenage years. To address the high drop-out rate and poor attendance in the Utica schools, Young Scholars LPP established itself as a comprehensive program, a source of cultural and social capital for students largely deprived of such support and opportunities. However, Young Scholars LPP does not simply strive for daily attendance or completion of high school, but for academic excellence. Reflecting a belief in the power of the program and the potential of the students, an academic average of a C or better is required to maintain Young Scholar status and students are encouraged to strive not just for a New York State Regents Diploma, but for a Regents Diploma with the Advanced Designation. 
After years of struggling to maintain connections with alumni, YSLLP has made initial progress in this direction and are hoping to capitalize on the momentum of a successful leadership program for Young Scholars graduates to create and support a more structured alumni network. A Fellow will help the organization take the next step in supporting the success of their students who have completed the initial mission of graduating high school and enrolling in college, or joining the local workforce, by building on the success of a new Graduate Leadership Development Program (GLDP.) The GLDP is a nine-session program designed by leadership experts and education professionals to help first generation college students and local employees, advance their personal, professional, and leadership skills. The Fellow will recruit a small organizing team of alumni to take leadership roles in creating the network; organize an event for alumni to begin the recruitment; review current communication methods with an eye to expanding methods and reach; work with staff and alumni to create content for an alumni webpage.

In addition to research skills, the Fellow should have strong interpersonal communication skills and be comfortable speaking on the telephone and meeting with graduates ranging in age from 18 - 40. The Fellow should also be willing to immerse themselves in the daily life of Young Scholars in order to get a broad view of this multifaceted program. During the month of July, 225 of the 349 students in grades 7 – 12 will be on Utica College's campus for two concurrent summer programs. The Fellow will be part of the team providing support to the teachers, students, and administrators. The Fellow will be involved in the day-to-day running of a not-for-profit education program; learning the skills needed to be productive in a busy office. In their interactions with YSLLP students and alumni, a student will have the opportunity to work with one of the most diverse populations in the country, in addition to working with a diverse staff. The Fellow will be invited to all staff meetings, summer program organizational meetings, and any meetings with donors/supporters relevant to developing the Graduate Network.
Adirondack Projects
The following are organizations in the Adirondack region that would like to host a Field School Fellow this summer. Please note that the Fellows completing these projects will receive a research stipend, and will have nearby housing provided to them at no cost. Click on the name of the organization to learn more about the organization's research project and the skills required to complete the work. 
AdkAction is a non-profit that creates projects to address unmet needs, promote vibrant communities, and preserve the character of the Adirondacks.
The Adirondack Pollinator Project is one of the agency's largest initiatives, and focuses on increasing awareness of native and agriculturally managed pollinator species, encouraging citizen science efforts, and enabling habitat creation across the Adirondack region. Last summer, with the help of Field School Fellow Mak Bridge '20, AdkAction created a "Mobile Pollinator Garden Trailer," which was essentially a garden shed on wheels, and used it to create 10 new pollinator gardens at libraries, schools, and other public locations. In addition to planning and planting the gardens, they used citizen science methodology to monitor the chosen garden sites before and after garden installation.   This summer, the focus of the project will be on habitat creation and citizen science monitoring.  
A Fellow will work with AdkAction staff to conduct citizen science monitoring and to participate in the planting of pollinators at 10 additional pre-determined sites around the Adirondacks. The Fellow will be charged with meeting volunteers at each site to monitor for pollinator species pre-planting and to oversee garden planting.  Independently, the Fellow will be asked to return to each garden site in mid-August to document any change in the quantity and variety of pollinator species on site.   Student applicants should have excellent critical-thinking skills, be comfortable talking to people from many different backgrounds, and have an interest in biology, conservation, and community engagement. Proficiency in Microsoft Word, Excel, and PowerPoint are necessary, as well as the ability to communicate clearly and effectively through email.  This work is very physical in nature, and the appropriate candidate will be physically capable of lifting up to 50lbs, spending hours on end gardening, and walking several miles some days.

A second project, concerning road salt pollution, is also available with this agency this summer. A description of this project will be coming soon.
The Adirondack Center for Loon Conservation (ACLC) is dedicated to promoting and inspiring passion for the conservation of Common Loons. Their work is driven by scientific research and conservation efforts, translated into educational and outreach programming to help maintain robust populations of Common Loons in New York State and throughout North America.   
A Fellow will help determine the effectiveness of new educational and conservation programming that will be implemented during the 2020 summer season by the Center, such as a new Loon-Friendly Lake Certification Program and Lead Buy-Back Program, both of which will engage the community in environmental stewardship. The student will also work to assess educational exhibits and student learning at the center and during field trips, and will help the center identify outreach techniques to reach diverse audiences within and beyond the Adirondack Park.
In addition to having an interest in and knowledge of wildlife conservation, ecology and/or biology, student applicants should have an outgoing, engaging personality and should enjoy interacting directly with people. The student should have the ability to analyze and interpret social survey results, and to summarize projects in report and presentations. Because the student will also have the opportunity to present ACLC educational programs, assist with ACLC field trips, and conduct loon monitoring field research, the ability to paddle a canoe or kayak and to swim are required for this project. As a result of working with ACLC, a student Fellow will come away with an enhanced understanding of common loon ecology and conservation, as well as exposure to field research and experience in working with a small wildlife conservation nonprofit organization.
Through fundraising, friend-raising, and grant-making, the Hudson Headwaters Health Foundation helps to further Hudson Headwaters Health Network's vital mission: "To provide the best health care, and access to that care, for everyone in our communities." The foundation works to improve the well-being of Adirondack communities through targeted investments.
To maximize the effectiveness of the foundation's internal and external granting programs, a Fellow will assist the foundation in collecting and analyzing data to prioritize opportunities that best support the strategic direction of Hudson Headwaters Health Network. The goal of the research is to ensure that the Foundation is supporting evidence-based projects that improve the health and wellbeing of the communities they serve. Specifically, the student will analyze the success and impact of Foundation grants made to date; assist a newly formed task force in building the Network's outcomes research capacity by engaging with internal and external stakeholders to identify research priorities that align with Hudson Headwaters' strategic goals and that are responsive to the community's health needs; and use patient, Network, and regional data to identify new opportunities to support programs and policies that improve community health. At the end of the project, the foundation will ask the Fellow to summarize the data in a white paper to Hudson Headwaters' leadership, identifying key funding priorities and focus areas, and present a 30-45 minute summary of this paper's findings and conclusions to the Headwaters Foundation Board of Directors.
The student will work with a number of different departments throughout Hudson Headwaters. This project is an excellent opportunity for students interested in exploring different aspects of health care. The ideal candidate enjoys working with people, has excellent communication and data analyst skills, and has a background/interest in population health and/or philanthropy. The Fellow will need to drive to various Hudson Headwaters' office and health center locations in the greater Glens Falls region, so applicants should have a drivers' license.
Located in Plattsburgh, NY, Mountain Lake PBS is a public media organization serving a vast audience in New York, Vermont, Quebec and Ontario. Mountain Lake PBS provides unique services and events to families and educators throughout the region, focused on early childhood literacy and STEAM (Science, Technology, Engineering, Arts, and Math) education, and partners with local organizations to strengthen educational opportunities and access in the Adirondacks. Mountain Lake PBS has two projects available this summer:
1. To determine what strategies will help increase membership in the markets that Mountain Lake PBS serves, a Fellow will research and analyze member databases and conduct interviews. The student will document findings and help implement creative solutions for use by the MLPBS Development department. Financial support through membership has dropped across the nation, and this affects Mountain Lake PBS as well, which has a unique membership base representing diverse demographics nationally and abroad. Research into new methods will be invaluable as MLPBS moves forward in consideration of the new media landscape and fundraising needs. At the conclusion of the data collection process, the student will create a report that documents community and professional interviews, including database analyses, and a summary of their experience in conducting this research. 
2. Inez Milholland, from Lewis, NY (Essex County) was active in the national women's suffrage movement.  In a march on Washington in 1913, she led 8,000 women down Pennsylvania Avenue to the White House to advocate for support of the Women's Suffrage Amendment, then traveled across the nation encouraging voters to support the movement.  She died shortly after that, at the age of 30. Her death became the inspiring, emotional impetus for the final push towards passage of the 19th Amendment (1919), giving women the right to vote.  PBS is planning extensive coverage, on-air and online, of the 100th anniversary of ratification of the 19th Amendment (August 18, 1920) to promote awareness and dialogue about the suffrage movement and role Milholland played in its passage. A student placed with Mountain Lake PBS will research the impact Milholland had on the suffrage movement nationally, in her hometown of Lewis, and the greater Adirondacks region, documenting findings in written and multimedia formats. Deliverables include video(s) documenting community interviews on Milholland's life and legacy, and work being done by townspeople involved in the development of Milholland's memorial in Lewis, and a written research paper that places video interviews within the context of research questions.
The mission of the Paul Smith's College Visitor Interpretive Center (VIC) is to connect outdoor recreation, experiential education and the arts, naturally.  The 3,000 acre parcel which constitutes the VIC includes over 25 miles of groomed trails through iconic Adirondack natural ecosystems.  Originally a project of New York State and completed in 1989, the VIC was specifically sited to provide easy and comfortable public access to an array of Adirondack ecosystems (e.g., boreal forest, peat bogs, marsh, and mixed hardwood and coniferous forests).  The state achieved this by constructing boardwalks and bridges across bogs, marshes and other habitats and by reducing trail grade, rocks, and roots to encourage minimal barrier nature trail enjoyment. The facility is a focal point within the Adirondack Park for activities for all age and ability levels. The VIC is dedicated to fostering connections with nature by providing experiential education programs, outdoor recreation opportunities and art exhibits focused on the natural world.
Following the transfer of the property from NY State to Paul Smith's College in January of 2011, the VIC went through several transformations that included different approaches to managing the facility.  The current team has developed a robust suite of programs focused on outdoor education, hands-on experiential programs, recreational opportunities and art exhibits.  Visitor participation in all of the programming has increased significantly in the past two years, but they have very little data on the demographics of the visiting population and the visitor experience.  
The Field School Fellow will develop a survey to measure visitor experience.  The Fellow will research relevant materials (e.g., wilderness and nature center use surveys and analysis) and, working with VIC staff, design and conduct a survey this summer.  The Fellow will conduct the survey at the facility and several offsite locations and set up a schedule for self-administered, email and mailed surveys through mid-October.  This survey will capture demographic information, length of stay, location of stay, and connection(s), if any, visitors feel to the VIC.   Housing is provided, and a driver's license is very helpful for this project. Excellent written and oral communication skills are essential, as well as the ability to work independently.  Experience in survey development and analysis is desired in applicants, as is the ability to speak with a wide variety of people.