This summer, I had the pleasure of working alongside two projects dedicated to bringing new life to their communities. One was with the Bell Tree, a community center and indoor children's play space located in Earlville, N.Y. The Bell Tree's mission is to create a safe space for children to come together in order to play, learn, and explore. They provide a space for open play, where children can come to interact and socialize with each other while engaging in creative activities. The Bell Tree also hosts different events for all ages in order to bring the community together.
My other project was with the Carol Kinne Memorial Columbus Center. In 2018, Bob Huot established a memorial for his late wife, fellow artist Carol Kinne. Bob's hope is for Carol and her work to be remembered and for the Carol Kinne Center to serve as a place where people can gather to appreciate Carol's work and engage with each other. The Carol Kinne Center also hosts occasional talks and presentations that provide opportunities to learn about varied topics. 
My work this summer was in service to these two amazing projects, though in very different ways. My work for the Bell Tree focused on their online presence and how to improve it in multiple areas. I spent time fleshing out their Instagram account before creating a guide to using the app, noting different types of Instagram posts, as well as providing suggestions for how the Bell Tree should be building and maintaining their presence. My main project was centered around refreshing and reconfiguring their website. I spent time updating and reorganizing the the information on the site as well as working to format the site to the Bell Tree's vision. I taught myself how to use and navigate WordPress and then wrote a user guide for board members who were unfamiliar with the software. My hope is that my work will prepare the Bell Tree to bolster their online presence, take advantage of the opportunities that can arise from being online, as well as build future connections with their community via the internet.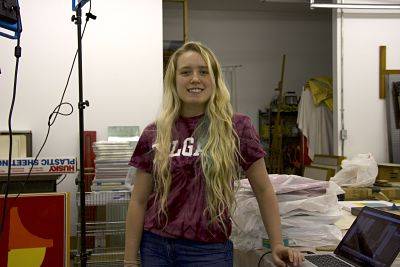 At the Carol Kinne Center, I was mostly involved in organizing Carol's work for the future. Bob's main focus with the space is memorializing his wife's work. I spent time in the studio on Carol's property photographing, documenting, and assessing the condition of her body of work. For each work I catalogued, I took note of any available information about the title, date, materials, etc, as well as assessing the condition of the work and noting any damage. I then hung and photographed each piece before carefully placing each piece in protective packing material for storage. The ultimate goal is to document and preserve Carol's work so that her artistic contributions can be enjoyed by many for years to come. During the course of this project, I learned how to use a DSLR camera and how to light and shoot artwork. I also taught myself how to use Photoshop to edit lighting and blemishes in photos. 
    
I applied to the Upstate Institute Field School this summer because I believe very strongly in giving back to the community. As a Colgate student, I think this program offers us a valuable opportunity to learn more about the community that has welcomed us, and to support organizations from the area that are dedicated to enacting positive change. Beyond enjoying my immediate, new software skills in WordPress and Photoshop, I am finishing this summer with a sense of gratitude to my project partners, pride in my work, and a greater appreciation for the upstate New York community and my personal relationships with the wonderful people I met during the course of these projects.
Submitted by Samantha Giuntini '22, one of 35 students doing community-based research this summer as a fellow in the Upstate Institute Summer Field School