The Young Scholars Liberty Partnerships Program (YSLPP) is a program established by Utica College and the Utica City School District to help increase the graduation rates and college enrollment rates of a diverse range of students. Each year, a cohort of rising seventh graders are selected to become a young scholar until they graduate from T.R. Proctor High School. To ensure the lifelong success of these middle school and high school students, YSLPP provides a variety of academic, social, and enrichment opportunities. Such activities include academic tutoring and review sessions, community service opportunities, counseling, exam prep, field trips and college visits, mentorships, and summer programs.
Sixth-grade students who have the potential to become academically successful but may not be able to due to external circumstances are chosen to become young scholars through a competitive nomination and selection process. The support young scholars receive through YSLPP's comprehensive and dedicated program prepares them to become successful professionals, who typically go on to invigorate the Mohawk Valley community. YSLPP is a multifaceted effort that relies on its connections with others in the community to achieve its goals. Partners assist with programming, funding, staffing, and internship opportunities necessary for the smooth operation of all YSLPP activities.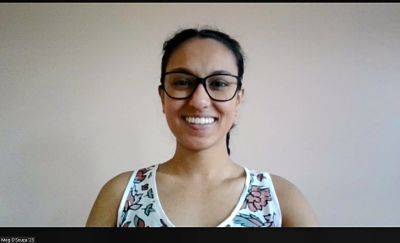 Although YSLPP provides a strong network of support for its current students, this support system dissipates after young scholars graduate high school. To expand the program's impact and truly help students find lifelong professional success, YSLPP has been looking to create an official young scholars alumni community, named the Young Scholars Alumni Society. This summer, I continued my work with helping make this community a reality.
With the aid of financial contributions from UpMobility Foundation and Community Foundation, YSLPP has been working with the developers at Common Affinity to develop an alumni networking platform. The heart of this website is the alumni database, which I helped to build by reaching out to YSLPP alumni. This database of contact information and career pathways will allow alumni to connect with and share their expertise with one another. With this website, alumni will continue to find support thanks to YSLPP, long past graduation. I also worked with Common Affinity to help develop content for the platform, such as creating forms for volunteering opportunities. I look forward to continuing working with YSLPP until August to assist with the upcoming launch of the platform, currently scheduled for this September.
This is my second summer working for YSLPP as a field school fellow after working with the organization during this past academic year as well. During this time, I have learned a lot about the diversity that exists in Utica as well as the multitude of phenomenal organizations working to support the community. My work this summer has complemented my studies as a writing and rhetoric minor and sociology major. Creating content for and forging connections with a variety of alumni has taught me to consider the ways in which the content I am creating will be viewed by different audiences. Ultimately, I hope that the Young Scholars Alumni Society will be something that appeals to all young scholars alumni and enables them to support one another. 
Submitted by Meg D'Souza '23, one of 35 students doing community-based research this summer as a fellow in the Upstate Institute Summer Field School