This summer, I am working for the Northern Forest Center, which is based out of Concord, N.H. The mission of the Northern Forest Center is "to create bold possibilities that give rise to vibrant Northern Forest communities." The Northern Forest encompasses northern Maine, New Hampshire, Vermont, and New York. The center works to strengthen communities, advance rural economies, and provide leadership in the Northern Forest. I am grateful for the opportunity to live in the Westport, N.Y., and experience the Northern Forest firsthand for a couple months while I work on both Adirondack and New Hampshire projects.
I was introduced to the Northern Forest Center in the spring 2020 semester as I conducted a comparative analysis between the Northern Forest Center's Attracting New Residents: A Strategy for Adirondack Residents and its Communities and similar national and international models under the guidance of Professor Ellen Kraly. I found that many communities around the world are facing a similar problem, in which too many young people are leaving rural areas and heading into cities.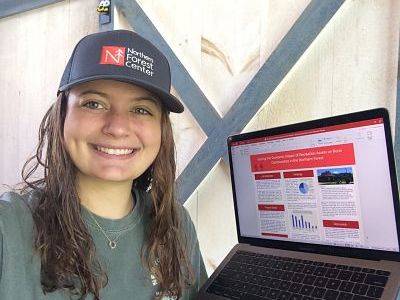 This summer, I continue to work with the Northern Forest Center on an implementation of the Attracting New Residents Strategy and a valuation of the recreation assets in rural communities within the Northern Forest. The goal of this project is to create a methodology for rural communities to use to value their recreation without needing the assistance of an expensive outside company. Ideally, this project can be recreated by other small towns with basic assistance and guidance from the Northern Forest Center.
My project focuses on Gorham, N.H., as a case study to measures the impact of recreation on the community. The goal for Gorham is to determine the income and jobs being brought into the region's economy. My work demonstrates that recreation is an essential component of the Gorham economy and that grant money put towards recreation assets would help bolster longterm community vitality.
This summer, I was able to design a survey with the help of the center's Leslie Karasin and Maura Adams and several community stakeholders. The survey was designed to produce data on how much visitors are spending while in Gorham, how residents perceived tourism, and how both groups value recreation assets. Then, I distributed it throughout Gorham both virtually and in person. I received 990 responses from a variety of individuals, including permanent residents, second-home owners, and visitors.
I analyzed the survey results to determine the total economic impact for the community in terms of income and jobs brought into the area. Additionally, I examined how the increased tourism negatively results in a housing premium or rise in housing prices and environmental problems such as a faster rates of trail degradation. This experience was a chance for me to think critically about the impacts of recreation on a community and how to balance economic prosperity with environmental health and justice.
This has been my second summer working with the Upstate Institute. I spent the summer of 2020 working with AdkAction virtually and the spring semester working with Professor Kraly to analyze work being done by the Northern Forest Center. After spending time in the Adirondacks and working both on environmental conservation and community revitalization, I am excited to go into my senior year at Colgate to complete my environmental economics and philosophy degrees. 
---
Submitted by Kelsey Bennett '22, one of 35 students doing community-based research this summer as a fellow in the Upstate Institute Summer Field School