This summer, I had the privilege of working with the National Abolition Hall of Fame and Museum (NAHOF). The organization's mission is to "honor antislavery abolitionists, their work to end slavery, and the legacy of that struggle, and strive to complete the second and ongoing abolition — the moral conviction to end racism."
NAHOF works to fulfill its mission by organizing educational programming on abolitionists, anti-racism, local history, and civil rights. The organization consistently brings in expert speakers to give presentations on various topics pertaining to history and anti-racism work. Likewise, the organization's physical space, located on the top floor of the Smithfield Community Center, welcomes visitors interested in learning more about abolitionist history. NAHOF serves the local community by providing spaces for learning and engagement. However, part of my project's responsibility this summer was to help NAHOF expand its reach to serve any interested individual, regardless of location, by making educational programs available online.
This summer, I had two main projects — the first project consisted of archiving and digitizing all Peterboro Heritage Events that NAHOF had in storage. The archiving process would help NAHOF fulfill its archiving requirements as a nonprofit. The digitization process allows NAHOF to have educational videos easily accessible online as a resource. The onset of COVID-19 made NAHOF aware that it needed to provide ease of access to its educational resources online if someone could not visit the museum in person. This includes providing subtitles for the programs, editing the raw footage for better viewing, and finding an accessible place to store them online. I completed the full digitization of 70 programs and then transcribed and edited several of them.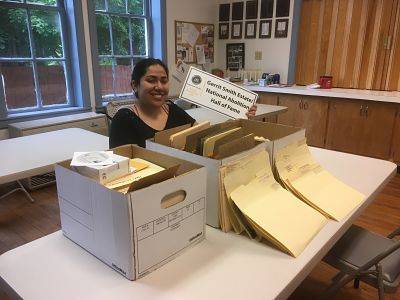 The second project I undertook consisted of reaching out to potential presenters for the Black History Matters 2022 program, premiering in February. In my time as an Upstate Institute fellow for NAHOF this past year, I organized, recorded, and edited the video programs for the Black History Matters 2021 program. The program met with much success, and I was asked to begin preparations for the second installment. I have now produced a draft list of presenters and am constantly conversing with several as we finalize presentation topics and schedules. Both of these projects will have lasting effects. They will help NAHOF with its organization, produce new content to keep the public engaged with abolitionist history, make it easier to provide students and scholars with educational resources online, and ensure that previous programs are maximized.
I am very grateful for the opportunity to have worked with NAHOF and the Gerrit Smith Estate as a field fellow. My time as a fellow was fundamental to forming my future career aspirations during the past year. Because of my internship as a field fellow with NAHOF in the fall of 2020, I decided to pursue a history degree in grad school. At NAHOF, I discovered the power that history has to influence people, especially regarding ideas about race and social justice.
Likewise, it was the first time I combined my history education with my multi-media skills to produce educational content that could make a difference. I met historians, volunteers, local organizers, and Smithfield residents who all shaped the way I thought about history and the role education plays in shaping people's lives. Many residents saw NAHOF and the Gerrit Smith Estate as part of their history and central to their community. Their enthusiasm for Smithfield and Peterboro's history led me to become interested in upstate New York history my last year at Colgate. I decided to maximize this newfound interest through the Davis Projects for Peace fellowship, which I am completing this summer. My project, funded by the fellowship, will highlight Black American history in upstate New York.
Even after completing all projects this summer, my time with NAHOF will continue. I have the privilege to serve on NAHOF's Cabinet of Freedom and was recently awarded a lifetime membership to the organization. I hope to use my newfound skills in my graduate studies to help NAHOF expand its research capacity and connections with the local community, students, and researchers alike.
Submitted by Victoria Basulto '21, one of 35 students doing community-based research this summer as a Fellow in the Upstate Institute Summer Field School