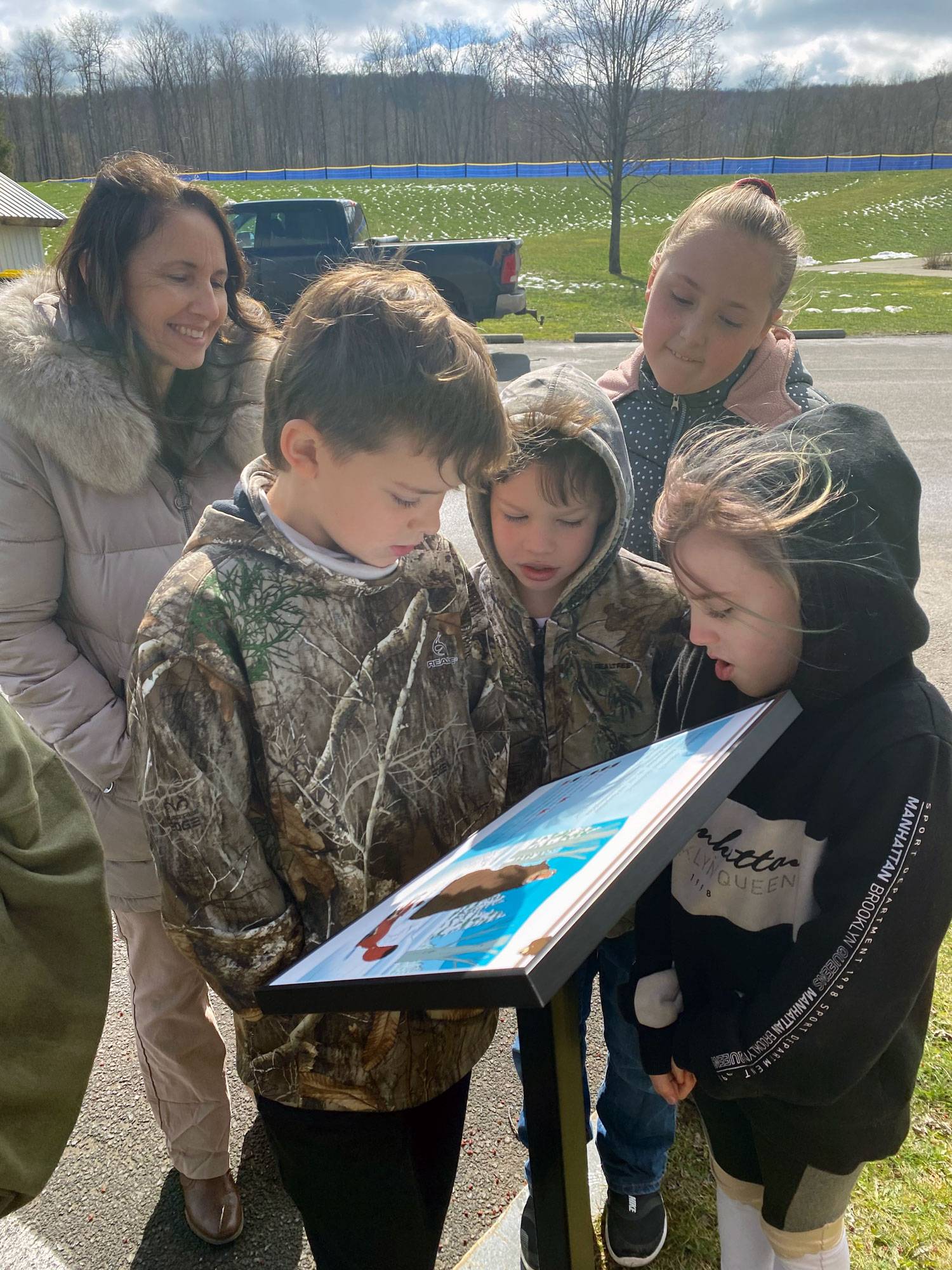 In a cooperative effort to bring Haudenosaunee culture to life for younger generations, the Oneida Indian Nation partnered with Colgate University's Longyear Museum of Anthropology and the Picker Art Gallery to produce large outdoor reading stations, known as a Story Walk. These reading stations will utilize one of the Nation's language-learning children's books, The Legend of How the Bear Lost His Tail. The Story Walk is intended to promote reading and physical activity in young children. Each page from the book has been made into a temporary sign that serves as a 'stop and read' station to encourage children to keep reading by walking to the next station.
The Story Walk was installed at Brookfield Central School in Madison County on April 22. 5th, 4th and 2nd graders at the school will be able to read the story and learn to pronounce several Onyota'a:ká (Oneida) words by completing the Story Walk. While it has been designed for elementary students, the stations will be accessible to visitors as well.
"Unique, collaborative partnerships like this have made Haudenosaunee and Oneida culture easily accessible to all in our region," Oneida Indian Nation Representative Ray Halbritter said. "We are happy Colgate University is bringing this Story Walk program to local schools in Madison County that will introduce one significant area of our culture — legends and storytelling — to a new generation."
"We are grateful that the Oneida Indian Nation has given us this opportunity to share this story with the students of Brookfield Elementary," Njeri Jennings, Assistant Educator for the University Museums at Colgate said. "This project not only helps us expand our outreach efforts, but also allows us to bring the Oneida Indian Nation's culture to young students in the area."
The Legend of How the Bear Lost His Tail is part of a series of books for Oneida language learning and preservation produced in collaboration with Madison-Oneida BOCES. Through this partnership, the Oneida Indian Nation has been able to make learning materials about Oneida culture and heritage available for the greater community.
The Story Walk will next be installed at Shako:wi Cultural Center in time for the Colgate University Teacher Advisory Council's tour of the facility on May 11. The Council, a group of pre-service and in-service teachers and educators from the area, will tour Shako:wi Cultural Center to gain further insights on how Oneida Indian Nation history and culture can be centered in P-12 curriculum. The visit will correspond with the year-long project in decolonizing education for teacher candidates.
This Story Walk project is made possible in part by the Institute of Museum and Library Science (IMLS) as part of the Museum Association of New York (MANY) Building Capacity Project. For two years, the University Museums at Colgate (Longyear Museum of Anthropology & Picker Art Gallery) and Colgate University Teacher Preparation Program worked to expand the way we tell stories and educate.
Programs like this present an opportunity to incorporate diverse educational resources into lesson plans that will serve to benefit children of all ages.
The Oneida Indian Nation, Colgate University and Madison County look forward to offering the Story Walk to elementary schools that would like to participate in this project.