During the summer, Colgate students are applying their liberal arts know-how in a variety of real-world settings, and they are keeping our community posted on their progress. Environmental geography major Thomas Butler '24, from Chagrin Falls, Ohio, describes his historical and geographical research on how perceptions of weather in upstate New York have changed over time.
This summer, I am researching weather valuation, specifically how people's ideas about weather have changed (or remained constant) after the automobile was popularized in rural upstate New York. My question ultimately seeks to examine if valuation of weather is unchanging, or if historical and technological developments influence societal attitudes. 
I conducted the majority of my research using the Rhoades Family Diaries, housed in Colgate's Special Collections and University Archives, and various other historical documents. Through close examination of these texts, I am hoping to determine the degree of influence that the introduction of the automobile, and the parallel improvement of roads had on people's weather preferences. 
Before the early 20th century, local travel was done either on foot or by horse and carriage (or horse and sleigh, when snow permitted). If citizens wished to travel outside their local communities, they used railways. 
One common misconception about pre-automobile winters in upstate New York is that the winter was the best season for travel because the cold could cause the unsurfaced, muddy roads to freeze and provide a hard and often low friction surface for sleighing. However, as locals know, temperatures plunge below zero frequently during the winter, making outside activities uncomfortable or nearly impossible. In addition to this, rain and inconsistent winter temperatures also complicate travel and contribute to poor road conditions.
The Rhoades Family, which purchased its first automobile in 1912, mainly resided on a large farm near Hubbardsville, and from 1843 to 1936, at least one member of the family kept a diary. Both male and female diarists noted the weather nearly every day, and otherwise gave a fairly detailed composite of daily life for the average farming family.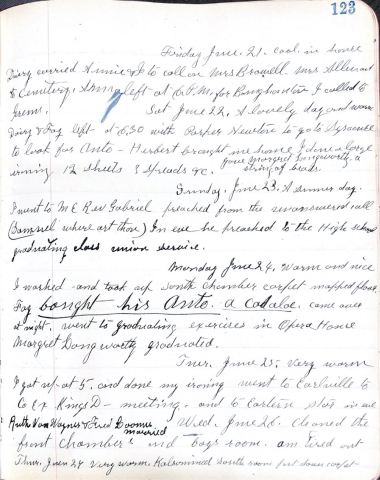 Thus far, my research has revealed some preliminary conclusions. Weather valuation seems to vary individually by gender, age, proximate physical geography, as well as other factors.
On December 14, 1907, Lena Rhoades wrote: "Lot of snow. Begun about 8 A.M. and snowed and blowed all day. Daisy went to Utica on early train. Had a horrid day. I knit on Herbert stocking finished one." 
As is made evident by this entry Lena (an aging woman) decides to stay inside and knit for her grandson, while her daughter-in-law makes the trek to Utica.
Moreover, there was commonly a dual perception of winter, as people thought of winter as a festive time with unique and enjoyable activities, like sleighing ("Very cold and just enough snow for sleighing here in village." Lena Rhoades, January 4, 1912), but also the most difficult season to experience due to extremely cold bouts ("Cold. When will it ever warm up?" Lena Rhoades, January 13, 1910).
Although I have uncovered much throughout my preliminary research, more digging into the topic should be done in order to further investigate and expand upon my conclusions. If intriguing results emerge, I hope to present my findings at conferences this fall, and also possibly use this research as a starting point for a senior honors thesis in environmental geography.