This year's Colgate's Constitution Day Debate focused on the constitutionality of the administrative state. It also served as an example of how those on opposing sides may disagree, but still keep their arguments constructive and respectful.
Debate moderator and Professor of Political Science Stanley Brubaker praised the speakers — Gary Lawson, Philip S. Beck Professor of law at Boston University, and Julian Davis Mortenson, James G. Phillipp Professor of law at the University of Michigan — for showing the audience how to debate while maintaining humor and friendship.
"Surely, there can be no better way to celebrate Constitution Day than a debate such as this," Brubaker says. "We hope to show people how to have a civilized, spirited debate, and I can't imagine a better example than we had here today."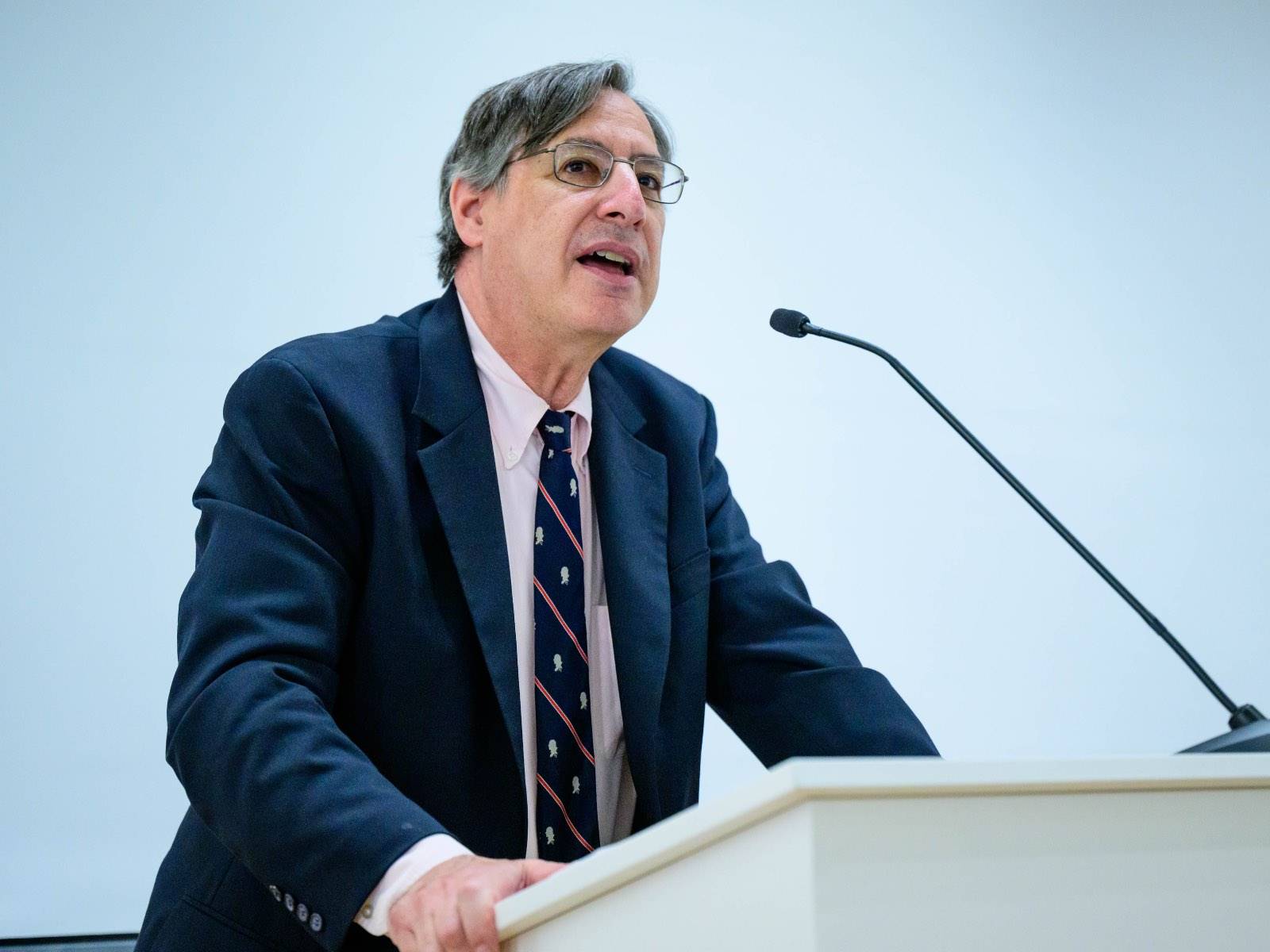 "Is the Administrative State Constitutional?" was the title of the Sept. 13 debate, sponsored by Colgate's Forum on Constitutional Government and the Center for Freedom and Western Civilization. Characterized by broad delegations of policy making authority by Congress to independent agencies, whose "experts" often combine legislative and judicial functions, "the administrative state," Brubaker observed in his introduction, "raises serious questions about our capacity for self-government." 
Mortenson referred to the Constitution as a "radically empowering document" which allows for federal agencies to be delegated the authority to perform valuable government functions, such as administering federal social services programs and enacting regulations related to health and safety. He argued that history demonstrated the federal government from the very start was "delegating things all the time," with little to no complaint.
"The practice before the Constitution was adopted, and the practice after the Constitution was adopted, represents a late 18th-century Anglo-American world that's utterly awash in delegations," Mortenson says. 
Lawson countered that the Constitution gives no power to these administrative agencies.
"The Constitution vests executive power in the president, but it doesn't create any administrative agencies, much less grant them any power," Lawson says. "It assumes they will show up—that there will be a treasury and officers and departments—but it doesn't create any of those things. Every single scrap of the executive branch below the president and vice president has to be created."
After a question-and-answer session following the debate, Mortenson had some final words for the audience about the importance of Constitution Day, which he described as celebrating the group project of trying to live together with people of very different backgrounds, identities, commitments, and interests — and the recognition of our common humanity. He also remarked on his many positive interactions with Prof. Lawson over the years, despite their opposing viewpoints, and emphasized the importance of remembering the basic idea of working together when the political stakes are high and around hot-button issues.
"If you can do your best to reach across boundaries and engage with people you disagree with, that's a pretty good message for Constitution Day," he said.
Constitution Day brings to campus seasoned experts in their fields to debate topics facing the nation as a way to celebrate the national holiday and to encourage informed discourse among students. Since 2005, Colgate has celebrated the holiday with a debate on a variety of constitutional issues. Recent topics have included abortion, affirmative action in college admissions, NSA surveillance, and free speech vs. hate speech. Pocket-sized copies of the Constitution and a handout outlining the structure of the administrative state were also provided for those attending the debate. 
Listen to a full recording of the debate here and read more about the 2023 Colgate Constitution Day speakers below:
Professor Lawson, a summa cum laude graduate of Claremont Men's College and Yale Law School, has authored or co-authored nine editions of a textbook on administrative law, a textbook on constitutional law, five university press books, and more than 100 scholarly articles on topics ranging from aspects of constitutional theory and history to the proof of legal propositions. His works have been cited in 21 opinions of United States Supreme Court Justices. He clerked twice for Justice Antonin Scalia, first at the Court of Appeals for the District of Columbia Circuit and then at the United States Supreme Court. He is also a founding member and serves on the Board of Directors of the Federalist Society for Law and Public Policy Studies. Lawson is also a member of the Editorial Advisory Board of the Heritage Guide to the Constitution.
Professor Mortenson, a summa cum laude graduate of Harvard College and salutatorian of his class at Stanford Law School, is an engaged scholar and award-winning teacher. He served as law clerk for Supreme Court Justice David H. Souter and Judge J. Harvie Wilkinson III of the Fourth Circuit Court of Appeals. He is co-author of Foundation Press's new casebook in constitutional law and is currently working on a comprehensive account of presidential power at the American founding with a book under contract with Harvard University Press. Mortenson is also an active litigator, working, among other causes, to secure the rights of same-sex couples, to facilitate gun control, and to secure the rights of Guantanamo detainees to challenge their incarceration. His recent Columbia Law Review article, co-authored with Nicholas Bagley, "Delegation at the Founding," mounted an originalist defense of the administrative state and ignited a firestorm of debate within the legal academy.