Colgate's new athletics facility, opening in October 2016, will be named the Class of 1965 Arena, thanks to a record-setting gift from the university's 50th anniversary graduates.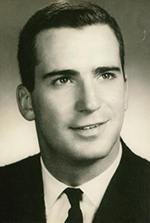 Class members — led by gift chair Jim Himoff, Peter Desnoes, Peter Kellner, John McGonagle, and Robert Forster — offered more than $22 million in support for Colgate to mark their reunion this spring. Their generosity also ensured that Colgate hockey's home ice, located inside the arena, would be known as the Steven J. Riggs '65 Rink, in memory of classmate Steve Riggs, killed in Vietnam in 1968. Riggs was team captain and was inducted posthumously into the Colgate Athletics Hall of Honor.
While preparing for Reunion 2015, the Class of 1965 set three goals: to have the largest class turnout, the best program and meals, and one of the largest class gifts in university history. They accomplished all three of those goals.
Attendance topped out at 125 — nearly 50 percent of living classmates — far surpassing Colgate's average 50th Reunion class attendance of 84. Members invested heavily in the quality of their program events and fare, and a remarkable 80 percent of the class participated in the gift giving, propelling '65 into second place in the record books.
During a luncheon on May 30, members of the Class of '65 signed a beam that will be used in the construction of the arena. Steve Riggs Jr., son of First Lieutenant Steven J. Riggs Sr. and an honorary member of the Class of 1965, was one of those who picked up a pen.
Creating a memorable 50th gift, the Class of '65 built on its record-breaking 25th anniversary performance. Back in 1990, the university had committed to renovating Starr Rink as its men's squad skated into the NCAA playoffs and finished number two in the country. The Class of '65 kicked in with the largest silver anniversary gift seen at that time and named the men's hockey locker room in memory of Riggs.
"Twenty-five years later, we were planning for our 50th, and there on the board were plans for a new hockey rink," said class president Lee Woltman '65. "I was dreaming about naming a major portion of the building for Steve Riggs. Not only were we able to name the hockey rink — we've been able to name the whole building. My classmates and I are absolutely giddy at leaving that kind of legacy on campus for the Class of 1965."