Colgate's Leadership tradition, 200 years in the making, was on full display last weekend as alumni, parents, students, faculty, staff, and friends gathered for a series of celebratory events on campus.
The Kerschner Family Series Global Leaders at Colgate provided the weekend's keynote, featuring former defense secretary and CIA director Leon Panetta. The series is one way in which Colgate engages with the world and introduces students — future leaders — to pivotal international figures. Panetta described his path to leadership and outlined the challenges facing America today.
"I really do believe that the United States can go in one of two directions," Panetta said to the audience packing Colgate Memorial Chapel on Friday night. "One path could be an America in renaissance in the 21st century. The other path is an America in decline, in constant chaos."
A rising America would feature a strong economy, driven by creativity and innovation. It would be populated by citizens with an appreciation for national service, and it would represent its values through leadership abroad.
A declining America would lurch from crisis to crisis, "divided by our hates and our fears and prejudices, unwilling to work together, unwilling to face the truth, frustrated by political gridlock, unable to protect our most basic freedoms," Panetta said.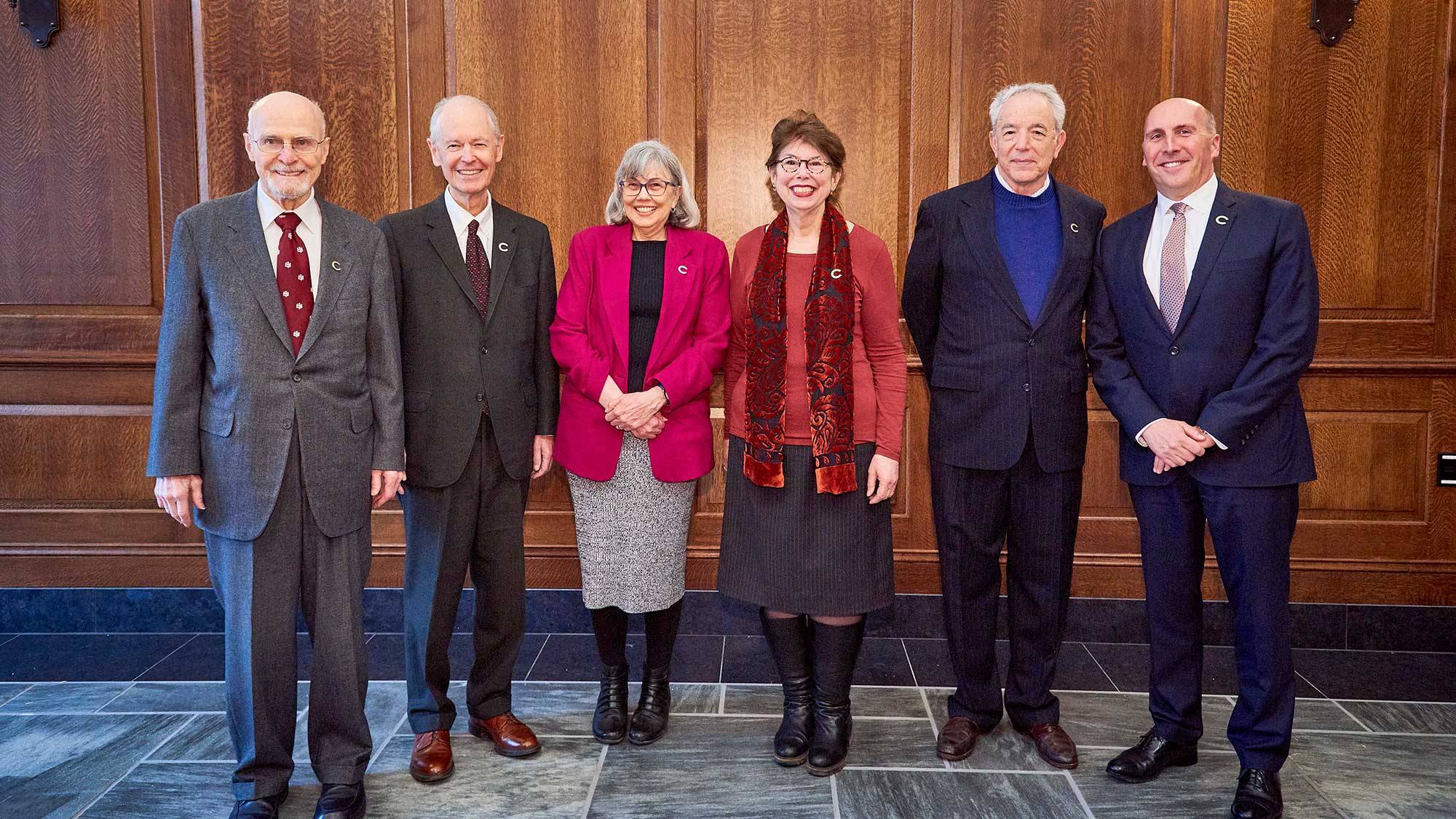 Panetta acknowledged the discord in Washington, D.C., but asserted that, "somehow we have always risen to the occasion because the fundamental strength resides in us."
Following the lecture, Assistant Professor of Political Science Danielle Lupton asked Panetta to talk about the balance between morality and national security, between technological progress and social responsibility. She also asked the co-founder of the Panetta Institute to advise students on how best to enter public life.
"Do something that will give you the experience of seeing something up close," Panetta said. "See how our system works or fails. There's an excitement to Washington when you're working on Capitol Hill."
Earlier in the afternoon, while Panetta met for discussion and dinner with students and faculty in Benton Hall, Colgate presidents past and present gathered in Love Auditorium to reflect on leadership at the University.
The panel included President Brian W. Casey, alongside former presidents Charles Karelis, Neil R. Grabois, and Thomas Alva Bartlett. Moderators were former interim presidents Jill Harsin, Thomas A. Bartlett Chair and professor of history, and Jane Pinchin, Thomas A. Bartlett Chair and professor of English emerita. Two additional presidents — Rebecca Chopp and Jeffrey Herbst — weighed in via video message.
During his tenure, Bartlett saw the impact of the Vietnam War on campus life, the need to develop Colgate's endowment, and the introduction of coeducation. "One of my joys was seeing how the Colgate community dealt with these issues in ways that didn't let one get in the way of the other," Bartlett said. "All were done in a way that ended up strengthening the institution."
Casey noted that a great joy of the presidency is "to allow the story of the institution to develop. You are responsible for the narrative of the institution and responsible for the story of Colgate."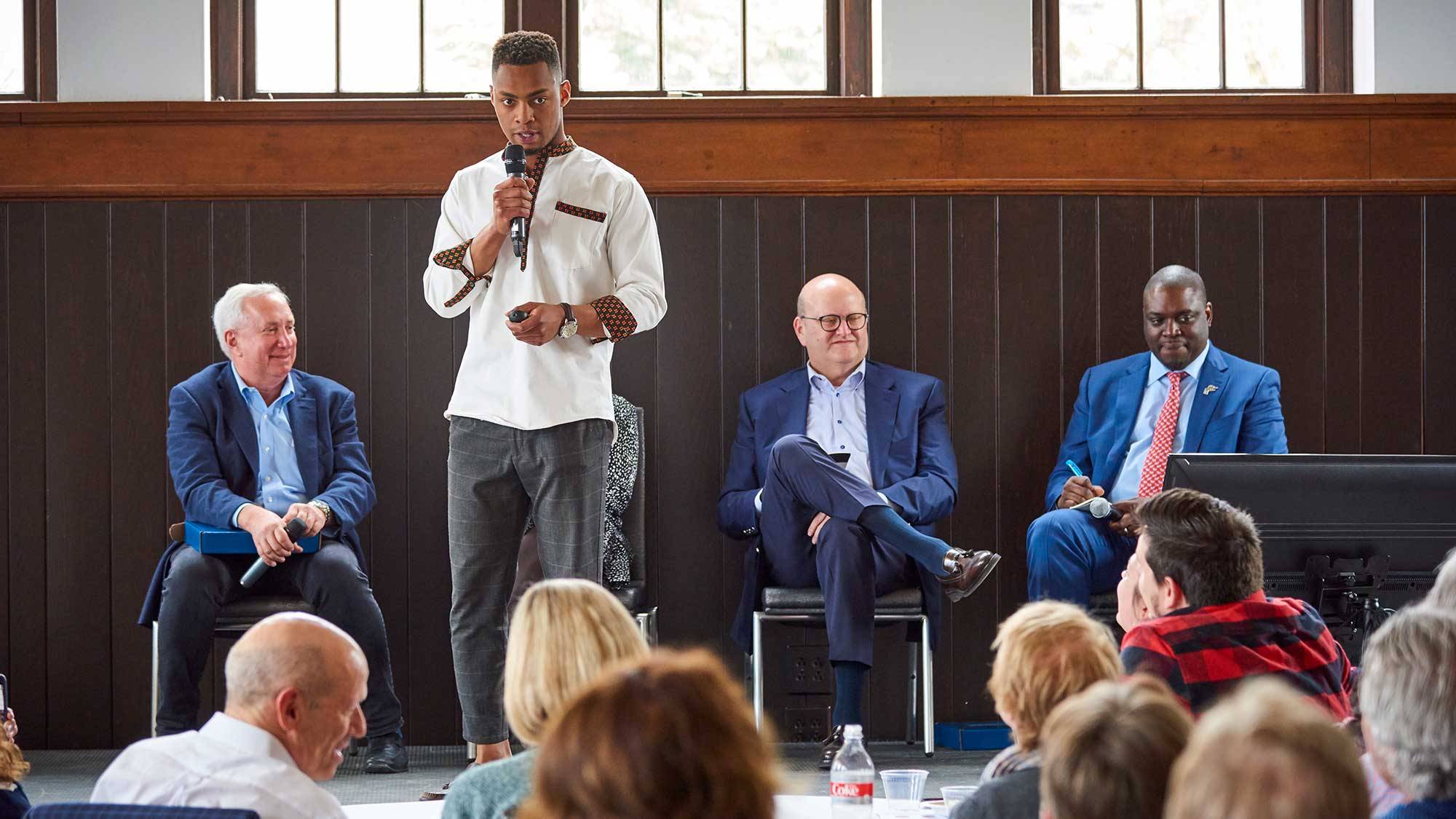 Alongside conversations about global and campus leadership, the community also celebrated Colgate's ambitions to lead in the arts and in entrepreneurship. The weekend's calendar included numerous performances, museum tours, and a panel conversation featuring Colgate community members in the arts.
Participants in the Thought Into Action incubator pitched their ventures to potential investors on Saturday, and Colgate's Alumni Council recognized Robert Johnson '94 as Entrepreneur of the Year, with the award to be conferred officially during reunion this May.
Demonstrating leadership on the field — and rounding out the weekend's packed agenda — women's lacrosse dominated Lehigh in a 16–4 victory at Beyer-Small '76 Field on Saturday.