My Colgate Journey: Madison Heggins '20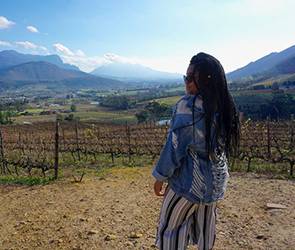 I have had some amazing adventures at Colgate. The summer before my sophomore year, I had the opportunity to leave the country for the first time and travel around Russia, Germany, France, and Belgium. I ate new food, learned about European history, and made new friends. It was the first time I had ever traveled, and it opened my eyes to a whole new world of possibility. It was an incredible experience — one that made me think about the ways I interact with the world around me, made me long for a chance to spend more time in other cultures, and inspired me to study abroad for an entire year.
My junior year, I decided to study abroad in Cape Town, South Africa, in the fall and London, England, in the spring. I was sure that these two very different places would provide the same remarkable experiences as my first trip. I was right.
Opportunities like mine are possible because of wonderful professors who believe in their students and generous donors who believe in the mission of the University. Thank you so much for your support and for continuing to help students like me.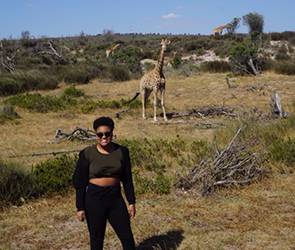 I spent four months in Cape Town — that seemed much too short. It flew by in flashes of beaches, mountains, safaris, and friends. I grew incredibly close to my study group. We chatted about the works of South African authors, ate Ethiopian food, and stood on top of mountains, gazing at the water. I remember turning to my friends and remarking, on more than one occasion, how lucky we were. We are lucky to go to a school like Colgate; a school that pushes us to try new things, to go abroad, and to learn. Colgate — its faculty, staff, alumni, and families — wanted us to come back different. To come back so changed, that we could enact our own change back home. When we returned to the airport, four months after our initial arrival, I remember my heavy luggage and the line to get through security, but mostly I remember what it felt like to leave. It felt like leaving home.
London was no different. I read medieval works and attended plays every week. I sat in pubs and chatted with my friends. I ate a lot. I traveled beyond the city. I danced around castles in Wales, sat on the beach in Spain, and walked along rocky roads and crowded sidewalks in the Netherlands. I wrote poetry and read and, once again, thought about how lucky I was. The museums, movies, parks, politics: I felt so grateful that Colgate helped me to experience them all.
From never having stepped out of the country to doing more traveling and studying in the past few years than I ever thought possible, I have found myself incredibly changed. I feel more thoughtful and self-aware. As an English major, I have become a better writer. I became a better daughter and friend. As a senior, I have found myself so sad at the thought of leaving this school. It has given me friendships, support, education, and opportunity. I know that, when graduation comes, it won't feel like leaving school. Once again, it will feel like leaving family. But perhaps the best part about this, about leaving a home like Colgate, is that in time I can give back to it in the same way that thousands of alumni donors do every year.
- Madison Heggins '20