Colgate has a unique tie to the life and work of the famous Soviet photographer Yevgeny Khaldei, whose images of WWII and its aftermath defined that history for generations of viewers.
About Khaldei
Yevgeny Khaldei, 1917–1997, captured half a century of striking images of Soviet history. One of the most famous photographers of World War II, he covered that conflict from its opening hours in the far north through to the taking of Berlin and eventually the Nuremberg Trials.
In 1948, he lost his job, either because of the post-war frenzy of antisemitism which began in that year and continued until Stalin's death, or because he was an admirer of Tito, who had broken with Stalin: either reason would have sufficed. He slipped into obscurity.
For years, his photographs were reproduced in Russia and in the west without his name on them. In 1995, 50 years after the war's end, he began to be exhibited again in Europe and the United States.
Connection to Colgate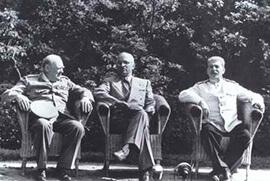 In the 1990s, Khaldei worked together with Colgate professors Alice and Alexander Nakhimovsky and held the first U.S. exhibition of his work at Colgate. He went on to present further exhibitions in New York, San Francisco, and elsewhere.
Khaldei also worked with the Nakhimovskys on compiling a retrospective of his work,Witness to History: The Photographs of Yevgeny Khaldei (Aperture, 1997). He died just before the publication of that book and before the completion of a film about his life and work.
During his two visits to Colgate, Khaldei was very taken with the students he met, and he made an extremely generous donation of photographs to the university. Some of our collection is on display outside the Russian and Eurasian Studies Department in Lawrence Hall, while most of the collection is held in Colgate's Picker Art Gallery.