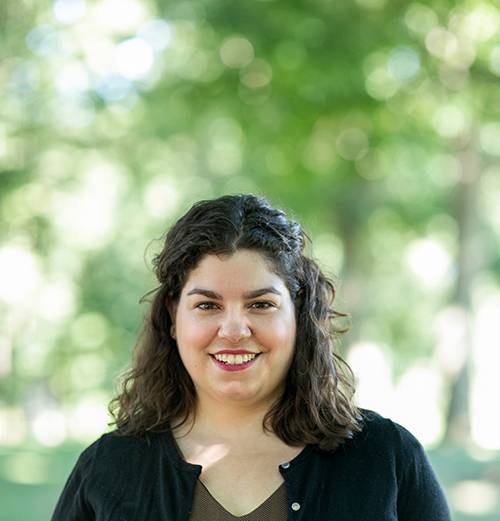 Monica Mercado
Assistant Professor of History
Department/Office Information
History
Monica Mercado is Assistant Professor of History, affiliated with Colgate's programs in Women's Studies and Museum Studies. 
Her research centers women, girlhoods, and religion in nineteenth- and twentieth-century North American history and explores the role of women's, gender, and sexuality studies in public history and collections projects. This work has been supported by the Women's Studies in Religion program at Harvard Divinity School, the Cushwa Center for the Study of American Catholicism at the University of Notre Dame, the National Endowment for the Humanities, the Council for Library and Information Resources (CLIR), and Colgate's Upstate Institute.
Prior to coming to Colgate, Professor Mercado taught at Bryn Mawr College, where, as Director of the Greenfield Digital Center for the History of Women's Education, she helped develop the collections portal "College Women: Documenting the History of Women in Higher Education." 
She was recently profiled for "History in Action During the Pandemic," published in the Spring 2021 issue of Colgate Magazine.
My first book, Girlhood and the Making of Nineteenth-Century American Catholicism, in progress, argues for the centrality of young women's narratives in U.S. Catholic history. I have also worked to document the visual culture of Puerto Rican Catholic childhoods in mid-20th century New York City, and am working on a set of articles that explores the visual and material culture of Catholic women's institutions.
As Americans marked the 2020 centennial of the Nineteenth Amendment, I have been engaged in speaking and writing projects that assess women's history in New York museums, archives, and monuments, and the intersection of women's and gender history with rapid response collecting initiatives.
Journal Articles
"Postcards from the Convent," Material Religion 17.5 (December 2021). doi.org/10.1080/17432200.2021.1982245
"In Conversation: eBay Method and the Study of Religion," with Alyssa Maldonado-Estrada, James Bielo, and Kate Dugan, Material Religion 17.5 (December 2021). doi.org/10.1080/17432200.2021.1982228
"The Politics of Women's History: Collecting for the Centennial of Women's Suffrage in New York State," Collections: A Journal for Museums and Archives Professionals 14.3 (Summer 2018): 331-350.
"'Have You Ever Read?': Imagining Women, Bibles, and Religious Print in Nineteenth-Century America," U.S. Catholic Historian 31.3 (Summer 2013): 1-21.
Book Chapters
"Putting Women on a Pedestal: Monument Debates in the Era of the Suffrage Centennial," in Suffrage at 100: Women in American Politics Since 1920, eds. Stacie Taranto and Leandra Zarnow (Baltimore: Johns Hopkins University Press, 2020), 395-412.
"Religion, Race, and Sexuality," in The Oxford Handbook of Religion and Race in American History, eds. Kathryn Gin Lum and Paul Harvey (Oxford University Press, 2018), 96-109.
Online Publications / Digital History
"Loretto Academy (Nerinx, KY)," Empty Places series, American Religion journal (2020)
"Summer Camp: American Religion and Recreation in the Great Outdoors," The Anxious Bench (2019)
"Taking Stock of Gender History at AHA19," AHA Perspectives Daily, American Historical Association (2019)
"Mapping the Women of Evangelical Gotham," review of Kyle B. Roberts, Evangelical Gotham: Religion and the Making of New York City, 1783-1860 (University of Chicago Press, 2016) for Religion in American History (2017)
Exhibition Catalogue
'On Equal Terms' -- Educating Women at the University of Chicago, co-authored with Katherine Turk (Chicago: University of Chicago Library, 2009)
Recent Book Reviews
A Saint of Our Own: How the Quest for a Holy Hero Helped Catholics Become American by Kathleen Sprows Cummings. Journal of American History 107.2 (September 2020): 507-508. doi.org/10.1093/jahist/jaaa220
Elizabeth Seton: American Saint by Catherine O'Donnell. Journal of the Early Republic 40.3 (Fall 2020): 569-572. doi.org/10.1353/jer.2020.0077
Additional reviews in The Hudson River Valley Review, American Catholic Studies, The Journal of Religion, New York History, and Western Historical Quarterly.
HIST 199 History Workshop  
HIST 211 Women's Rights in U.S. History  
HIST 213 Women in the City 
HIST 304 Sex and Sexualities in U.S. History 
HIST 313 Upstate History
HIST 400 Thematic Seminar in Gender History
CORE 152 Challenges of Modernity
BA, Barnard College
AM/PhD, University of Chicago 
Research Associate and Visiting Assistant Professor of North American Religions, Women's Studies in Religion Program, Harvard Divinity School (2019-2020)
National Endowment for the Humanities Summer Stipend (2019) 
Mother Theodore Guerin Research Grant, University of Notre Dame Cushwa Center for the Study of American Catholicism (2019)
Upstate Institute faculty research fellowship for "Women at the Catholic Summer School of America, 1891-1911," Colgate University (2018)
Bicentennial Projects grant for teaching and learning, "Coeducation comes to Colgate: Campus History as U.S. Women's History," Colgate University (2017)
Council on Library and Information Resources Postdoctoral Fellow, Bryn Mawr College (2014-2016)
Junior Fellowship, Martin Marty Center for the Advanced Study of Religion, University of Chicago Divinity School (2013-2014)
Dissertation Fellowship, Center for the Study of Gender and Sexuality, University of Chicago (2012-2013)