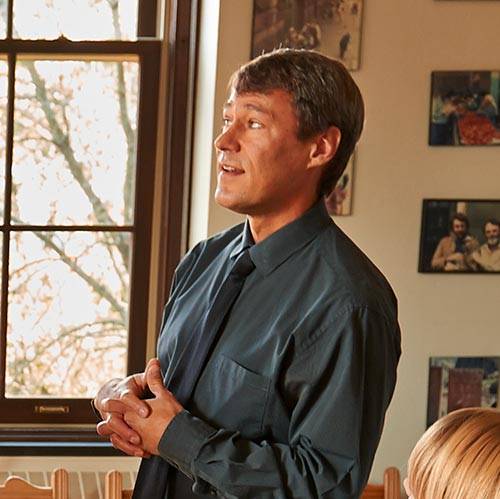 Ian Helfant
Professor of Russian and Eurasian Studies and Environmental Studies
At Colgate since 1998, I've been fortunate to combine my two passions of Russia and the environment through a joint position in Russian and Eurasian Studies and Environmental Studies since 2014. I teach all levels of the Russian language, a 19th-century literature course "Lust, Murder, Redemption," Core Russia, and ENST courses including the junior seminar and a humanities class that explores the dilemmas we face as societies and individually in choosing to eat or avoid meat entitled "Hunting, Eating, Vegetarianism."  
In addition to the many months I've spent on my own in Russia, I've led two semester-long Colgate Study Groups to Moscow.   In spring 2014, Associate Professor of Geography Jessica Graybill and I co-led a group of twenty students on a three-week Extended Study trip to explore the changing capital cities of Russia and Kazakhstan. Here you can see my own collection of photographs of Russia, and here are pictures and videos taken during the 2014 Extended Study.  Closer to home I offered my Hunting, Eating, Vegetarianism class in 2014 and 2015 as a Sophomore Residential Seminar, and the students and I traveled together for a week to Austin, TX, to explore the "Emerald City's" progressive food culture as represented in this GIS storymap.
My first book on gambling in 19th-century Russia came out with Northwestern University Press in 2002. After that came publications on the ways that risks taken by men -- including gambling and dueling -- affected the women in their lives. I then shifted into exploring ecocritical approaches to Russian literature and hunting as a theme in 19th-century Russian culture with an article about the proto-ecological consciousness of the Russian bird-hunter and ornithologist Sergei Aksakov (the Russian Audubon).  My second book, published in 2018, explores the significance of wolves in pre-revolutionary Russia utilizing the perspectives of cultural studies, ecocriticism,and human-animal studies. It examines the ways in which hunters, writers, conservationists, members of animal protection societies, scientists, doctors, government officials and others contested Russia's "Wolf Problem" and the particular threat posed by rabid wolves. It elucidates the ways in which wolves became intertwined with Russian identity both domestically and abroad.  Here's a video of a lecture I gave on the book for Colgate's Arts and Humanities Colloquium in Spring 2018.  

Like many Colgate faculty, I've become involved in administrative and other tasks as well as teaching. I was a founding member of Colgate's Sustainability Council and served as its chair from 2005-2010 and 2015-16, I chaired the Russian department from 2006-2012, I served as associate dean of the faculty from 2009-2012. and I'm currently serving as Director of the Environmental Studies Program.   I'm also a past president of the North American Pushkin Society.

In our spare time, my wife, Astrid, and I like to run, bicycle, hike, and climb mountains, although our twin 15-year-old sons, Skye and Aidan, take up a lot of our extra energy. I also bow hunt to provide venison for my family, and -- after taking up beekeeping in 2012 -- serve as the faculty advisor to Colgate's beekeeping club.  You can see some of my nature photography here.  
BA (1986), MA (1992), PhD (1997), Harvard University
Books
Articles 
"That Savage Gaze: The Contested Portrayal of Wolves in Nineteenth-century Russian Culture," in J. Costlow and A. Nelson, Eds., Other Animals: Beyond the Human in Russian Culture and History (Univ. of Pittsburgh P, 2010): 63-76.
"Getting Going: Colgate University's Sustainability Path," Sustainability: The Journal of Record 2.3 (June 2009): 129-30.
"S. T. Aksakov: The Ambivalent Proto-Ecological Consciousness of a Nineteenth-Century Russian Hunter," Interdisciplinary Studies in Literature and Environment 13.2 (Summer 2006): 57-71.
"His to Stake, Hers to Lose: Woman and the Male Gambling Culture of Nineteenth-Century Russia," The Russian Review 62.2 (2003): 223-42.
"Complicity and the Canon: Rostopchina's "The Duel"," Slavic and East European Journal 46.2 (2002): 235-51.
Aleksandr Nikolaevich Veselovskii, "Istoricheskaia poetika (A Historical Poetics): Chapter 1, Section 8," New Literary History 32 (2001): 409-28 (translation).
"Pushkin's Ironic Performances as a Gambler," Slavic Review 58.2 (Summer 1999): 371-92.
"Gambling Practices and the (Dis)honorable Acts of Lermontov's Maskarad," Romantic Russia 2 (1998): 125-43.
"Sculpting a Persona: The Path from Pushkin's Caucasian Journal to Puteshestvie v Arzrum," The Russian Review 56 (July 1997): 366-82.
Cultural studies, ecocriticism, autobiographical genres, institutions of risk-taking and their literary representation, animal studies, and gender studies.
Colgate University Associate Faculty Research Leave (Spring 2017)
iPad Pilot Project "Exploring Authoritarian Capital Cities of Eurasia Digitally" (co-recipient with J. Graybill, May 2014)
Mellon Teaching and Technology Grant "Across the Global Curriculum: Integrating Foreign Languages, Core Components, and Area Studies through Digital Technologies" (co-recipient with J. Crespi and J. Graybill, 2013-14)
Colgate University Discretionary Grant for one month of research in Petersburg, Russia (Summer 2014)
Colgate University Major Grant for one month of research in Petersburg, Russia (Summer 2012)
Colgate University Major Grant for one month of research in Petersburg, Russia (Summer 2006)
USIA/ACTR Research Scholar affiliated with Pushkinskii Dom in Petersburg Feb.-Sept. 1994
Mellon Fellow in Humanities, 1989-91 and 1994-95
Foreign Language Area Studies Fellowships 1990-91 and 1992-93
Harvard University Frederick Sheldon Traveling Fellow in Eastern Europe Oct. 1986 - Sept. 1987
Harvard University Bowdoin Prize (honorable mention) for Undergraduate Dissertation in English 1985
First Annual Colgate Fraternity and Sorority Faculty Award for Excellence in Teaching in the Field of Russian