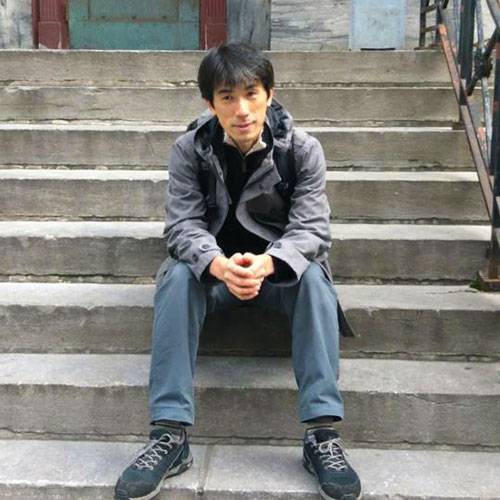 Daisaku (Dai) Yamamoto
Associate Professor of Geography and Asian Studies, Director of the Asian Studies Program
Department/Office Information
Geography
,
Asian Studies
W

2:40pm - 4:40pm

(309 Ho Science Center)

F

2:30pm - 3:30pm

(309 Ho Science Center)
BA, University of Colorado at Boulder, 1995
MA, Simon Fraser University, 1998
PhD, University of Minnesota, 2006 
Geographical political economy with particular interests in regional restructuring and inequality 
Regional/local development with particular interests in community resilience and sustainability
GIS, spatial statistical, and econometric application in geography 
Comparative and connective economic geography of East Asia and North America
CORE167C Japan
GEOG107 Is the Planet Doomed?
GEOG211 Geographies of Nature, Economy and Society
GEOG245 Geographic Information Systems
GEOG313 Geographical Political Economy: Asia in Globalization
GEOG315 Sustainable Livelihoods in Asia
Edited Books
Rebuilding Fukushima (edited with Mitsuo Yamakawa). (London: Routledge, 2017). Link
Unravelling the Fukushima Disaster (edited with Mitsuo Yamakawa). (London: Routledge, 2016). Link
Peer Reviewed Articles
Nuclear-to-Nature Land Conversion (with Julia Feikens and Melissa Haller). Geographical Review (2020). Link
Geographical Political Economy of Nuclear Power Plant Closures (with Angelica Greco). Geoforum 106 (2019), 234–43. Link
Economic Resilience of Japanese Nuclear Host Communities: A Quasi-Experimental Modeling Approach (with Paul Plummer). Environment and Planning A: Economy and Space. 5 (2019), 1586-1608. Link

Resisting Globalization Through Services? A View from the Diverse Economies Literature. Annals of the Japan Association of Economic Geographers.  63 (2017), 60-76. (in Japanese) Link

Recasting the Agglomeration Benefits for Innovation in a Hits-Based Cultural Industry: Evidence from the Japanese Console Videogame Industry (with Seiji Hanzawa). Geografiska Annaler: Series B, Human Geography. 59 (2017), 59-78. Link

World Wide Opportunities on Organic Farms (WWOOF) in the United States: Locations and Motivations of Volunteer Tourism Host Farms (with A. Katrina Engelsted). Journal of Sustainable Tourism. 22 (2014), 964-982.

Community Resilience to a Developmental Shock: A Case Study of a Rural Village in Nagano, Japan (with Yumiko Yamamoto). Resilience: International Policies, Practices and Discourses. 1 (2013), 99-115.
Repositioning Regional Inequality Research from the Geographical Political Economy Perspective. Annals of the Japan Association of Economic Geographers. 58(3) (2012), 228-237 (in Japanese).
Regional Resilience: Prospects for Regional Development Research. Geography Compass. 5 (2011), 723-736.
Trends of Sustainable Tourism Research. Journal of Environmental Sociology. 15 (2009), 139-152 (in Japanese).
Scales of Regional Income Disparities in the United States, 1955-2003. Journal of Economic Geography. 8 (2008), 79-103.
Production Linkages in and between Places: The Recent Development of the Bicycle Industry Agglomeration in Osaka. Annals of the Japan Association of Economic Geographers. 50 (2004), 1-23.
Gauging Metropolitan 'High-Tech' and 'I-Tech' Activity (with Karen Chapple, Ann Markusen, Greg Schrock, and Pingkang Yu). Economic Development Quarterly. 18 (2004), 10-29.
Issues of Globalization and Reflexivity in the Japanese Tourism Production System: The Case of Whistler, British Columbia (with Alison M. Gill). Professional Geographer. 54 (2002), 83-93. 2002.
Book Chapters and Other Articles
生活論と「多様な経済」論の狭間で. 松村和則・前田和司・石岡丈昇編『白いスタジアムと「生活の論理」ースポーツ化する社会への警鐘ー』(2020) 東北大学出版会 25-56. Link
避難地区設定のポリティクス『現代地政学事典』(2020) 丸善出版 Link
Life Environmentalism. Wiley Blackwell Encyclopedia of Sociology, Second Edition. (2019). Link
米国における原子力発電と立地地域ー廃炉局面を迎えて. 歴史と地理 713 (2018/4), 58-67.
開発とスポーツの空間ー地理学の視点. 松村和則・ 石岡丈昇・村田周祐編『開発とスポーツの社会学ー開発主義を超えて』(2014) 南窓社 142-161.
Social Science Research Council, Abe Fellowship 2014
Colgate University Research Council, Picker Fellowship 2011-12