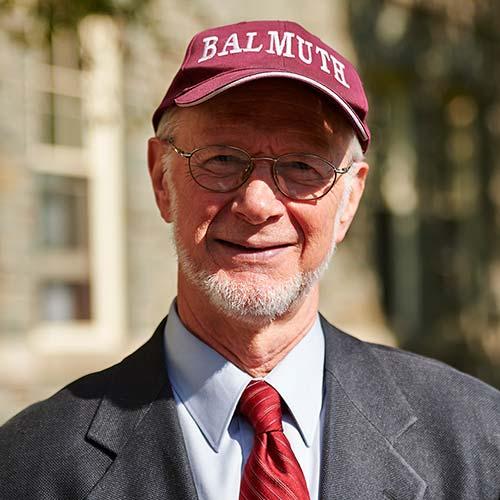 Christopher (Chris) Vecsey
Harry Emerson Fosdick Professor of the Humanities and Native American Studies in the Department of Religion; Chair, Department of Religion
I have devoted my scholarly life to understanding American Indian religion, history, and culture. Colgate has supported my research generously and a generation of Colgate students has shared in my commitment to Native American studies.
BA, Hunter College, 1970
MA (1971), PhD (1977), Northwestern University
Hobart and William Smith Colleges, 1976-82
American Indian religions
American religious history
American Indian studies
Contemporary religious developments
Traditional American Indian religions
American Indian Christianity
American music history, journalism, and religion
Author, Books
Jews and Judaism in The New York Times (Rowman & Littlefield Publishing Group, Inc., 2013)
Native Footsteps Along the Path of Saint Kateri Tekakwitha, co-editor (Marquette University Press, 2012)
Following 9/11. Religion Coverage in the New York Times (Syracuse University Press, 2011)
The Crossing of Two Roads. Being Catholic and Native in the United States, co-editor (Orbis Books: 2003)
Where the Two Roads Meet (University of Notre Dame Press, 1999) 
The Paths of Kateri's Kin (University of Notre Dame Press, 1997)
On the Padres' Trail (University of Notre Dame Press, 1996)
Handbook of American Indian Religious Freedom, editor (Crossroads, 1991) 
Religion in Native North America, editor (University of Idaho Press, 1990) 
Iroquois Land Claims, co-editor (Syracuse University Press, 1988)
Imagine Ourselves Richly (Crossroads, 1988, HarperSanFrancisco, 1991)
The Study of American Indian Religions, editor (Crossroads, 1983) 
Traditional Ojibwa Religion and Its Historical Changes (American Philosophical Society, 1983)
Belief and Worship in Native North America, editor (Syracuse University Press, 1981) 
American Indian Environments, co-editor (Syracuse University Press, 1980)
Author, Articles
Numerous articles in various publications, including Commonweal, Christian Century, Journal of Religion in Africa, Journal of Religious Ethics, American Indian Quarterly, Journal of the American Academy of Religion, Papers of the Society of Algonquianists, Temenos, and U.S. Catholic Historian 
Editor, Journal
American Indian Quarterly, editor, special issue on American Indian religions (1983)
Series Editor, The Iroquois and Their Neighbors, Syracuse University Press
William Engelbrecht, Iroquoia.  The Development of a Native World (2003).
Anthony Wonderley, Oneida Iroquois Folklore, Myth and History.  New York Oral Narrative from the Notes of H. E. Allen and Others (2004).
Granville Ganter, ed., The Collected Speeches of Sagoyewatha, or Red Jacket (2006).
John A Strong, The Montauket Indians of Eastern Long Island (2006).
Ted Williams, Big Medicine from Six Nations (2007).
Thomas S. Abler, Cornplanter.  Chief Warrior of the Allegany Senecas (2007).
Jordan E. Kerber, ed., Archaeology of the Iroquois. Selected Readings & Research Sources (2007).
Eric L. Gansworth, A Half-Life of Cardio-Pulmonary Function:  Poems and Paintings (2008).
Laurence M. Hauptman, Seven Generations of Iroquois Leadership.  The Six Nations Since 1800 (2008).
Anthony Wonderley, At the Font of the Marvelous.  Exploring Oral Narrative and Mythic Imagery of the Iroquois and Their Neighbors (2009).
Wendy Makoons Geniusz, Our Knowledge Is Not Primitive.  Decolonizing Botanical Anishinaabe Teachings(2009).
Brian Rice, The Rotinonshonni.  A Traditional Iroquoian History Through the Eyes of Teharonhia:wako and Sawiskera (2013).
Kees-Jan Waterman and J. Michael Smith, eds.  Munsee Indian Trade in Ulster County, New York, 1712-1732(2013).
Hauptman, Laurence M.  In the Shadow of Kinzua.  The Seneca Nation of Indians since World War II (2014).
Penelope Myrtle Kelsey, Reading the Wampum.  Essays on Honinöhsö:ni' Visual Code and Epistemological Recovery (2014).
Laura Cornelius Kellogg. Our Democracy and the American Indian and Other Works, eds. Kristina Ackley and Cristina Stanciu (2015).
Jack Rossen, ed., Corey Village and the Cayuga World.  Implications from Archaeology and Beyond (2015).
Powless, Chief Irving, Jr.  Who Are These People Anyway?, ed. Lesley Forrester (2016).
Burich, Keith R.  The Thomas Indian School and the "Irredeemable" Children of New York (2016).
Hauptman, Laurence M.  An Oneida Indian in Foreign Waters.  The Life of Chief Chapman Scanandoah, 1870-1953 (2016).
NEH Summer Fellow
Association of American Colleges Project QUILL
Canadian Studies Faculty Enrichment Grant
American Philosophical Society
Phillips Fund grant
W.K. Kellogg grant