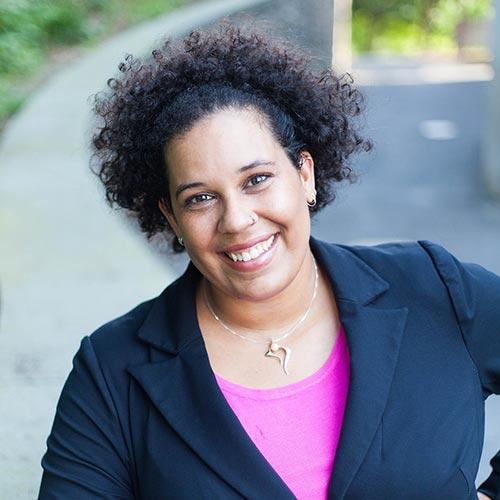 Alicia Simmons
Associate Professor of Sociology and Africana & Latin American Studies
Ph.D., Stanford University
M.A., Stanford University
B.A., Hartwick College
Assistant Professor of Sociology, Colgate University
Lecturer and Post-doctoral fellow in Sociology, Harvard University
Social psychology; Mass communications; Race and ethnic relations; Politics; Public opinion; Criminology/delinquency; Quantitative methodology; Qualitative methodology
Simmons, Alicia. D. Forthcoming. "Whose Lives Matter?: The Newsworthiness of Police Killing Unarmed Blacks." Du Bois Review: Social Science Research on Race.
Simmons, Alicia D. 2017. "Cultivating Support for Punitive Criminal Justice Policies: News Sectors and the Moderating Effects of Audience Characteristics." Social Forces. 96(1): 299-328.
Simmons, Alicia D. and Lawrence D. Bobo. 2015. "Can Non-Full-Probability Internet Surveys Yield Useful Data?  A Comparison to Full-Probability Face-to-Face Surveys in the Domain of Race and Social Inequality Attitudes." Sociological Methodology. 45:1-31.
Simmons, Alicia D. 2012. "Crime News and Crime Views: The Relationship between Whites' News Exposure Patterns and Opinions about Criminal Justice Issues." Pp. 224-238 in The Harms of Crime Media: Essays on the Perpetuation of Race, Gender, and Class Stereotypes edited by D. L. Bissler and J. L. Conners.  Jefferson, NC: McFarland.
Bobo, Lawrence D., Camille Z. Charles, Maria Krysan, and Alicia D. Simmons. 2012. "The Real Record on Racial Attitudes."  Pp.28-83 in Social Trends in American Life: Findings from the General Social Survey since 1972 edited by P. V. Marsden. Princeton, NJ: Princeton University Press.
2017. "An Alternative Approach to Measuring Contemporary Racial Attitudes: Validating the Explicit Racial Resentment Scale." presented at the American Sociological Association meetings in Montréal, Québec.
 2016. "Implications of the Presidential Election: A Faculty Panel." Colgate University panel
2016. "The Media and Communications in the 21st Century." Colgate University panel
2016. "Whose Lives Matter: The Newsworthiness of Police Killings of Unarmed Blacks." American Sociological Association's Annual Meetings, Seattle, WA
2014. "From Freedom Summer to Ferguson: The Ongoing Civil Rights Movement." Colgate University's Lampert Institute for Civic and Global Affairs panel discussion
Introduction to Sociology (SOCI 101)
Media Effects (CORE 170S)
Social Deviance (SOCI 320)
Black Communities (SOCI/ALST 321AX)
Race and Crime (SOCI/ALST 330AX)
Media and Politics (SOCI/FMST 375AX)