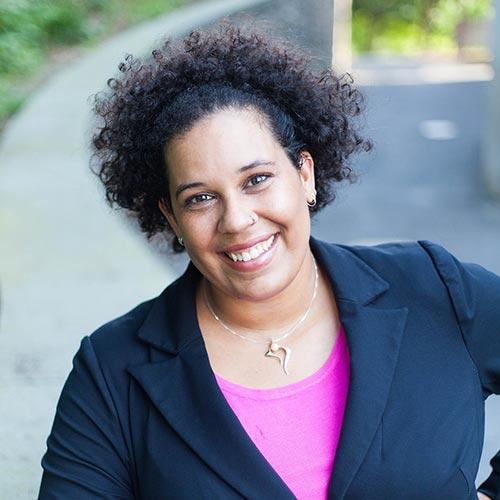 Alicia Simmons
Associate Professor of Sociology and Africana & Latin American Studies
Alicia D. Simmons is an Associate Professor of Sociology and Africana and Latin American Studies at Colgate University. She earned a B.A. in sociology from Hartwick College, and an M.A. and Ph.D. in sociology from Stanford University. She was a lecturer and post-doctoral fellow at Harvard University, before coming to Colgate University in 2011. CV
Professor Simmons is a social psychologist who examines the intersections of media, race, and politics in the United States. She studies the nature of Americans' racial attitudes toward Blacks and their opinions about public policies that obviously or tacitly invoke race. She further explores how these attitudes are created, triggered, altered, and reinforced by news media exposure. Her work is interdisciplinary, incorporating sociology, psychology, communications, political science, and racial/ethnic studies. It is also multi-method, using surveys, experiments, and content analysis. 
She maintains three branches of research. The first uses surveys and experiments to investigate the nature and causes of racial attitudes and public policy preferences that contribute to - or alleviate -  racial inequality. The second use on content analyses to study the nature of news media messages; her current work explores coverage of cases where police kill unarmed Blacks, such as the deaths of Eric Garner, Michael Brown, Breonna Taylor, and George Floyd. A final branch of her research centers on advancing social science research methodology. Her work has been published in Social Forces, the Du Bois Review: Social Science Research on Race, and Sociological Methodology. 
Professor Simmons teaches classes such as Introduction to Sociology, Race and Crime, and Media and Politics. In 2020, she published two audiobooks designed for a lay audience: Sociology 101: How Social Forces Shape Our Lives and Race in America 101: The Essential Audio Course on Race, Ethnicity, Discrimination, and Inequality. 
Ph.D., Stanford University
M.A., Stanford University
B.A., Hartwick College
Associate Professor of Sociology and Africana and Latin American Studies, Colgate University
Assistant Professor of Sociology, Colgate University
Lecturer and Post-doctoral fellow in Sociology, Harvard University
Social psychology; Mass communications; Race and ethnic relations; Politics; Public opinion; Criminology/delinquency; Quantitative methodology; Qualitative methodology
Journal Articles
Book Chapters
SOCI 101: Introduction to Sociology
CORE 170S: Media Effects 
SOCI 320: Social Deviance 
SOCI/ALST 321AX: Black Communities 
SOCI/ALST 330AX: Race and Crime 
SOCI 375: Media and Politics student video reports