The Writing and Speaking Center is committed to helping all Colgate students succeed as clear, effective communicators.
Peer consultants in the center work one-on-one with students and their projects, offering suggestions for revision as they help students experience their work from a reader or listener's perspective. The consultants can also direct students to individually relevant resources, including guides to the various genres of academic writing and speaking.
Students are encouraged to visit at any stage of their process, from prewriting to polishing a final work. Although the consultants are not experts in all topics, they can ask questions that will help writers and speakers clarify their ideas and organize them effectively.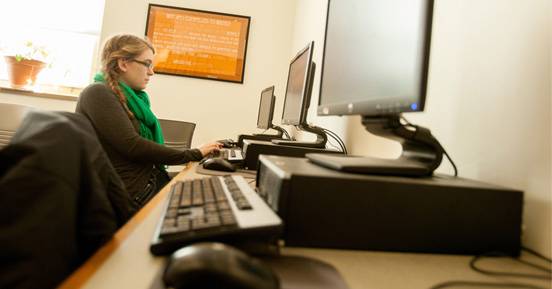 Location and Hours
Note: The center is currently conducting appointments online. Please make or request an appointment as you normally would. You will then receive instructions with your appointment confirmation. If you are requesting a speaking appointment, someone will contact you by email soon.
208 Lathrop Hall
Monday - Thursday 10:15 a.m. - 9:00 p.m. 
Friday 10:15 a.m. - 4:00 p.m. 
Closed Saturdays
Sunday 2:15 p.m. - 9:00 p.m.
Contact Us
For more information, call the center at 315-228-6085, or e-mail the director:
Director of the Writing and Speaking Center
Policies
The center adheres firmly to Colgate's Academic Honor Code. We are an instructional resource and academic support center, not a proofreading service, and we will not write any portion of a student's paper. Visiting the center does not guarantee a polished final text.
Students may have one appointment per day, but reserve only two appointments per week in advance.
All writing appointments, including walk-ins, begin at 15 minutes past the hour.
Sessions are private except in cases when a staff member deems it necessary to contact an appropriate administrator, or in cases when the student has given express permission for sharing to occur.